We bet you know a lot of legacy system examples. Pagers, floppy disks, DVD disks, and even flash memory cards are already becoming obsolete technologies. What is more, many companies also continue to use legacy systems in their business operations. Does this make sense or does your legacy solution need an upgrade right now? Let's find the right answers.
What are legacy technologies?
Legacy technologies are the systems, apps, and platforms that were created a long time ago, using old-school and/or ineffective tools. As a rule, legacy solutions have low-efficiency, security gaps, complex interfaces, not flexible structure, and other limitations. However, as a rule, legacy solutions can also be valuable for their users since they get used to the system, accumulate a lot of valuable data, or simply don't want to change the business process tied to the legacy system.
Sometimes, it is really wiser to allow the legacy platform to work on its own, however, there are also cases when the legacy system modernization makes more sense.
How legacy software can "slow down" your business?
According to the research, "The existing large software systems ("legacy" systems) have never been built to cope with the current business requirement for their poor coding, design structures, logic, and documentation. Moreover, Legacy applications have various problems such as lack of up-to-date documentation, skilled manpower, resources of the legacy applications, and high maintenance costs."
Maintenance issues. The cost to maintain a legacy system per year may equal to the legacy system modernization or even creating a new one from scratch.
Security-related issues. Legacy solutions are very easy to crack since they are protected in an outdated way.
Business efficiency. Also, these solutions have poor performance and low efficiency if to compare with the results modern systems may offer.
Why are legacy systems still used?
As we've said, not all business owners are in a hurry to modernize their legacy systems. And here are the main reasons why.
There are no extra costs for modernization
There are several approaches to legacy system modernization. Sometimes creating a new system from scratch is the only way and the most costly one. In this case, it is necessary to analyze the business specifics and come up with a completely new solution that will help the company to solve the old problem in a new way. Surely, it takes a lot of time and money, plus there is a necessity to teach employees to use the new app.
There are a lot of valuable data the user doesn't want to risk
Since legacy systems are used by companies for a long period of time, they accumulate a lot of valuable data. When it comes to legacy system modernization, the issue of data safety comes first. That is why some business owners don't want to put their data at risk and decide to let the system work as it was working before.
The work of the legacy system is satisfactory for the user
In fact, the legacy system doesn't stand for a bad or non-working system. Sometimes a legacy solution may match the current business needs completely. In this case, there are really no reasons to replace or modernize it. However, in this case, the business should pay a lot of attention to the legacy solution maintenance which sometimes may cost the price of its improvement, modernization, or even replacement.
The legacy system is tied to core business operations, its replacement will possibly create a downtime
Also, there are cases when the work of the legacy platform can't be stopped since it is responsible for the core business operation. However, in practice, this is just an excuse to avoid modernization. In practice, an experienced vendor can organize the process of improving the system in such a way that technical work is carried out after working hours, and the system remains operational when the user needs it.
There is no clear understanding of the new system benefits compared to the legacy one
It is always easier to leave everything as it is than to take the path of improvement, especially if there is no critical situation forcing you to take action right now. Sometimes business owners don't see the point in upgrading legacy systems because they don't fully understand the benefits of investing in a new solution or significantly improving an existing one.
What are the benefits of the new system over the legacy one?
So, below is the comparison of the legacy platform specifics and the new solution benefits.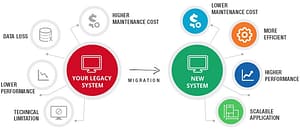 Legacy vs New System
| | | |
| --- | --- | --- |
| | Legacy | New |
| Cost | The legacy system is in constant need of maintenance that can be expensive. | The costs for the new system maintenance will be lower since it will be programmed using new technologies that require less maintenance. |
| Performance | Since legacy systems are based on outdated technologies, they are working slowly, plus there is always the risk of a mistake. | New systems will always be faster, smarter, and more efficient. What's more, your new solution will be created taking into account the current needs of your business and the expectations of your customers. This will allow you to significantly improve the efficiency of your employees and level up your customers' satisfaction. |
| Security | Since legacy systems were created on outdated technologies, there are a lot of security gaps that are easy to hack. What's more, innovative protection solutions can't be integrated into legacy systems. | When improving your legacy solution or creating one from scratch, it is always possible to take the strongest security measures, for example, connect AI and ML protective tools. |
| Business efficiency | Legacy systems could work efficiently many years ago, at the time of their creation. If once they could be considered an innovation, then modern business development dictates other conditions when speed, efficiency, and quality become fundamental requirements. | When it comes to legacy system modernization, the first question to answer is how the new or updated system will contribute to your business efficiency. Thus, there is an opportunity to solve the problem in an innovative way. |
How to improve my legacy system?
There are four ways to modernize your legacy system.
Create a new system. This is the right way when the legacy system can't be subjected to improvements completely, plus the user has enough budget to invest in the creation of a new app.
Continue work in the same style. Such a decision can be made only after the competent analysis of the legacy system. If it works relatively well, it may make sense to make some improvements following the same style.
Create a new app over the old one. If the work of the system is crucial for the owner, it makes sense to create a new app over the old one step by step. In this case, the system remains in the operational condition and the improvements are made part by part, during non-business hours if this requirement is also critical for the user.
Do partial refactoring. In this case, the legacy system is divided into some blocks, and the most critical or the worse-working parts are changed using modern development tools.
How much does it cost to switch from legacy?
Legacy system modernization can be tricky and costly. As a rule, the vendor that takes up your legacy system modernization has no idea of what awaits him during the process. So, the price is always individual since legacy systems are always full of surprises.  However, to make sure you are not going to overpay, choose a Time and Material contract when it comes to legacy system modernization. In this case, both parties will be equally satisfied. You will be sure that you are paying for the actually done work, and your vendor will feel calm when charging you for it.
Conclusion
In most cases, the legacy system modernization is sensible. However, before making a final decision, you should ask for competent business analysis.  The insights obtained will help you and your vendor to develop the legacy system modernization strategy that will be right for your business.