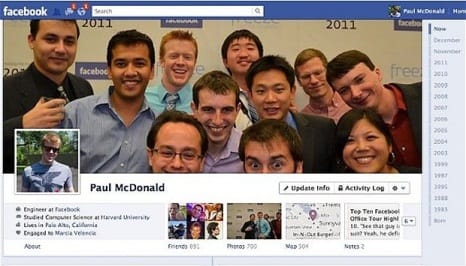 Facebook has today announced a global roll out of Timeline, the revamped profile design which is like a scrapbook of "all your stories, your apps and a new way to express who you are."
In addition to pictures and status updates, Timeline allows users to share experiences, like the music you listen to or the miles you run.
Mark Zuckerberg, founder and chief executive of Facebook, introduced Timeline in September during the company's annual developer conference, f8. He described it as a way to get a more comprehensive portrait of a Facebook user than by simply reading updates or looking at a profile picture.
"Millions of people curate stories of their lives on Facebook every day and have no way to share them once they fall off your profile page…we have been working on 'timeline' all year…it's the story of your life and completely new way to express yourself, said Zuckerberg.
A user upgrading to Timeline will get seven days to review everything that appears on their new profile before anyone else can see it.
"You can also choose to publish your timeline at any time during the review period. If you decide to wait, your timeline will go live automatically after seven days. Your new timeline will replace your profile, but all your stories and photos will still be there," expalains Paul, an engineering manager, Facebook Timeline on a Facebook blog post.
Starting today Facebook users will receive a notification on their profile asking them if they want to upgrade to Timeline.
Do you like Timeline or you'd rather have your old profile? Let us know by leaving your comments below