The July 2023 Ipsos Issues Index reveals that concern about the NHS has risen, making it the country's second-largest worry.
Inflation continues to be seen by the public as an important issue for the country, mentioned by 39%, similar to the level in June. A quarter (24%) say it is the single most important national concern.
As the NHS turned 75 this month, concern about the health service has risen six points since June. Mentioned by a third of Britons overall (33%), the NHS is now the second-biggest issue for the country, slightly ahead of the proportion who see the economy as a big worry (30%).
Immigration remains the fourth-biggest issue for Britain, with one in five (21%) mentioning it as an issue, little change since June and which means it has been in the top four issues for five consecutive months.
There is a sharp divide in the relative importance given to immigration: for Conservative party supporters (43% mention immigration) and those aged 65+ (35%) immigration is now seen as the joint biggest issue for the country, alongside the NHS; however, for Labour supporters (13%) and those aged 18-34 (9%) it is in equal 7th place.
Looking at second order issues, there have also been increases in the proportions who feel that housing (up 3 to 15%, the highest since the start of 2020), and education (up 5 to 13% after a drop last month) are important issues facing the country. Meanwhile poverty and inequality drops four points to 9%.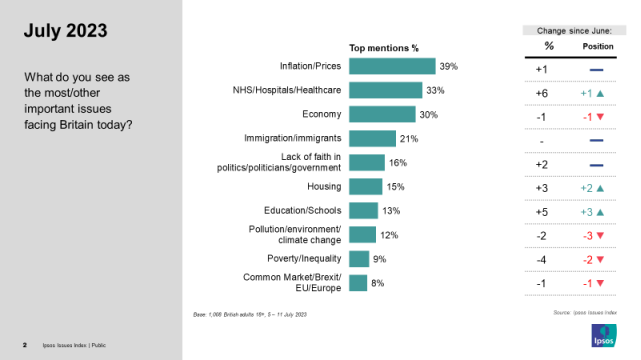 Mike Clemence, a researcher at Ipsos, said, "Although inflation remains the biggest concern for Britons, in its anniversary month and amidst ongoing strikes we have seen worry about the NHS rise significantly to take second place.
Concern about immigration also remains in the top four, driven especially by Conservative party supporters who see it as the joint-biggest issue facing Britain this month."