Did you know London has seen 64 pavement explosions in 2014, an average of nearly two a week? Compared to 51 explosions in the whole of 2013, these figures are alarming.
Basil Scarsella, CEO of UK Power Networks, the company that maintains London's power cables, said the "increasing rain" is to blame for the explosions.
Back in August, parts of Soho were evacuated after an electrical sub-station exploded. In July, an explosion outside BAFTA's Piccadilly HQ resulted in a lorry catching fire.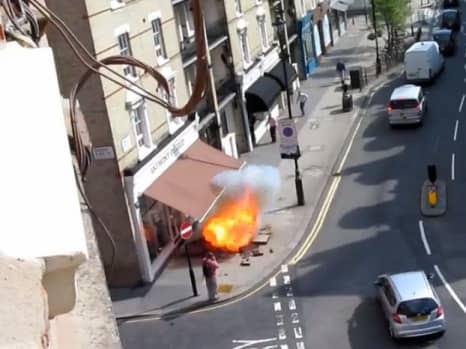 Scarsella faced Westminster Council's Environment, Policy and Scrutiny Committee at Westminster City Hall yesterday to explain why there has been an increase in the number of explosions.
He said it "impossible" to avoid further explosions as rainwater trickles down to underground wiring.
Councillor Thomas Crockett said: "I question if it's all to do with rainfall."
Chairman of the committee, councillor Ian Adams, said: "I think it is more by luck than planning that we haven't had any serious injuries of fatalities.
"Without some significant uplift in the investment programme, we are more at risk to this happening in the future. If you look at the increase in the number of explosions, there is an increased chance of fatality or serious injury."