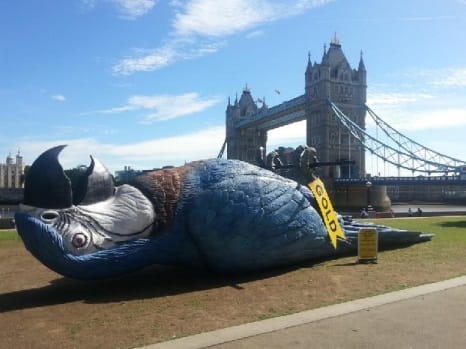 Lying on its back, an enormous "Norwegian Blue" parrot is the startling sight currently greeting visitors to London's Southbank.
The "deceased" bird, which is almost 50ft long from beak to tail-tip, has been built to promote the live broadcast of the final Monty Python Live stage show on comedy TV channel Gold on 20 July.
According to ITV news, a team of three sculptors spent more than two months creating the famous "Norwegian Blue" after the sketch in which the "ex-parrot" appears was voted the nation's favourite Monty Python sketch in a survey by the channel.
The fibreglass bird was hung from a crane on the Southbank before being lowered into place.
Amused and confused onlookers tweeted photographs of the unlucky beast:
Gold Unveil Giant Dead Parrot For Monty Python TV Special http://t.co/dGLKM3yZpqpic.twitter.com/0DjMjZlRdy

— James Herring (@TaylorHerringUK) July 14, 2014
'I wish to complain about this parrot what I purchased not half an hour ago from this very boutique' pic.twitter.com/zOyCuU6Vus

— Katy (@itskatywithay) July 14, 2014
Decent Monty Python stunt from @GoldTVChannel: there's an ex-parrot outside City Hall this morning: pic.twitter.com/6uUYsthKMf

— James Manning (@JamesManning4) July 14, 2014
Giant 'Dead Parrot' Unveiled in London for Monty Python TV Special http://t.co/MXspKBCf4M#montypythonlivepic.twitter.com/1nVKJDOesL

— The Poke (@ThePoke) July 14, 2014
That parrot is bereft of life. #london pic.twitter.com/8lHYBEJYJv

— Inconvenient Mule (@imule) July 14, 2014
And here's a video to help you fully comprehend the magnitude of the feathery marvel.