This summer, London Underground temperatures have beaten those in top holiday destinations around the world, new research has revealed.
Temperatures were manually taken in London Underground stations and trains, and then compared to that day's average in an international holiday destination.
The research, which was conducted by cruise agent Bolsover Cruise Club, found that Euston station was the hottest, and reached temperatures of 34.2 degrees – equivalent to Los Angeles (but less 'Hollywood Walk of Fame' and more 'walk of flames').
The top 10 hottest individual stations included: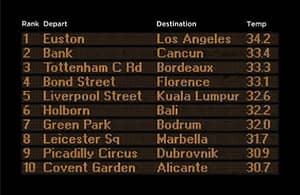 Following Euston, Bank, Tottenham Court Road, Bond Street, Liverpool Street and Holborn made up the top five, all exceeding 32.5 degrees. Comparable to locations around the world, the temperatures recorded at these stations matched those recorded in Cancun, Bordeaux, Florence and Kuala Lumpur.
Averages were also taken across the lines, with Bake-erloo hitting the top spot with temperatures exceeding 38 degrees (38.2), followed by the Piccadilly (37.6) and Northern (37.4) lines.
Michael Wilson, Managing Director at Bolsover Cruise Club, commented on the findings:
"We have experienced warmer than usual temperatures this summer, but our research shows that these soaring temperatures aren't always enjoyable for all.
"While the temperatures are technically comparable to holiday destinations, you definitely do not get the benefits of being on a break… In other words, it's like 'Spain without the sangria'!
"The London Transport Authority has acknowledged that its passengers are getting hot under the collar, which is why plans have been unveiled to put air-conditioning on the Central Line – but only by 2030. That's twelve years away, which means a dozen more sweltering summers on the Underground.
"We'd remind all to take care when in the heat, whether that be on the Tube or on a well-deserved holiday".