Nick Tolley on the media furore over his "indie" coffee chain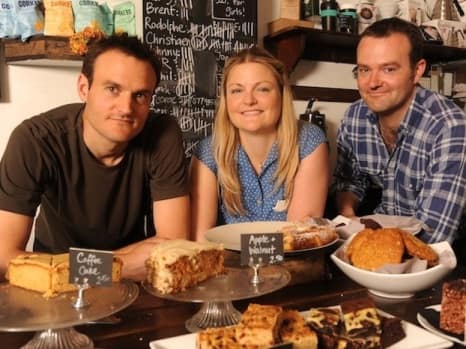 There's nothing particularly exceptional about a new café popping up in the capital, yet when "artisan" coffee shop Harris + Hoole opened, the media jumped on it like a pack of wolves. You had coffee connoisseurs, retail gurus and local baristas giving salacious soundbites about the "indie" family business.
Why? Because the UK's largest retailer Tesco has a stake in Harris + Hoole.
The chain, launched last year by Australian entrepreneur Nick Tolley and his siblings Laura and Andrew, got a lot of flak for being "hypocritical" and "disingenuous" for not being more overt about its association with Tesco. No taglines, menus or signboards carry Tesco's branding and you have to click on a few pages on the company's website before you get to the two lines about the supermarket giant's "not-controlling" stake in the business.
Everything about Harris + Hoole seems indie at first glance: chalkboard menus, ceramic cups and bubbly staff. The business is named after coffee-loving characters in the Diary of Samuel Pepys. However, the rate at which the chain is spreading across high streets isn't very indie-shop like.
H+H currently has 13 outlets around the UK, with plans afoot to open another 15 outlets in London by the end of this year. So far it has six outlets in the capital, in London Bridge, Twickenham, Ruislip and Uxbridge among other locations. Its Crouch End outlet is right next to a Starbucks.
Another reason critics are bitter is that Harris + Hoole is registered in Ireland, where corporation tax stands at 12% compared the 23% it would be paying in the UK in 2013 (and the UK rate was of course higher in previous years). But that issue didn't come close to the furore of the Tesco backing.
So what's wrong with a supermarket giant agreeing to back an unproven business? If you, dear reader, had the option of getting a bumper investment from Tesco for a new business, would you say no?
I spoke to Nick Tolley, chief executive and founder of Harris + Hoole, to find out whether the "family affair" talk was frothy and what Tesco's "non-controlling stake" meant for running the business:
First up, why did you decide to launch Harris + Hoole when you already had another coffee business? (The Tolley trio founded Taylor Street Baristas in London and Brighton.)
Our vision of Taylor Street was that it was never going to never to be big business. It was a quirky business that you needed a map and a compass to find as it's in back alleys in London. Taylor Street was more about coffee geekery and different brewing techniques. It's a unique proposition but you can't roll it out at 1 Oxford Circus.
With Harris + Hoole we thought we could bring a far better cup of coffee to the high street itself in a way Taylor Street wasn't set up to do.
But how on earth did you manage to bag a deal with Tesco? Are they that approachable?
[Laughs] They're definitely not the kind of guys who you can call and say, "Can we have a couple of millions of pounds please?" A friend of a friend who I met while doing an MBA at INSEAD business school in Paris liked our idea and she introduced us to someone senior at Tesco. The idea of a high street coffee chain was ours but we weren't too sure how we would be able to do it.
What clinched the deal?
We told the Tesco executives very clearly that we're looking to establish a business on the pillars of quality coffee for the local community. We did not want to go around finding empty units on the high street to stamp a big template on. We wanted all our shops to be unique and local. They really liked the ideas and saw it as an interesting approach to a high street coffee chain.
How do you select your locations?
We were quite lucky last year as we picked up 13 shops from the Clinton Cards administrations. We're not on a shop-opening drive, we do it based on the opportunities of a good return on investment. Criteria we keep in mind include footfalls and demographics of a location. Having said that, I find it very difficult to come up with a simple equation as coffee is a democratic product – almost anyone and everyone likes it.
How are any two H+H outlets different from each other?
If you're looking for innovative design, you should go to our shops in Crowborough in East Sussex or Pinner in West London. For artwork, you should go to Amersham or Southgate where local artists have given their look and feel to the outlet. If it's lovely food you're after then we've found a local producer in Uxbridge who does the most amazing flourless chocolate brownies.
We are not a Starbucks, we try and create spaces that the local community identifies with, and employees feel they own the place. Very often we put massive blackboards out and tell locals, "This is your space, turn it into anything you want."
The kind of people who come in also vary from outlet to outlet. If you go to the Crouch End site, you'd see a dozen people tapping away on their laptops, whereas in Amersham you'd see mums with strollers and their kids.
So what's your brand proposition then – how will you lure loyal customers away from Starbucks or local coffee shops?
A lot of customers who go to Starbucks or Costa Coffee value the convenience of being on the high street and consistency of getting a good cup of coffee. What people like about local independent shops is when you enter, staff greet you by your first name and they know what you like. To an extent, we want to give our customers a bit of both.
What about your prices then?
I think we might cost a few pence more than Starbucks or Costa. But with the ambiance and coffee, it's worth it.
Did you see the Tesco backlash coming?
I think we did see the backlash coming but we were hopeful that our proposition would speak for itself. People might have had a little bit of angst to begin with over who is on our share register, but once they've tried the product, it would no longer be a concern for them or an issue.
Some of the press haven't been flattering. What I found encouraging are the comments under those articles where people say, "Who really cares as long as it's a good cup of coffee?" The Tesco relationship has definitely pricked a few journalists at The Guardian but the average person on the street sees through it. The oppositions aren't as widespread as reported.
People need to understand we are not a Tesco coffee shop – it's not got a self-checkout counter or an aisle 19. People in the beginning might see the relationship as incongruous but with time, and on the back of experience, we'd be able to convince them.
So does Tesco have a 49% stake, as widely reported?
It's commercially confidential information but I can reveal that it's not 49%, it's a good deal less.
How involved is Tesco in the business?
Tesco has a non-controlling stake but like all investors we have board meetings where we discuss what we can do to better deliver our proposition.
But what's your stand on accusations that you were "cheating and lying" to customers?
We've from the beginning made no secret about the relationship. It's in every national newspaper. It's not fair to say we've cheated and lied. Saying we've kept our relationship with Tesco a secret couldn't be further from the truth. We don't try to look all artisan and independent to camouflage something. The shops are in no way like a Costa or a Starbucks outlet – we want them to be as individual and as local as possible. We don't want them to be template. What we have is quite a unique proposition.
After all the criticism, have you ever regretted the move?
[Laughs] I've never thought: "What the hell have I done?" As far as I'm concerned, I don't see it as cock-up. Tesco executives have been utterly supportive, the relationship is excellent. I don't see what's wrong by being backed by them.
There are small businesses out there who would grab the opportunity of being funded by Tesco, not just because of financial resources but because of their expertise in logistics, retail, et al. One would be silly to turn their nose up at the opportunity to be backed by Tesco.
Has the negative publicity helped?
It certainly hasn't hurt the business, I would say. Whenever we have an article written about us, we see trade go up a little bit. People's curiosity peaks.
If Tesco puts a hefty amount on the table, will you sell it a bigger stake?
It would have to be a very hefty amount. But for now, being able to get up in the morning and looking forward to going to work is very important to me. In theory, if you're doing something you love very passionately, you'll find that the money will follow.
Why is Harris + Hoole registered in Ireland?
We wanted to have the option to open up abroad. We were looking to base ourselves at a place where you can establish an international business. I appreciate this is a sensitive issue in light of the Starbucks tax controversy, but again we've been transparent around our registration. There will be no fear that we are trying or would be doing this for our taxing reasons.
Would you deny that the lower rate of taxes in Ireland wasn't a motivation?
We didn't do it in order to pay less tax in the UK, I would simply deny that. The decision was made just to make future expansion easier.
What are your future plans?
We plan to open at least 15 more stores in central London before the end of this year. Cannon Street and Imperial Wharf are next on the list. Also, what we're going to work towards is building the business as a brand story that doesn't get lost with the story of being the Tesco coffee shop.