Game-changing ideas for the public & private sectors, from responsible business leaders
Click the cover below to read online now, or click here.
And find out more below…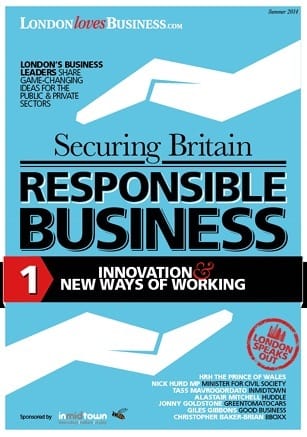 Business is changing. Companies face mounting pressures to behave more responsibly and sustainably, and many are seeing that social impact will drive future success.
How should businesses operate in this fast-moving landscape? How can government best support the responsible business agenda? What can you do, today?
Securing Britain: Responsible Business, the fourth in our Securing Britain series, invites London's responsible business leaders to tackle these questions.
Through four digital-only publications, you'll find game-changing ideas from the pioneers of responsible business on how the private and public sectors can act now to create change.
The first is Securing Britain: Responsible Business – Innovation, which you can download free now by clicking the image above.
It features insights from:
HRH The Prince of Wales
Nick Hurd MP – Minister for Civil Society
Tass Mavrogordato – inmidtown
Alastair Mitchell – Huddle
Jonny Goldstone – greentomatocars
Giles Gibbons – Good Business
Christopher Baker-Brian –  BBOXX
Want the next three Securing Britain: Responsible Business publications? Sign up to our free newsletter. They'll cover:
–          Sustainability, standards & supply chain
–          Social enterprise & social investment
–          Youth unemployment, education & workforce
Join the conversation using #SBresponsiblebiz on Twitter.
Securing Britain: Responsible Business is brought to you in partnership with Business in the Community, the responsible business charity.
It is supported byinmidtown, the central London business improvement district doing a great amount to nurture responsible business practices.
Securing Britain: Responsible Business is being sent to more than 100,000 senior influencers in the political and business communities.
Our aim is to galvanise the conversations that inspire action.
Unlike the previous editions of Securing Britain, we have decided not to print Securing Britain: Responsible Business and are publishing it digital-only.
In doing so, we've saved around 60 trees. Hurrah!
Related Files
Securing Britain: Responsible Business – Innovation