Here's how
If you are a biker you already know how important wallets can be. When you are on the road you need to keep your valuables close to you and make sure you won't accidentally lose them or destroy them. We asked bikers what are the essential characteristics of a wallet and we are here to share them with you.
Take a look bellow if want to find out how to choose a wallet that is ideal for a bike ride.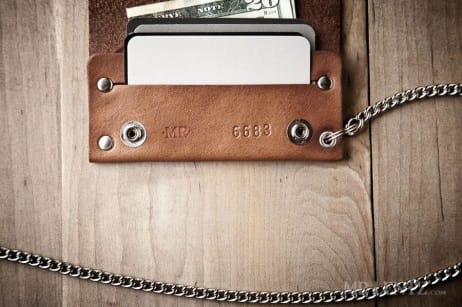 The latest trends
This may sound like a joke, but sometimes trends prove to be practical. For example wallet chains are the latest trend and they can be perfect for your biker look. And they are also very usefu! With a chain for your wallet you can ride anywhere and you will keep your valuables safe.
So maybe you should check the latest trends from time to time and see if they match your needs.
The size
A biker is constantly on the move. Therefore you will have to consider what sort of wallet has the practical aspects that you need. Think about what you usually carry. If you have a lot of cash and loose change you probably need a larger wallet that you won't lose while you ride. And you should also consider a place for you cards. Based on your needs, there are three types of wallets:
1. Small wallets – if you don't carry too many things
If you don't like to overstuff your wallet, bifolds are what you need. They are big enough for some cash and your driver's license and they are easy to carry in your pockets.
If  bifolds are too big for you, you can always use a money clip. It is perfect when you just need to carry some cash.
2. Medium wallets – if you need something larger
This wallet is what you need if the bifold is too small for you, but you still don't want to carry something large. A trifold can carry more, but it can be harder to put it in your pants' pockets.
3. Large wallets – for those who carry many things
If you want to carry more items in your wallet you can try a large sized one. This is more useful than a bag or a backpack since you can carry it in your jacket. It is ideal if you ride  long distances.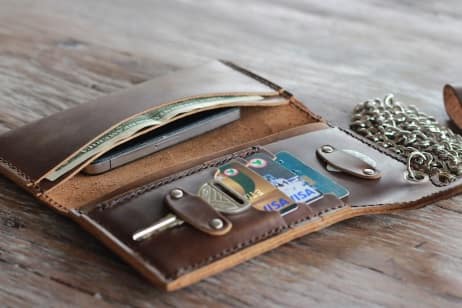 The design
Bikers know that every little thing has to match your style, so you need a wallet that will express that.
A biker wallet should be made out of a durable material, but it should also look good. Therefore, leather is the ideal choice. If you want to spend a bit more you can also take a look at snake or crocodile skin.
The wallet should also have some powerful artwork. Try to find some symbols that match the fearless lifestyle. Maybe a skull print that will remind you of your eternal spirit? You can also add some skull jewellery to match it.
Wallets can be an indispensable accessory. If you are looking to complete you biker look why not risk and get some belts, spice it up with biker jewellery or some dynamite rings from Bikerringshop? Don't be afraid to add the perfect finishing touch. And no matter what you choose, remember that being a biker is more than an activity or a look. It is a lifestyle.