British intelligence has provided the details of a fleet of "Russia's most advanced fifth-generation supersonic combat jets" which are used on combat missions in Ukraine.
British Ministry of Defence (MoD) has revealed where the modern Su-57 Russian jets have been hiding.
The fifth-generation supersonic combat jets are holed up at the Akhtubinsk Air Base, in the Astrakhan region within Russia.
Defence Intelligence analysis of satellite imagery from 25 December, 2022 have identified five Su-57 FELON multirole aircraft.
The MoD intelligence note reads: "Since at least June 2022, Russian Aerospace Forces have almost certainly used Su-57 FELON to conduct missions against Ukraine. FELON is Russia's most advanced fifth-generation supersonic combat jet, employing stealth technologies and highly advanced avionics.
Read more related news:
Russia's only aircraft carrier is in a 'critical condition' which is 'filled with muddy water' and could 'tip over and drown'
"These missions have likely been limited to flying over Russian territory, launching long-range air-to-surface or air-to-air missiles into Ukraine.
"Recent commercially available imagery shows five FELON parked at Akhtubinsk Air Base, which hosts the 929th Flight Test Centre. As this is the only known FELON base, these aircraft have likely been involved in operations against Ukraine.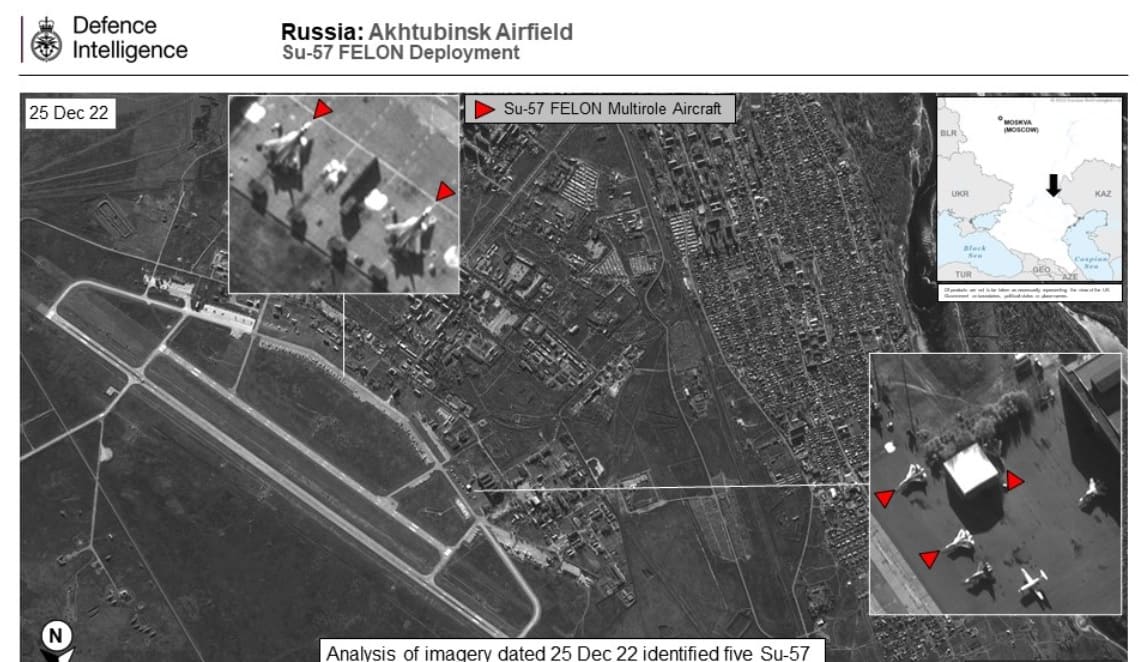 "Russia is highly likely prioritising avoiding the reputational damage, reduced export prospects, and the compromise of sensitive technology which would come from any loss of FELON over Ukraine.
"This is symptomatic of Russia's continued risk-averse approach to employing its air force in the war.
"Defence Intelligence analysis of [the satellite image], dated 25 December 2022, identified five Su-57 FELON multirole aircraft at Akhtubinsk airfield, Russia."