This article is brought to you in partnership with the Irish International Business Network
Almost 400 Irish business professionals from around the world descended upon London's King's Place on Friday morning for the Irish International Business Network's (IIBN) 3rd Global Annual Conference. The event was opened by deputy mayor of London for business & enterprise, Kit Malthouse, who highlighted the importance of fostering greater trade relations across the globe to drive business and employment. The deputy mayor went on to discuss the City's growing prominence as a world leader in the fields of science and finance.
This presentation was followed swiftly by insightful presentations from a host of highly successful and well acclaimed Irish professionals including Tony O'Reilly Jnr, CEO of Providence Resources Ltd, John Bird, CEO of the Big Issue, Dee Forbes, president and managing director of Discovery Networks Western Europe and  Colman Lydon, president of Soft Track Inc.
The day was not just about presentations though. Workshops, providing both experienced business people and fledgling entrepreneurs with useful information on everything from managing team conflict to data protection, took place throughout the day.
Most important of all were the numerous networking opportunities provided for attendees to get to know one another and develop long lasting, profitable relationships. This element lies at the core of the IIBN Conference, which aims to provide a platform for Irish professionals to establish connections that will allow their businesses to expand domestically and abroad.
Commenting on the event, Jonathan Grey, board member of the IIBN London Chapter said; "The Irish diaspora in the UK, particularly in London, is continuing to grow and this is creating huge opportunities for first, second and third generation Irish people to do business together.
"Our mission is to build on the links between the Irish here and those back in Ireland, serving as a catalyst for greater trade, growth and employment. I think we've achieved that here today."
Meet some of the Irish entrepreneurs who were at the conference, and find out why they've come to London…
Dylan Collins, SuperAwesome
What is SuperAwesome?
Superawesome is the biggest kids' digital marketing platform in the UK. We work with the biggest brands in kids' entertainment across books, movies, games, toys, etc. to help them communicate with kids. We reach about 13 million kids a month across mobile, web and pre-roll video. We're about 3 times bigger than all the kids' virtual worlds combined in the UK, so we're pretty big. In fact, we're the category leaders in the market.
We also do a lot of research.
When did you launch?
Roughly about two years. We've grown pretty aggressively but the market has also helped as it's shifting all to mobile. We've seen a lot of agencies and brands coming directly to us because a) we focus just on kids and b) we're further ahead technologically so we can do a lot of things on mobile, which other companies simply can't.
What's your favourite thing about working in London?
Honestly, the food. I love the restaurants. The food scene here is absolutely amazing. The opportunity to do business and eat good food at the same time is unsurpassed anywhere else in the world in my view.
Colin Horan, Extrasales Consulting?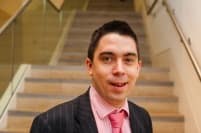 What is Extrasales Consulting?
Extrasales Consulting is an international property resale company. We specialise in selling Irish and British owned properties in Bulgaria, Spain, Turkey, Hungary and Portugal. Our mission is to take the hassle out of selling your property abroad. We manage every aspect of the sale of your foreign property, from listing your property to handing over the keys, keeping you informed every step of the way. Our well established relationships with Russian and Chinese investors give our clients access to two of the world's leading investment markets.
When did you launch?
We've only recently launched in the UK, with the opening of our London office. However, we've gone from strength to strength since we set up in 2007 in Dublin and we see London as the platform to take the company to the next level.
What's your favourite thing about working in London?
It's the sheer energy here. There's a real sense of positivity in London and that permeates into everything you do. I also love the fast pace of this city. There's never a dull moment. If you slow down you're sure to miss an opportunity.
Damien Kennedy, WheyHey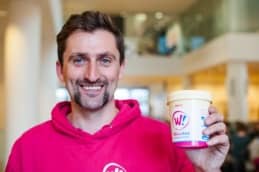 What is WheyHey?
WheyHey is the world's first high protein, completely sugar free ice-cream. We're what we like to say we're the anti-brand in terms of what is health. We are very low in fat, completely sugar free and very high in protien – 22 grams of whey protein isolate per 100 grams of ice cream, which nutritionally is like a medium chicken breast. It's the ice-cream that's not just a tasty option but it's good for you too.
When did you launch?
We officially launched in January of this year. Before that we were making it in my flat but we found a manufacturer back in Ireland whocould produce it. We immediately got listings in Ocado, Holland & Barrett, GNC, Whole foods markets and lots of independent health clubs and gym chains. We've also just started trials with the NSH.
What's Your favourite thing about working in London?
It's a global city. You meet so many different types of people. There's always someone out there, that's been there and done it before in London, who you can reach out too and ask for help. I don't think ifI was living in any other city that I'd be doing what I'm doing. The opportunities are endless.
What's with the handlebars?
We're one of the chosen partners for Movember. It's a charity we love to support. On top of the moustaches we're doing a lot of 'Broga' events, which is yoga aimed at men, alongside different fitness activities aimed at men.
NOW READ THIS: WHERE TO BUY PROPERTY IN LONDON IN 2013 AND 2014 
Judged by Tim Campbell, Will King, Terry Morgan CBE, Amit Bhatia, Matthew Hancock MP, June Sarpong & more