Check out our new series in association with the UK Domain
This article is part of our advice series developed in association with the UK Domain, who help UK businesses and individuals achieve more online.
Moving your website to a new name can seem a little daunting but domain migrations are actually common practice. With a bit of organisation, discipline & technical know-how, you can up sticks to a shiny new online address. If done correctly, both your visitors and the search engines will understand that you've moved. Plus, you'll be far less likely to see a long-term drop in traffic.
The guide will give you an overview of the process. Every migration causes a period of fluctuation, but you can make the transition as smooth as possible. Whether you are doing this yourself or passing the work to a developer, this guide will put you in control.
Planning and running the move from your old domain to your new one can be broken down into four key stages, which are covered in the guide:
1. Knowing when you need a domain migration     
Not sure if you should migrate your website to a new online home? In what situations you should consider it? This guide will take you through the times the move to a new domain is a great option. 
2. Pre-launch: Planning a migration
Before you do any kind of migration, you need to define  your plan. In this chapter, you'll learn how to map out the process, understand what you're changing and keep in control during the move.
3. Launch: Going live with your new domain
All the hard work and preparation can now be put into practice, but a strict set of steps must be implemented to ensure it goes off without a hitch.
4. Post-launch: Monitoring your migration                                  
Once your new domain is up and running, you're in the final stretch of the migration. Learn what series of checks need to be done to make sure all is working as expected and that your visitors and search engines are getting the experience you want.            
To know more, download our free guide to growing your business online, or visit the UK Domain for more hints, tips and tools to help you grow your business online.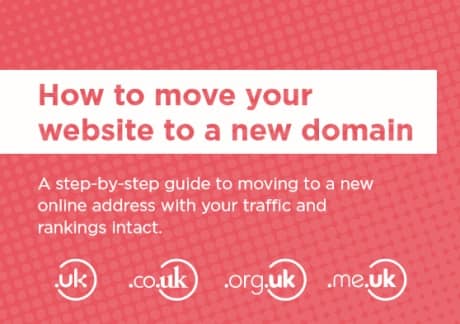 Source: the UK Domain