The 2020s is set to be a decade punctuated by the development of smart glasses technology. While many consumers eagerly await the arrival of Facebook, Google, and Apple's latest efforts in refining augmented reality and AI to develop functional and practical eyewear, we're already seeing smart technology make its presence felt in aiding those with various ailments to better recognize their environments and loved ones.
In a world that's been blighted by its most disruptive pandemic for a century, smart glasses have been earmarked as an innovation that could not only help to keep businesses connected in the era of working from home but also eventually replace the smartphone as the gadget of choice for consumers around the world.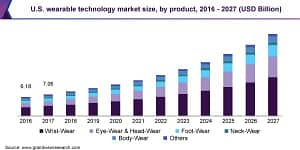 According to data, the growth rate of wearable technology is set to increase exponentially as the decade progresses. Eyewear will be a significant component of this cloud-based renaissance.
But when we think of smart eyewear, our minds are typically cast towards augmented reality-enabled devices that superimpose layers of data on top of our fields of vision. In fact, some of the earliest strides being taken in smart glasses technology have worked to help impaired users to improve their vision, awareness, and recognition.
Smart glasses as a tool for building environmental awareness
Rather than augmented reality, Envision has turned to artificial intelligence to power its smart glasses, which were released internationally at the end of 2020. The glasses have been developed specifically to aid individuals who suffer from profound sight loss.
Envision's approach to helping those suffering from loss of vision is somewhat unique in the eyewear market – mostly because their product doesn't aim to enhance any of the user's remaining areas of vision. Instead, the glasses utilize speech in order to relay information about the wearer's environment.
Significantly, when it comes to reading text – regardless of whether it's from close-range or at a distance, Envision's glasses are capable of matching and surpassing its rivals like OrCam MyEye Pro and Microsoft's phone-based effort, the Seeing AI app.
The smart glasses offer much more in the way of performance, too. Its built-in audio scene descriptions can help users to identify trees and benches in parks, as well as identifying and announcing the arrival of friends thanks to a feature that allows faces to be programmed into the device. Furthermore, color and object recognition is also supported – meaning that users will never have to fear losing their house keys again.
Digitally enhanced surroundings
While it's easy to think of smart glasses as an advanced, futuristic form of technology, they've actually been helping individuals with their sight for many years now. Back in 2014, a pair of smart eyewear developed at Oxford University worked to help boost the spatial awareness of visually impaired users.
The glasses reportedly consisted of a video camera mounted on the frame of the glasses, as well as a computer processing unit that's small enough to fit inside a pocket, and software that provides images of objects close by to the see-through displays in the eyepieces of the lenses.
The transparent displays are capable of supplying a simple image of nearby people and obstacles. The camera, with specially crafted software, then interprets the surroundings – visually enhancing objects and individuals that the technology deems significant, like curbs, tables, chairs and people.
According to Oxford University, the glasses aren't capable of replacing lost vision, but they have the ability to assist with spatial awareness. Users can look through the glasses to make the most of their existing sight, with enhanced images via technology that's not entirely different from augmented reality. The appearance of these images help to provide more information regarding what, or who is in the user's line of sight.
While Oxford University's efforts may seem somewhat primitive today as we stand on the cusp of a new generation of smart glasses from industry leaders like Apple, Facebook, and Google, it's likely that we'll see today's tech behemoths utilize the core principles of spatial awareness enhancement through the medium of augmented reality.
With the development of AR, the smart glasses of tomorrow won't require pocket-sized CPUs or frame-mounted cameras to operate, and as the decade progresses, tech-packed eyewear will begin to arrive in the form of everyday glasses that are commonplace in online eyewear stores today which can be found here. Steps towards accommodating advanced tech inside fashionable, comfy frames are already underway, with Facebook moving to partner up with EssilorLuxottica – the company that manufactures Ray-Ban glasses.
Smart glasses to help dementia suffers to recognise loved ones
Smart glasses can not only help visually impaired users to become more aware of their surroundings, but they can also help dementia sufferers to recognize loved ones.
The winners of the 2019/20 Huawei ICT Competition were an all-female team of young women who created the Forever-Smart Glasses.
The glasses utilized Huawei's AIoT technology and cloud service to identify the faces of daily members and help dementia patients to better identify them.
The Forever-Smart Glasses team also developed a mobile app called Your Helper, which utilizes a built-in GPS positioning system to track an elderly family member's movement. The app can automatically send an alert to carers if a family member is lost.
Forever-Smart Glasses and its supporting technology clinched the contestants the grand prize in Huawei's Innovation Competition as well as the TECH4ALL Social Contribution Award.
There's plenty of reason to get excited for the arrival of smart glasses technology over the coming months and years. With early releases forecast for late 2021 and the promise of the technology becoming more refined as the decade progresses, AR-enabled wearable devices are likely to become a part of everyday life.
However, it's easy to forget some of the more humanitarian feats that the technology can achieve in terms of aiding the blind, those who suffer from extreme loss of vision, and the elderly suffering from dementia. It's in helping the disadvantaged individuals in society that this latest wave of advanced technology can really make its mark.