You've decided to build yourself a budget. That's great! Budgets are excellent financial tools that can help you organize your expenses, track your spending and reach your savings goals.
If you want to make a budget that really works for you, you should follow these four tips:
1. Think about emergencies
There are many expenses that you will have to cover in your budget, like your housing, food and transportation costs. One category that you might not consider is emergencies. It's crucial that you include this in your budget.
What will you do if your refrigerator breaks down and you need to replace it? What if your car stops working and you need to pay a mechanic to fix it? You will want to have the funds to pay for these problems right away.
So, you should designate some money for emergencies. Take it out of the budget every single month and add it into a savings account. This will be your emergency fund. Once you have a significant amount of savings in there, you can use the fund to pay for any problem.
What can you do if you don't have enough? If your emergency savings are low or non-existent, you could try applying for online personal loans through CreditFresh as an alternative solution. If you're approved for a loan, you could use the funds to manage the urgent and unexpected expense in a short amount of time. Then, you could handle the repayments later on.
It's important that you only use personal loans for emergencies. They shouldn't cover everyday needs like gas or groceries.
Credit: ELEVATE via Pexels
2. Acknowledge "Fun Money"
Fun money is an essential category for a budget. It's the money that you reserve purely for pleasure — not for responsibility. If you have a gaming hobby, you should include the costs of new video games in your budget. If you like going out for drinks with friends once a week, you need to calculate that, too.
Many people don't acknowledge "fun money" in their budget because it doesn't seem responsible to spend on these non-essentials. They cut them out of their financial plans entirely so that they can save money. But that's not a good idea. Any time that you are too restrictive, you're going to deal with the temptation to stray.
Think of it like a diet. Extreme diets can make you lose weight in a short amount of time, but those results don't tend to last too long. That's because they're too restrictive. People on these diets aren't allowed to eat foods they enjoy and feel compelled to eat foods they hate. They're absolutely miserable until they reach a breaking point and quit.
Being too restrictive will make you rebel against the rules that you set for yourself. You're going to get tired of the rigidity of your budget and blow a bunch of money on your favorite things. And you might end up spending more than if you allowed yourself to have some fun money in the first place!
3. Adjust, adjust, adjust
The first budget that you make probably won't be perfect. You might find that you've allocated too many funds for your transportation costs but not enough towards your food costs. That's completely normal!
Make a habit of going over your budget to see whether the guidelines that you set are working or not. Are they too strict? Are they too loose? Make adjustments to the categories to get better results. Repeat this maintenance check every month.
Why every month? Your budget's guidelines can't stay stagnant because your life isn't stagnant. You might get a raise at your job and have more income to spread around. You might get a pet and have a new responsibility to pay for. You might move to a new location and have different costs for rent and utilities. Your life will be full of changes, and your budget will have to adapt to them.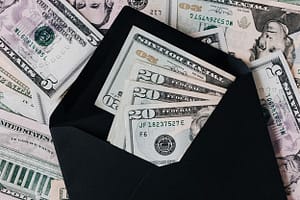 Credit: Karolina Grabowska via Pexels
4. Find the method that works for you
There's no single budgeting method that works for everyone. You'll need to find the approach that fits you!
What options do you have?
Pencil and paper
You could make your budget the old-fashioned way. All you have to do is grab a sheet of paper and a pencil. Then, calculate your monthly expenses to see how they work with your income. The technique is simple and straightforward.
Budgeting apps
A more popular method is to download a budgeting app. Most budgeting apps connect to the user's bank accounts to make for easy expense tracking. They also come with clear instructions, which can make them a convenient choice for anyone who isn't confident in their math skills.
Here are a few examples of budgeting apps that you could use:
Mint
You Need a Budget (YNAB)
Goodbudget
Personal Capital
Wally
EveryDollar
HoneyDue
Paper bills
Another feature that you need to decide is whether you'll organize your budget using paper bills or digital funds.
People who prefer paper bills can follow the envelope budgeting method. One of the benefits of using this method is that you can see exactly how much you spend throughout the month. You'll also know exactly when you've run out of money — your envelope will be empty.
Digital funds
Instead of using cash, you could organize your budget using the digital funds in your checking and savings accounts. It will be more convenient for paying bills, ordering items online and doing money transfers.
Combinations
Don't be afraid to try more than one method! You can even combine methods, like using digital savings for covering your bills and cash envelopes for your groceries. You could write down an annual budget by hand but use a budgeting app for the day-to-day. It's up to you!
When you build the right budget, you'll never want to stop following it. You'll keep up with this financial habit for the rest of your life.
The above information does not constitute any form of advice or recommendation by London Loves Business and is not intended to be relied upon by users in making (or refraining from making) any finance decisions. Appropriate independent advice should be obtained before making any such decision.