Christmas came three days early for Facebook as the social network's stock traded at an all-time high of $81.88 on Monday.
The market cap of the company is now $227.7bn, up from $202.5bn in September.
According to Yahoo Finance, there is no specific reason for Facebook's fantastic performance apart from investors buying up shares.
In an email to Bloomberg, James Cakmak, an analyst at Monness Crespi Hardt & Co, recommended buying more Facebook shares.
"While the shares have likely benefited from the recent market rally, we see growing confidence in the monetization prospects of Instagram as an impetus to the recent uptick."
Facebook, which turned 10 this year, has had a great 2014. Milestones include acquiring Whatsapp for a reported $22bn and buying virtual-reality company Oculus Rift for $2bn.
This year also saw founder Mark Zuckerberg's fortune rise to $34bn – 23 times what he was worth in 2008 ($1.5bn).
Take a look at this graph: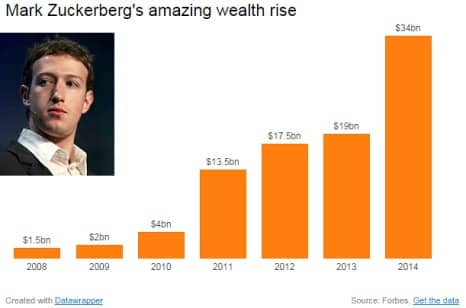 And here are some key Facebook stats for 2014:
1.35 billion monthly active users as of September 30, 2014
1.12 billion mobile monthly active users as of September 30, 2014
864 million daily active users on average for September 2014
703 million mobile daily active users on average for September 2014
Approximately 82.2% of our daily active users are outside the US and Canada
Now read: