The former CBI chief believes we all have a role in becoming leaders in the fight to save the UK – and we can learn how to do it from rugby
This is part 2 of our 3-part series from Digby Jones' new book, Fixing Britain. Read part 1.
As a nation we have lost our bottle. We no longer feel that we do the business, and we need to have a generation brought up to believe that we can deliver. Not in the projection of military or economic power alone, but in the promotion of our essential tenets of freedom – of assembly, of speech, of worship. We are an open society, and we should say to the rest of the world: if you speak English and you have a skill, and you're prepared to work hard and integrate, regardless of the god you worship or the colour of your skin, then you are welcome. And if you liked our way of life enough to up sticks and come here, then help us maintain what you found attractive.
"Business in return has to be better at regulating itself, has to step up to the plate on training"
But if you are not prepared to learn or speak English and you are not prepared to integrate, then this country isn't for you. I remember back in Birmingham in the nineties, the council decided it was not going to mark the usual Christmas, but instead it 'celebrated' what it described as 'Winterval', because it didn't want to offend non-believers in the Christmas story.
Such action is so destructive of the very cohesion we must develop. It turns people against immigrant communities needlessly and often such decisions emanate from ideas promulgated by non-immigrants rather than ethnic communities who frankly couldn't be bothered as they just get on with their everyday new lives. If we are going to have self-belief and understanding in our country then the authorities must not pander to a multiculturalism which has plainly become divisive, militating against us being able to pull together as one nation.
In all this, business has a role in giving a leg up to those who can't, who aren't able. People like working for companies which wear the corporate social responsibility badge on their sleeves. People like buying products and services from them. What's more, it is simply the right thing to do. If business is going to be allowed to prosper, if it's going to be cut some slack in taxation and regulation, then business in return has to be better at regulating itself, has to step up to the plate on training and at the same time practice good corporate governance.
At the CBI, in the early years of this century I fought hard and successfully against making corporate social responsibility (CSR) a legal obligation for businesses, because the moment you make something law, it moves out of the human resource, externally focused offices and into the finance director's office, with the words 'make this cost us as little as possible'.
I don't want CSR to have the same status as the upgrade of the firm's toilets or a new bit of machinery. I want it to be in the DNA of a business. I want people to understand that these are the values of a business, and if you join this business, deal with this business, this is what you buy into.
In the course of an apprenticeship or the beginning of a career, you would be asked to do your bit in the hospital wards or the hospice kitchens, or with an environmental project or with wounded soldiers. It's not about giving money, it's about giving your enthusiasm, your leadership, your inspiration and your time.
If it's not mandatory, but comes out of a wish of the company, the younger employees will quite enjoy it, they will feel that they are in a business which cares.
They will feel they are making a difference because they want to.
We have to make sure that the smallest business does it as well as the largest one.
Fixing Britain calls for leadership. Leading isn't something which is left to the boss, be it the Prime Minister or head teacher. Each one of us has a responsibility to lead, to set an example, to encourage and inspire, to be there for other people.
If we take just a minute and look around us, we all have someone whose life we can improve, whose talent we can maximise, whose self-belief we can increase by what we do, not by what we say alone. Now that is leadership.
On 22 November, 2003 in the Telstra Stadium in Sydney, England went head to head with the host nation in the Rugby World Cup Final. Martin Johnson was the captain. He told me later that as he marched his players out from the dressing room, they were standing waiting to be cheered onto the pitch at the start of the game, and he looked back down the line of the other fourteen, minded to say some last few words of encouragement.
He looked them in the eye, and realised that he had no need to say anything. They knew exactly what they had to do. In amongst the team were seven or eight club captains, men who led their teams out every Saturday back in England, having regularly inspired their teams to go beyond what they thought they could do.
These captains, just like Nelson's, were masters of their own ships, but their joint Trafalgar had been drawn up on a different canvas. Each of them knew where their responsibility lay. Sir Clive Woodward, the coach, had prepared them superbly. Martin Johnson's task was to take them a stage further.
This is a very good example of the essence of leadership: that you take people to places that they didn't feel they could go and you enable them to achieve things they didn't feel able to achieve. Everyone can get there. It takes a leader who understands motivation. And that sort of leadership builds self-belief and can make everyone a leader.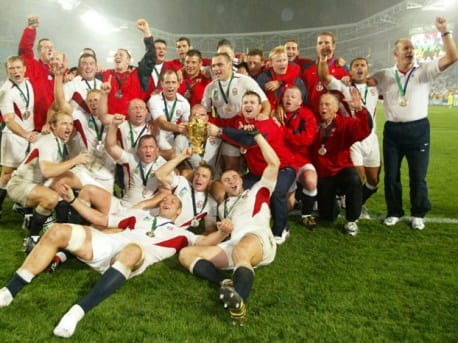 Source: PA
There are those leaders who reach the top of the pile and who, in the rawest sense, get 20 men to follow them up a hill into fatal gunfire or, in Nelson's day, into the huge French and Spanish fleet at Trafalgar. That may be for the very few, but those who do anything whose actions affect somebody else, lead.
Anybody who takes responsibility for his or her own actions is a leader.
Indeed, I've wondered so many times over the recent years what it actually takes to resign. What it takes in the public sector to accept accountability and responsibility and in the private sector what it takes for someone not to be rewarded for failure.
But leadership is also built on the feeling that what you do matters. The example you set and the responsibility you take. These are big places to go for many people. But if you have those abilities, it is incumbent upon you to pass them on. Imbue self-belief and inspiration in others. Do as you would be done by. If you decide to take the role, then encourage people to ask why, and don't shout at them when they do. Explain why and you help them understand. Then they will buy into what you're trying to achieve. But in the end, the most important thing is to give people self-belief.
Martin Johnson managed that task with his team of captains and players. Business should learn from it and take it as their responsibility to make it work.
Come back tomorrow for our final extract from Digby Jones' new book, Fixing Britain – The Business of Reshaping Our Nation, to discover what the UK can learn from Churchill and Rome.
Lord Jone
s was director general of the CBI between 2000 and 2006, and minister for trade 2007 to 2008. He is currently an ambassdor for UKTI, and has roles with JCB, Flybe, Jaguar Cars, Monetise and Babcock International Group. His new book, Fixing Britain – The Business of Reshaping Our Nation is out now, priced £9.99