Brexit has become one of the most polarizing topics in the United Kingdom in the last several years and it is likely to remain so until the UK brings the matter to a just conclusion. Interestingly, the Brexit dilemma seems to have triggered increased interest in Bitcoin from a nation that has mostly paid only a cursory glance at cryptocurrencies in the past. Now, more people are actively interested in how to buy and sell Bitcoin in the UK because it is not necessarily correlated to socio-political affairs.
More so, the fact that Bitcoin is a digital currency that exists outside the control of any government is buffing up its image a potential currency hedge if a "hard" Brexit happens. For business owners, cryptocurrency could potentially start coexisting with fiat as a widely accepted means of payment as socio-political issues continue to increase the volatility of fiat currencies. This piece provides guidance on where to buy Bitcoin for people interested in how to buy and sell Bitcoin in the UK as the arguments for and against Brexit continue to rage on.
How to buy and sell Bitcoin in the UK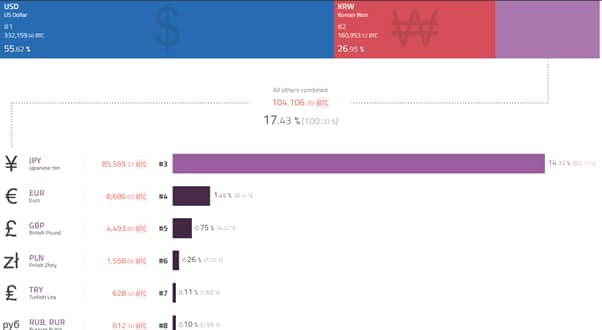 The UK is gradually moving up in the list of countries with the biggest appetite for Bitcoin. For most of 2017, the British pound was one of the most illiquid fiat currencies for crypto trades and the UK typically ranks at the bottom of the top 10 active crypto markets in the world. However, the story has changed and the British Pound now sits in the fifth position just behind the Euro and ahead of the Polish Zloty and Turkish Lira.
Below are some of the available options for buying and selling Bitcoin in the UK.
Cryptocurrency exchanges
A cryptocurrency exchange is a platform that facilitates the trading of one cryptocurrency for another cryptocurrency. Crypto exchanges typically aggregate buy and sell orders from thousands of traders to populate their order books and to form a liquidity pool.
Bitcoin is the first and most popular cryptocurrency but there are more than 4000 other coins, tokens, and altcoins the market. Crypto exchanges typically provide support for hundreds of coins, but you'll most likely have to use Bitcoin or a tether as the base pair for your altcoin transactions.
For people interested in exploring the art of cryptocurrency trading, a cryptocurrency exchange is often the best place to buy and sell Bitcoin. Crypto exchanges are outfitted with trading tools that enable traders to conduct technical analysis to determine their trading decisions. Crypto exchanges also allow the use of sophisticated trading elements such as margin trading, crypto staking, trailing stop losses, and limit orders among others. If you want to explore profit from the short-term volatility of Bitcoin, you'll most likely want to buy the token from an exchange.
Custodian services
Crypto custodian services are licensed and regulated third parties that allow people to buy Bitcoin with the British Pound or other fiat currencies. The key selling point of custodian services is the simplicity they offer through simple payment interfaces and without the complexities of the trading charts found on crypto exchanges. More so, Bitcoin bought through custodian services is often left in the care of the custodian company who ensures that the coins are securely held until the owner decides to sell them.
A crypto custodian service is a better way to buy and sell Bitcoin if you are not planning to become an active crypto trader and you'd rather adopt a buy-and-hold position to Bitcoin. Crypto custodial services are also useful for businesses that want to use crypto to hedge against socio-economic and political risks in fiat currencies. Also, crypto investors who don't want to grapple with the technical challenges of managing public and private keys or hot and cold storage will find crypto custodian services very helpful.
Cryptocurrency brokers
Exchanges are great places for retail investors to buy Bitcoin but they are not quite cut out for the job when you need to buy Bitcoin in bulk. Exchanges typically function like stock exchanges where they act as middlemen for bitcoin buyers and sellers transacting at the prevailing market price. If you are a high net worth individual or if you represent a fund or family office; a crypto broker might be a better option for buying and selling Bitcoin.
Crypto brokers facilitate the sales and purchase of Bitcoin through dealer networks in an over-the-counter (OTC) market setup. The dealer network connects bulk sellers often called whales who hold large pools of crypto with buyers who want to place bulk purchase orders. Buying Bitcoin through brokers sometimes provide flexibility in pricing to buy below the market price or sell above the market price. More so, the transaction fees on bulk purchases through brokers tend to be lower than transaction costs when the same trade is placed on an exchange.
Where to buy and sell Bitcoin in the UK
Most simple custodian service: Skrill
Skrill, incorporated in 2001 is the easiest place to buy and sell Bitcoin and other cryptocurrencies. The company had built core competencies in making digital payments simple, secure and quick over the last two decades. As part of an established payments company, PaySafe Group, the company records annual revenues over £1.5B and it has offices in the UK, US, and Europe. In 2018, Skrill started leveraging its expertise and experience in simplified digital payments to lower the barriers to access for people interested in cryptocurrencies.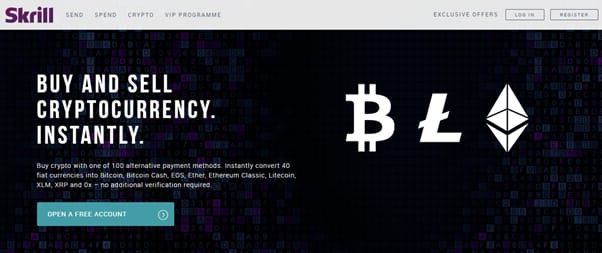 Skrill has simplified how to buy and sell Bitcoin with a dedicated crypto tab on its web and mobile apps. The crypto tab allows users to buy or sell Bitcoin as if they are making a regular digital payment transaction without the complexities of trading charts, bid-ask-spread, wallet addresses, or public and private keys.
The best part is that Skrill allows its users to buy Bitcoin with 40 other fiat currencies apart from the British Pound. This versatility, in turn, makes it easy for businesses with foreign exchange exposure to hedge their fiat risks with Bitcoin as the Brexit brouhaha continues.
Most popular platform: Coinbase
Coinbase, founded in 2012 says it is on a mission to leverage cryptocurrency to create an open financial system for the world. The company seems to be succeeding as it is the most popular cryptocurrency exchange and its popularity stems from its U.S. origins, its penchant for poaching top Wall Street talent, and its willingness to play nice with regulators. In the last 7 years, Coinbase has signed up more than 30 million users who have traded more than £117 billion.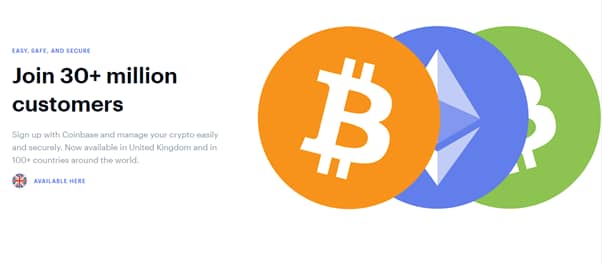 Coinbase requires you to register an account and complete an ID verification before you can buy BTC with credit cards or debit cards on its platform. You'll also be required to complete the KYC process before you can deposit funds into your Coinbase account. Nonetheless, Coinbase's pedigree in the crypto industry and its regulatory compliance reduces the odds that user funds will be lost in a crypto hack.
Most suitable for derivatives – Plus500
Plus500 was founded in 2008 as a global company providing online trading services in CFDs for more than 2000 securities and assets. The firm was the first broker to launch Bitcoin CFDs as far back as 2013. Plus500 provides an opportunity for traders to speculate on the price movement of cryptocurrencies using CFDs without owning the crypto outrightly.  Crypto CFDs are particularly interesting because they allow traders to apply leverage on small trading capital for outsized returns.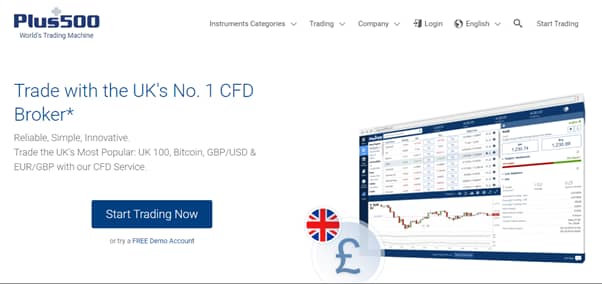 While regular traders and investors usually seek to benefit from price gains in cryptocurrencies, trading CFDs allows trade in any direction such that the trader can record profits irrespective of whether the crypto market is moving up, down, or sideways.
The downside to CFDs however is that you don't own the underlying cryptocurrency. Hence, any money placed on a losing trading is lost whereas, buying cryptocurrencies allows you to maintain ownership of your coins even when the value of the coin trades down to pennies on the pound in an extended bear market.
Conclusion
The Brexit rollercoaster ride is still rolling as the UK parliament continues to sit on Withdrawal Agreement Bill. Hence, the risk of a no-deal Brexit remains a threat to UK businesses that have international exposure in Europe. Beyond the fact that the British goods going to Europe might need to pass through customs, there might be delays in the ports, bottlenecks on supply routes, and potential sharp declines in the value of the pound against other currencies. It would be interesting to see how the BTC to GBP pair trades are the Brexit debacle continues going forward until the conclusion of the matter.