Lebanon's capital Beirut was rocked a huge blast that has killed more than 100 people leaving over 4,000 people injured.
Lebanese officials said the blast could have been caused by more than 2,700 tonnes of ammonium nitrate which was stored unsecured in a warehouse for around six years.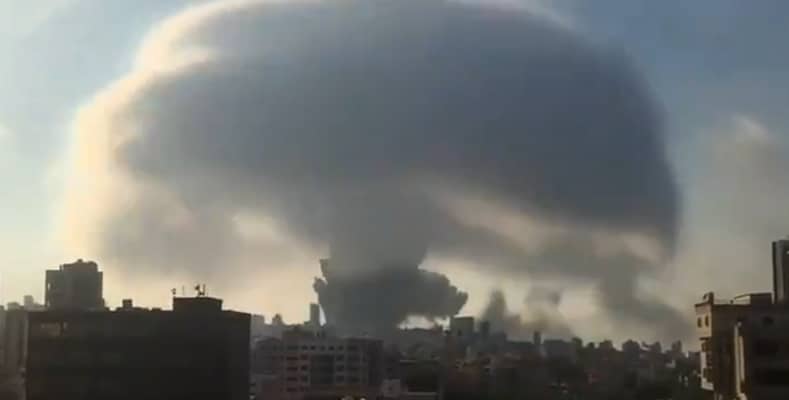 Ammonium nitrate is used in agricultural fertilisers and can be used in explosives. On its own it is not dangerous, but ca be deadly in certain conditions.
Lebanon's Prime Minister Hassan Diab has called for a day of mourning on Wednesday and said the country is experiencing a "real catastrophe." Diab warned that those who are responsible will pay the price.
Abbas Ibrahim Lebanon's internal security chief said the blast that has torn through Beirut could have been caused by explosive material which was confiscated from a ship which was stored at the port.
Videos show the moment that the blast happened which was felt for more than 200km's such as Cyprus and Syria.
Can this year just end.. Can we pls skip the rest of 2020.. 💔#Beirut #لبنان #انفجار_بيروت #مرفأ_بيروت #بيروت_عم_تبكي #explosion #انفجار_المرفأ#Lebnon #LebanonExplosion pic.twitter.com/ehUtdGQlIL

— Alaa Ahmad (@alaa_ahmad98) August 5, 2020
Streets in Beirut are littered with twisted metal glass and debris from buildings, with many homes and businesses ruined.
Schools minister Nick Gibb told Sky News, "There have been a small number of non-life threatening injuries and we are investigating the effect on British nationals in Beirut, and our embassy is ready to supply consular support for our nationals who are affected by this devastating and appalling tragedy."
Gibb also confirmed that the UK has asked the UK for help, and the British government are working out what help they can provide.
A terrifying picture of people flying in the air due to the severity of #LebanonExplosion in the port of #Beirut
O Allah, save #Lebanon & all countries. pic.twitter.com/pukoCs5wTX

— Umar عمر 🍂 (@theumarkazmi) August 5, 2020
Prime Minister Boris Johnson said the British government is "ready to provide support in any way we can," and the Foreign & Commonwealth Office are "monitoring the situation closely."
Beirut governor Marwan Abboud told Sky News Arabia, "There was a fire and the fire troops were told that there was a fire. They, the teams, came to put out the fire. There were 10 firefighters. They disappeared, we don't know where they are and, as a result, I came to look for them.
Pray for #Beirut pic.twitter.com/nTa6WQ8MAD

— luckyalmsyhahaha (@luckyalmsyhh) August 5, 2020
Abboud said, "After the fire, there was an explosion. (The firefighters) disappeared with the explosion."
He added that the blast "looks like Japan in Hiroshima or Nagasaki."
He said, "This is what this reminds me of. I have never seen this amount of destruction in it depth and breath. This is a national catastrophe. 
"This is a disaster for Lebanon. We don't know how we are going to get out of it. We don't know. We could barely survive (before the explosion) and now we have this disaster. We have to stay strong. We have to hold ourselves together. We have to be brave. This happened to a people.
"I appeal to the Lebanese people to hold it together. We are strong and we will stay strong."