The 33-year-old on his investment in Dropbox, cement and of course football
Oh my god, did I just make Britain's fourth richest person Lakshmi Mittal wait? His son-in-law Amit Bhatia excuses himself to call the steel tzar and tell him he's in the middle of an interview, and will be late for lunch.
Bhatia is the co-owner of Queens Park Rangers Football Club, alongside Mittal, whose billion-heir daughter Vanisha he married in 2004. The extravaganza is believed to have cost £60m – that's more than triple the cost of the royal wedding in 2011. The six-day big, fat Indian wedding was hosted in part in the Versailles Palace, with performances from Kylie Minogue and Bollywood superstars including Shahrukh Khan and Aishwarya Rai. The 20-page invitations to the soirée were sent out in silver boxes, the wine bill was over $1.5m and there were fireworks at the Eiffel Tower.
But Bhatia avoids celebrity namedropping and also "I have a normal life" rhetoric, during our interview at his swanky Berkeley Square offices. He likes to keep his lifestyle off-limits. "Can we not talk about it, it's so unimportant," he says.
His Twitter feed is a giveaway. In the past few months, Bhatia has partied with Justin Bieber, taken private jets to friends' weddings in India, been called a "superstar" by leading English batsman Kevin Pietersen and attended the Cannes film festival.
As you'd expect, he's from a mega-rich family too. The Bhatias run a successful property business in Delhi. Earlier this year, Bhatia's father and brother together bought a 21% stake in Air Asia India. The company is a joint venture with the Tata Group of the Taj Hotels fame and Tony Fernandes, who owns Air Asia and a 66% stake in Queens Park Rangers.
Of course Bhatia's best known for representing his and Mittal family's 33% stake in the football club. While they bought their stake for an undisclosed amount, they are known to have forked out £27m during the 2011-12 financial year. As for how long Bhatia plans to be involved in the club, we'll come to that later.
Why you should know about Bhatia, the entrepreneur
No one seems to talk about Bhatia the entrepreneur. The 33-year-old is the founder of Swordfish Investments, a private equity fund, and Swordfish Capital Management, an investment management company. He's also the chairman of Hope Construction Materials, Britain's fourth largest suppliers of cement, concrete, asphalt and aggregates. Last month, he was named Young Entrepreneur of the Year at the Asian Business Awards 2013.
So, in true LondonlovesBusiness.com form, I speak to Bhatia about his business portfolio to find out what more there is to him than the outrageous billionaire bells and whistles.
After graduating from Cornell University with a degree in Economics and Investment Management in 2001, Bhatia worked with Merrill Lynch and Morgan Stanley in the US. After the stints, he decided to spend a few months doing charitable work in Ecuador before "pursuing the rat race of life and earning money". The native Indian then came to London and joined Credit Suisse First Boston with the thought of being an entrepreneur bubbling away in his head.
"I was a naïve 24-year-old when I decided I wanted to start a fund. I was really good friends with my now brother-in-law Aditya and my father-in-law who decided to back me. They said they liked some of the opportunities I'd discussed and advice I'd given them," Bhatia tells me as fiddles with an Evian bottle. Dressed in a slick grey suit, his dimpled-chin and light eyes remind me of John Travolta from Greece. He has a very breezy demeanour, yet talks of his business with punchy eloquence.
"The idea behind Swordfish investments was to have a portfolio where we can invest in everything from tech, telecom to media and education. I thought that if I'm able to pull it off then it would make a very powerful mandate."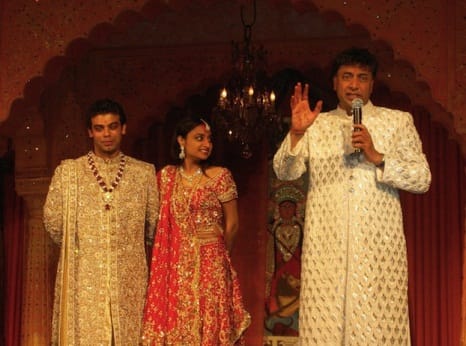 In the last 10 years, Swordfish Investments has invested in 30 to 40 businesses. Some mega deals include stakes in the upmarket sports bookmaker Fitzdares founded by Ben and Zac Goldsmith; Asquith nurseries, the largest day care provider in the UK; Mood Media Group, the largest music distribution business in Europe and SAXO India, a joint venture with the European Saxo Bank.
The investment vehicle also has a stake in billion-dollar hedge fund ROC Capital Management which was reportedly the "largest fund launch" of 2009. Bhatia is also a strategic adviser to B4U movies and B4U music channels.
A deal that Bhatia is particularly proud of is Supercell Games, an investment made through tech accelerator Initial Capital that he's backed. According to Forbes, Supercell Games makes a daily revenue now at $2.4m and could "reach $1bn" by the end of 2013.
"We're an opportunistic fund and it's great to be able to invest in fast-growing businesses in the world. I believe in backing the jockey and not the horse so if there are a bunch of talented entrepreneurial people behind a product, I know it's going to succeed."
On the public market side, in the last two years that Swordfish Capital Management fund was traded, the company turned over "north of a billion dollars each year".
Bhatia's strategy is to never go over the top with his investments. He believes that "if you protect the downside, the upside will take care of itself".
"I've always been a bit of a contrarian investor and that has held us in good stead. So in 2008-09 when the market turned, we actually did much better than our peers. We actually made money when the rest of the market lost money."
But he admits there's a flipside, "I made less money compared to other people when the market was bubbly and buoyant because I was always a conservative investor."
After a bit of prodding, Bhatia reveals other bigwig investments he's made. One of them being, Dropbox, the file sharing service that counts U2's Bono as an investor and in 2009 is known to have famously turned down Steve Jobs who wanted to buy the company for a "nine-digit" sum.
Now why is Bhatia reluctant to talk about these mega businesses? He's a little superstitious and believes in "Nazar", the Indian idea of jinxing things by speaking too soon.
"One day when we exit these businesses and see how it's done, I'd love to discuss it, but not for now," he chuckles.
The £300m Hope Construction Materials deal
The one investment that Bhatia wants to discuss is Hope Construction Materials. Launched in January this year, the business was formed after divestment of 200 sites by two of the UK's biggest building materials companies, Tarmac and Lafarge. The deal close to £300m makes Hope the owner of assets including the largest cement works in the UK at Hope Valley in Derbyshire, 172 ready-mix plants, five major quarries, seven national offices, a fleet of over 400 vehicles and 800 employees.
"The ArcelorMittal headquarters is on the seventh floor of this building and I spend a lot of time with my father-in-law and my brother-in-law who are obviously extremely passionate about manufacturing industries in the UK. So, I've been surroun
ded by people talking about industry and manufacturing for the last 10 years and some of it rubs off on you."
Bhatia and Mittal senior named the business Hope together to prove their faith in the UK economy.
"Hope is a play on the UK industry and its ability to recover. The name is a play on manufacturing, housing and construction. A lot of people ask me why I deployed cash in manufacturing cement and concrete at a time when infrastructure outlook looks poor and the economy is not flourishing. But it comes back to same idea, I like being a contrarian investor, I like looking at things when other people don't."
How long will Bhatia stay at Queens Park Rangers Football Club?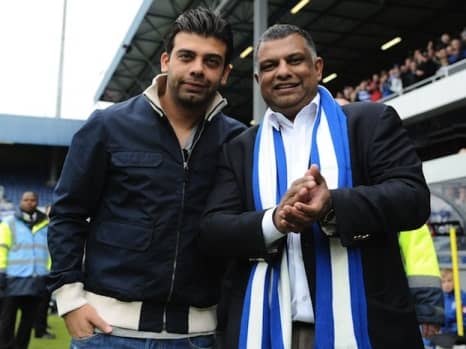 Bhatia might be conservative in investing in companies but the money ploughed in Queens Park Rangers football club is anything but.
Back in January, QPR spent £20.5m on striker Loïc Rémy and defender Christopher Samba. But it hasn't helped the club, which was relegated from the Premier League in April, is thought to be £89m in debt and running at an annual loss of £23m. In April this year, QPR took a £15m loan from Barclays Bank in Hong Kong charged against all the club's assets including Loftus Roads stadium.
From QPR manager Harry Redknapp ridiculing the wage inequality in the camp to striker Loïc Rémy getting bail after a rape allegation, the club's been shrouded in controversy. In 2011, Bhatia too stepped down as vice-chairman over an increase in ticket prices and decisions to sack then club CEO and chairman Ishan Saksena.
It's not surprising why he's reluctant to discuss the club too much. However, ask him about how he became involved in QPR and he "has a great story to tell".
"I was leaving my office one day when I saw on Sky news that Bernie Ecclestone and Flavio Briatore had bought QPR. I remember texting Flavio to congratulate him."
A week later Flavio texted Bhatia to say that he wanted to meet up and discuss something.
"I didn't have a clue as to what he wanted to discuss before we met at my father-in-law's house for coffee. He asked me 'How would you like to be involved in Queens Park Rangers football club?', I sat there not sure what to say."
Bhatia spent the next few days getting to know the club and its central London location and extensive fanbase, which sealed the deal.
"I've now been the vice-chairman of the club for the past six seasons. At the time we got involved, I believe I was the youngest owner and vice-chairman of a football club. The club has real soul and passion and no amount of money can buy that."
So has it not been the best investment?
"QPR is not an investment, the family has never deemed that as an investment – ever. For us this is a passion. You can't put the same metrics you do to a business to a football club.
"We have always run the club prudently and we have financed the club through shareholder equity and shareholder loans, rather than external bank debt. The Barclays loan against the stadium is the only external debt and the decision to put it in place was made by all the shareholders who agreed we needed to have a more efficient capital structure in the business."
He narrows his eyes: "QPR is something that we love. As long as I'm involved in QPR, I don't know how long that will be, I'll never treat it in any other way than love and passion."
Wait. What? Is Bhatia planning to leave QPR?
"I don't know how long I will be involved with the club. It be could short, medium or long term, I don't know," he continues.
"I say that because, like everything in life, we have to weigh different opportunities in the right way and at the right time. I also have to make sure I keep adding positive value to the club. I need to be sure that I can continue to take on the responsibilities with all the other responsibilities that I have.
"And so with that in mind, whether I am there or not there, I want the club to be a success, because I love it."
With that, we end our chat. After all, we've kept Lakshmi Mittal waiting remember?