A recent study by Serenata Flowers, one of the UK's leading online florists has uncovered the most popular flower colour choices and meanings for both male and female flower senders by budget across the UK.
The flower fingerprints revealed that in London colour choices differ greatly between low and high spenders. Yellow is the top choice for both male and female senders who pick bouquets which cost £20 or less, a colour which has been long associated with moneylenders and finance throughout history. This uplifting colour communicates feelings of pride and happiness and is closely followed by purple. The royalist of all colours this commanding hue symbolizes dignity and success. Overall the colour choices fall on the lighter end of the colour spectrum whilst high spend flower senders opt for more varied colour choices.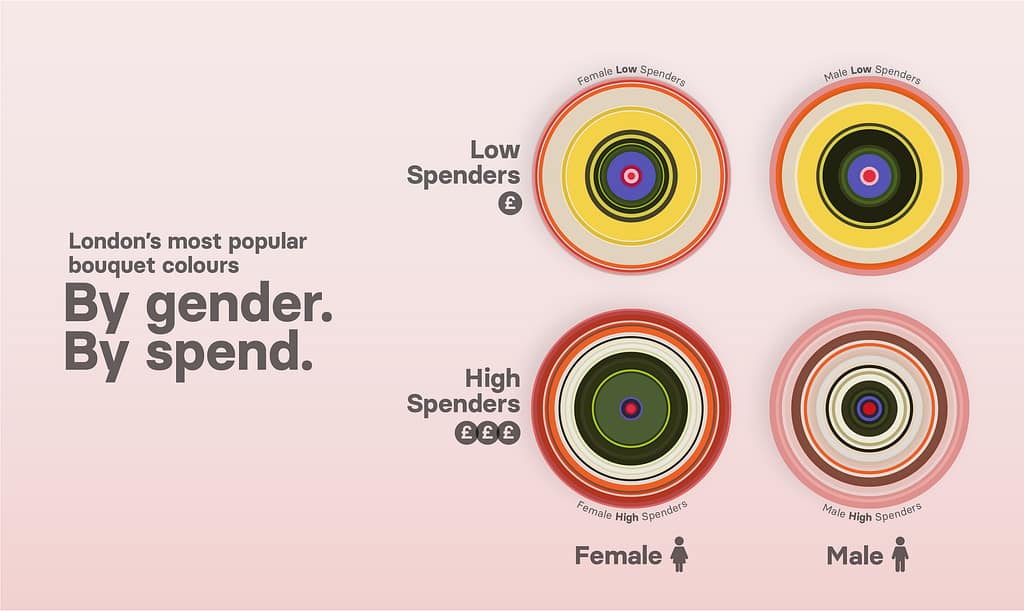 The study also uncovered that the top choice for males who spend £50 or more on their bouquets is pink. This delicate colour offers feelings of love, innocence and gracefulness. Flower buying for anniversaries is the 5th most popular occasion to buy flowers for so it comes at little surprise that this romantic colour is the most popular colour option. Although the most graceful of colours are chosen it seems a burst of passion is also being communicated by male high spenders with the colour orange. Instantly adding a burst of energy to any bouquet orange communicates excitement, passion and exuberance.
Further findings revealed that for female high spenders both orange and red take equal first place. These vibrant and demanding selection of colours are certified to be noticed, communicating distinct messages of respect, courage and desire. Could it be that women are choosing to send flowers as a token of appreciation and celebration of people they admire.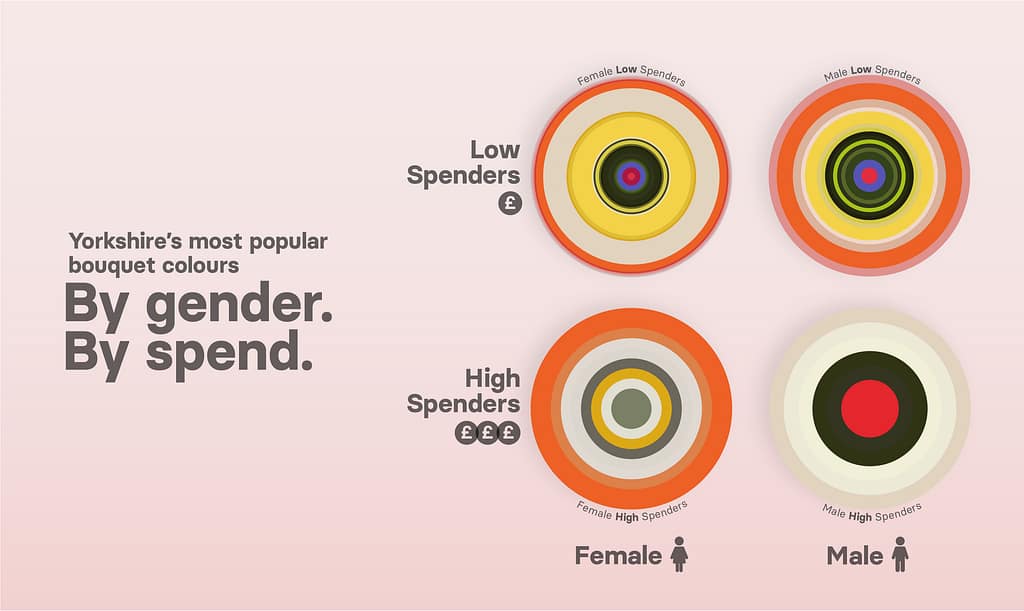 There is a distinct difference in the colour choices of flower senders based in the north of England. In Yorkshire male high spenders are refined in their choices, opting for bouquets with predominantly just two colours. The first is white, associated with purity and admiration communicating feelings of high regard for the receiver. The second is red, the most passionate and affectionate of colours. Interestingly this colour is ignored by female flower senders who spend £50 or more on their bouquets. Orange tends to be the top choice followed by white and yellow, colours which communicate a passion for life and reaffirm a bond in friendship.
It comes as little surprise that for the most romantic day of the year reds and pinks are chosen by both spenders in the UK, but surprisingly it is not the only colour palette of choice. Low spenders pick joyful yellow along with creams and violet, a modern approach to sharing their love on Valentines Day, opting for a bouquet which celebrates happiness, admiration and grace.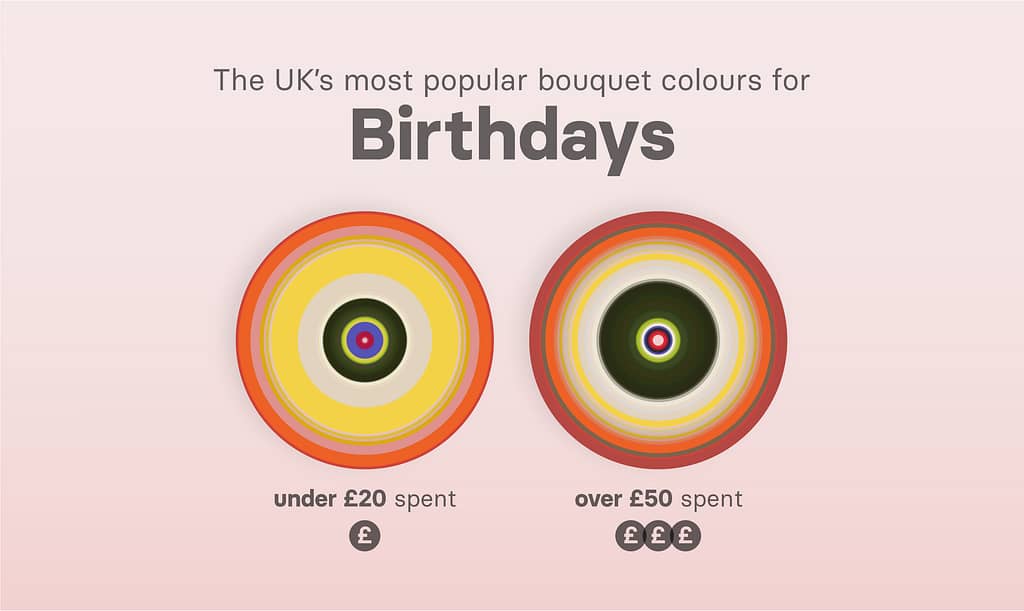 Typically bouquets under £20 tend to be a literal reflection of the food, feelings and mood of Christmas. The warming tones of oranges and deep reds reminds us of dinner by the fire and fresh clementines, these colours make up for 50% of the bouquet. When over £50 is spent, the colour of the bouquet drastically changes. Light tones take preference with whites and creams making up the majority of the bouquet.
So what do the flower fingerprints of the nation look like? Overall, these findings show a UK wide pattern which is consistent whether by gender and occasion. It seems that high spenders tend to opt for more neutral, understated and traditional bouquets, whilst low spenders tend to go for brighter and bolder colour choices.
Find out the meanings behind flower colours with the new Flower Fingerprints by Serenata Flowers.