The impact of Russia's large-scale war against Ukraine is adding pressure on the economic recovery from the COVID-19 pandemic across OECD regions, according to a new report.
Regions and Cities at Glance shows that half of the regions within OECD countries had not recovered their pre-pandemic employment rates by the second quarter of 2022. Colombia and Costa Rica had the widest disparities of job recovery across their regions while Greece too had particularly unequal outcomes.
Some regions are also more vulnerable than others to the energy price and supply shocks triggered by the war in Ukraine. Areas with energy-intensive industries, cold regions and those that rely heavily on natural gas and fuel imports are the most exposed.
Remote regions are generally ahead in electricity production using renewables, while those around the capitals of many OECD countries are leading the transition towards electric and hybrid mobility, according to the report.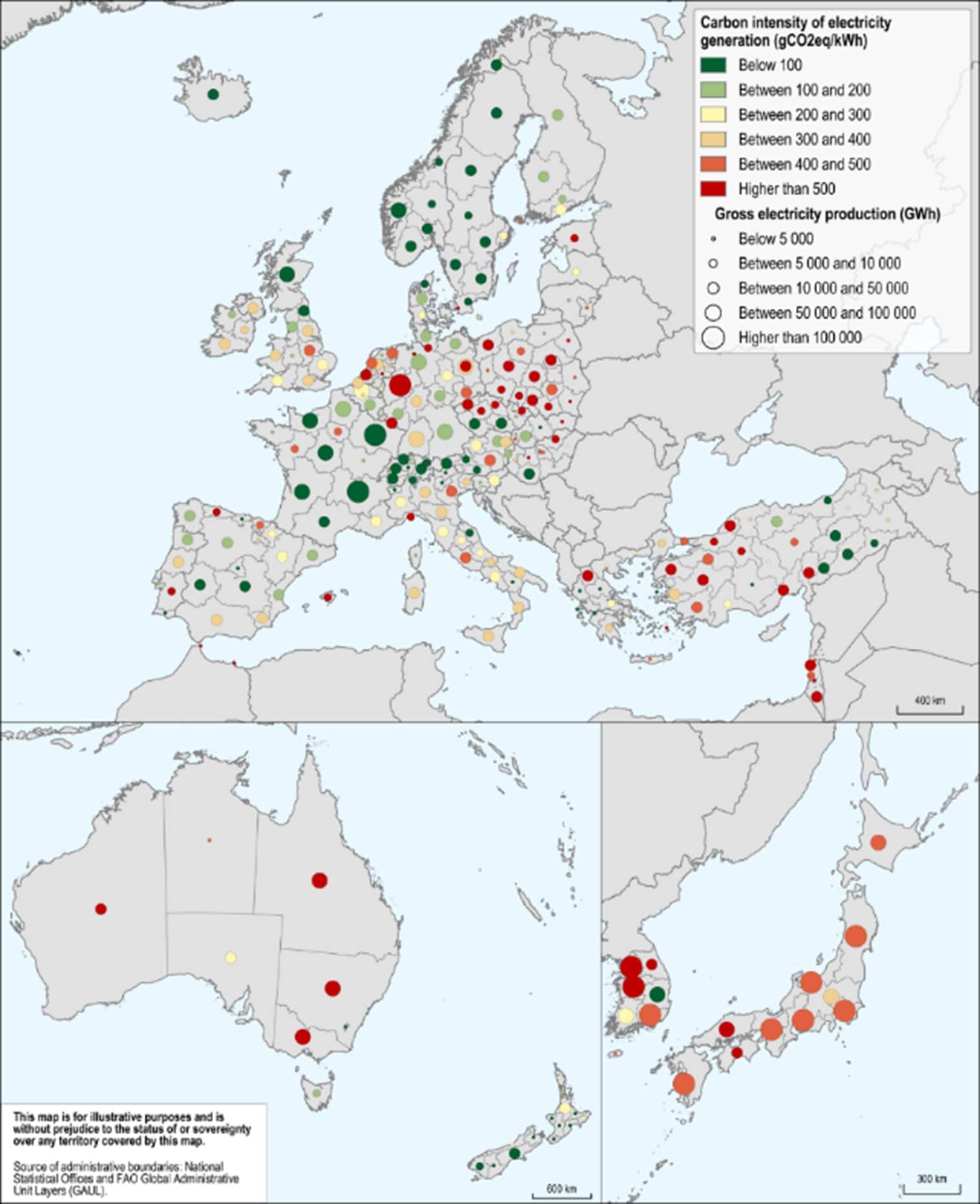 Carbon intensity of electricity generation: Europe and Asia-Pacific large regions (TL2), 2019
The report provides a broad set of indicators for regions and cities and sheds lights on within-country disparities in socio-economic, demographic and environmental trends over the past two decades.
It shows that industrial activities emitting high levels of greenhouse gases are often highly regionally concentrated. More than 50 regions across the OECD rely primarily on heavily polluting coal for electricity generation.
Another 50 European regions use mostly natural gas, a cleaner source but one that depends on imports and which needs to be phased out.
The data also covers demographic trends and shows, for instance, that since 2000, the share of population living in cities has increased by around 3 percentage points across the OECD, mainly at the expense of rural areas.
During this period, the share of population in towns and semi-dense areas and in rural areas has decreased on average by 1.3 and 1.5 percentage points, respectively. The relative growth of cities was particularly strong in Iceland, New Zealand and Türkiye, where their population share rose by over 7 percentage points.
The data and visualisations can be accessed through the OECD Regions and Cities Statistical Atlas and the OECD Regional Well-being web-too, which provides a snapshot on how each region performs when it comes to education, environment, safety and other topics important to people's well-being.