Telemedicine has evolved in recent months to become an essential part of healthcare delivery. Today, patients are able to access a wide range of medical services remotely by getting in touch with their doctors via video link for key services like primary care, pediatrics, behavioral health, and cancer care.
The COVID-19 pandemic has played a significant role in the rapid growth of telemedicine, but will the trend continue after vaccines are rolled out and life around the world enters the era of the 'new normal'?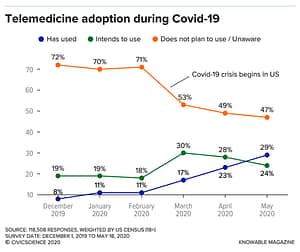 As the chart above shows, mindsets towards telemedicine changed significantly in a short space of time in the US as the pandemic took hold. In the space of two months between February and April 2020, the number of facilities with no plans to use telemedicine fell by 22% – while those that have used the technology rose between February and May 2020 by 18%.
Let's delve deeper into whether telemedicine will be here to stay even after the eradication of COVID-19:
Keeping up with developing technology
Healthcare IT innovation is developing faster than many would appreciate, and the pandemic has prompted more telehealth organizations to act even quicker in delivering products that are simple to use and effective in putting patients directly in touch with doctors. The coming years look set to bring further advances in virtual care tools as the healthcare sector seeks to keep up with innovation.
The effortless effect in which telemedicine has influenced the world of healthcare already has been highlighted by Dr. Fatima Cody Stanford of Massachusetts General Hospital, who said: "Pre-COVID, telemedicine was often time-consuming and inconsistent. It's so simple, that even my older patients find it easy to use. All they have to do is click a link on their smartphones, which is sent to them via text automatically."
Packed with progressively more innovative features and better functionality, telehealth tools will increasingly become the best option for treating a widening range of conditions – even after the pandemic subsides.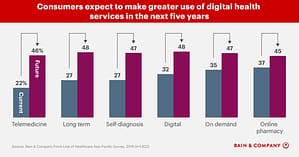 As the chart above shows, COVID-19 has accelerated the perception that customers have of a future driven by advancing technology. In terms of expectation, the widest gap between the current and the future five years ahead can be found in telemedicine. It's reasonable to expect this change to first become commonplace in private healthcare while eventually becoming an integral part of public health.

Shedding regulatory hurdles
One of the most significant events in the world of healthcare driven by COVID-19 was the introduction of regulatory changes that could've taken a number of years to pass and be resolved in a matter of days.
These significant regulatory changes have reduced or eliminated possible barriers that had existed in which both providers and patients could be encouraged to opt for telehealth rather than in-person visits where applicable.
While these measures were initially pushed through to prevent the spread of the virus and to save on the use of personal protective equipment (PPE), the CARES Act in the US, introduced in late March 2020, could play host to provisions that outlast the pandemic itself.
Prior to these measures being rushed through, Medicare regulations historically restricted the availability of telemedicine to patients from rural areas in the US, and as a result, measures that could only be provided by a physician had to be undertaken in an institutional setting. These waivers allow telehealth services to reach patients in any location – including their homes. In the future, telehealth across state lines may even be drawn into the equation.
The implementation of telehealth technology in the pandemic provides answers to questions that may have only truly become clear through widespread use cases. For instance, how would the prescribing of controlled substances work remotely? While this wasn't up for consideration prior to COVID-19, the Drug Enforcement Administration (DEA) loosened various requirements allowing physicians to prescribe controlled substances based on telemedicine visits in the US.
Furthermore, non-urgent equipment can now be shipped to patients without a signature required, meaning that knee braces, crutches, or other physical equipment can be sent to those who need it most following a remote consultation.
While time will be the main factor in truly telling whether telemedicine will be here to stay, or whether its application still lies a few years further ahead, the barriers to adoption are falling at a rapid rate as a result of the pandemic. With use cases expanding whilst the technology supporting remote consultations continues to develop, don't be surprised if you're dialing up your doctor more often in the future.