Leading healthcare facilities try to keep up with technological change and advances in medical software development. Innovative products constantly hit the market, state-of-the-art devices help doctors perform the most complex operations, and mobile apps allow patients to receive high-quality care even remotely. To stay afloat, a business should consider the pace of digitalisation and implement its own solutions in the clinical workflow.
However, finding a reliable medical software development company is difficult. There are many experienced players in the digital market, and new software providers spring up all over the world. You need to perform an extensive search to find a firm with relevant experience. But you may considerably simplify this task. Services like Clutch or The Manifest will guide you and suggest developers who have already earned a reputation. They offer comprehensive and trustworthy rankings that you may fully rely on.
We have examined current ratings on both platforms and prepared our top 10. Our major selection criterion is the number of user reviews. Positive customer feedback is perhaps the most important indicator of a company's achievements. Furthermore, all the firms from our list have at least 4.8 stars on Clutch.
Andersen
This European medical software development company tops our ranking. It's an absolute leader in terms of customer feedback. 97 reviews on Clutch and an impressive 4.9-star rating evidence the company's expertise and high-quality services. Johnson & Johnson, Universkin, and other clients from the healthcare, pharmaceutical, and cosmetic industries highly appreciate the quality of Andersen's solutions. The company has all the relevant HIPAA, GDPR, and ISO certifications.
Andersen cooperates with businesses from various industries, and healthcare is one of its top priorities. Over 300 healthcare engineers build top-notch healthcare software solutions and have already implemented 150+ highly efficient digital products. More than 30 European and American scientists and practitioners are members of Andersen's healthcare advisory board. Their profound knowledge guides technical experts in the development process.
Let's give the floor to Joanna Harris, CEO of Holistify. She has left a 5-star review on Clutch: "As long as they know what I want, they're more than capable of delivering it over and above the standard."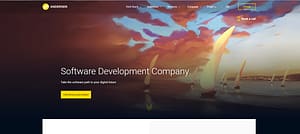 Yalantis
Yalantis was founded in 2008. This company also offers a variety of digital services for such industries as logistics, real estate, FinTech, and healthcare. It has already earned a reputation as a developer providing pioneering medical solutions. Over 500 medical software engineers build custom products for healthcare institutions from various countries and continents. The company has ISO 9001 and ISO/IEC 27001 certifications.
Clients appreciate Yalantis's products for their high performance. For example, a cloud-based imaging system helps both doctors and patients. Radiologists and clinicians can easily share relevant information, and patients don't have to keep images at home. They are securely protected in centralised storage.
The company is proud of its 96% customer satisfaction rate and 4.8 stars on Clutch. Its clients mention the exceptional talent and professionalism of developers, and their excellent communication and project management skills, and gladly recommend Yalantis to their partners.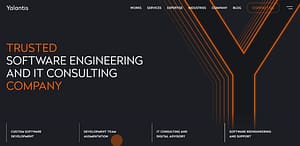 STX Next
STX Next is a leading Python developer in Europe. Over 600 professionals are engaged in such activities as product ideation and design, quality assurance, data engineering, and so on. They willingly share their knowledge and expertise in one of the most popular programming languages in the company's blog.
As for the firm's relationship with the healthcare sector, its developers have worked on a behavioural health platform, a digital product for a veterinary clinic, data entry solutions for a pharmaceutical company, and other useful apps.
The medical software development company has 77 positive pieces of feedback on Clutch and 4.8 stars. Let's look at reviews mentioning healthcare services. Natalie Williams of Brief Media says she was truly astounded by the level of expertise the employees possess. They were engaged in building a solution for veterinarians and offered the most valuable insights into the system architecture, building a road map and prototype.
Brainhub
Brainhub was established in 2014. Since the very beginning, its employees have been helping clients embrace digital innovations to stay competitive. The company's industry focus is healthcare, finance, marketing, gaming, and other industries. More than 60 businesses across the globe cherish fruitful partnerships with this software provider.
The team members are experts in JavaScript. Their robust scalable solutions take healthcare software product development to the next level and help clinics enhance the quality of care. Experts strive to make the apps not only usable and feature-rich but also aesthetically pleasing. This is especially important for end-users who appreciate clear UX/UI design and navigation. Brainhub's solutions are not only for clinical purposes but also for fitness. A good example is Medicover GO, an efficient online coach for diet management.
Brainhub constantly appears in the top rankings. Its high-quality services have been mentioned by Clutch, ComputerWorld, Deloitte, Awwwards, and others.
Saritasa
Since 2005, this American medical software development company has been building AR/VR, IoT, mobile, and web solutions of any complexity and scale. In 87 Clutch reviews, businesses from various industries share their positive impressions of Saritasa's excellence and in-depth knowledge. Among them, there are customers from the medical sector. Judging by their feedback, the team members have mastered all the modern technologies needed to implement a successful healthcare solution.
One of the most striking Saritasa's healthcare products is a VR app for children who need to undergo operations. For most kids, it's a frightening experience. The software developer cooperated with Before Inc. on designing a comprehensive preparation platform for child surgery. As a result, Warren Comulada, cofounder of Before Inc, has left a favourable review on Clutch. He says that the responsiveness of Saritasa's team members surpasses that of other service providers he has ever worked with.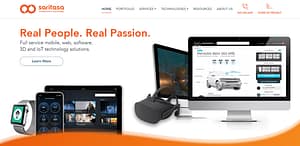 Django Stars
Launched in 2008, Django Stars has already earned a solid reputation among businesses from healthcare, PropTech, FinTech, EdTech, and other sectors. Its key clients come from the UK, the US, Switzerland, and other countries. Custom healthcare software development is one of its primary vectors.
The company successfully builds healthcare and fitness apps, paying attention to the latest trends in medical science. Experts research the software market to find out what people actually need. As a result, there appear solid professional solutions (HMS, doctor appointment apps, patient health trackers), useful nutrition apps, fitness logbooks, and other innovative software.
Gary Nutbeam of Sufracide is one of the happy customers sharing their feedback on Clutch (as of December 2022, there are 46 reviews in total). He mentions a UV disinfection product that has the functionality his firm was looking for. The businessperson says that the developers working on this solution are intelligent and highly qualified.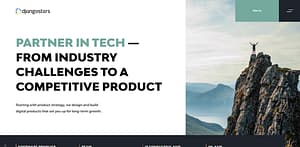 Waverley
Waverley is an American company with 30 years of experience. Its team members strongly believe the software they build can shape the future. As one of their major goals, they see changing people's lives for the better. That's why 30% of their projects relate to custom healthcare software development. Medical apps and platforms created here allow doctors to manage even the most complex tasks. They also significantly improve patient care.
The company employs highly qualified medical software engineers capable of carrying out even the most challenging tasks. 70% of the team members are senior specialists. One-fifth of the staff has PhD degrees. Profound knowledge allows them to build such solutions as AI-based diagnostics tools, user-friendly patient portals, EHRs/EMRs, research management software, medical imaging apps, etc.
This healthcare software developer cooperates with tech giants, mid-market businesses, and startups. It has earned 4.9 stars on Clutch, which proves its efficiency and commitment.
TekRevol
TekRevol is located in Silicon Valley. This custom healthcare software development company has been present in the digital market since 2018 and has already built customer trust. Such institutions as the Arrow Recovery Group, the universities of California and Toronto, and other medical facilities entrust this company with their digital products. These are telemedicine and eRx software, apps for fitness trackers and wearables, RPM solutions, etc. Healthcare providers can easily customise TekRevol's to their unique requirements.
By interacting with TekRevol apps, people not only get urgent medical help but also valuable insights into various healthcare issues. For example, such apps as Pure Plank help them stay fit by taking advice from experienced instructors.
With an overall rating of 4.9 stars and 60 reviews, this is one of the most reviewed companies on Clutch. Aubrey Pascoe of Dara mentions the excellent communication skills of the team members, their professionalism and their desire to provide clients with the most appropriate solutions for digital growth.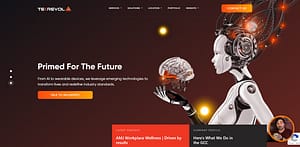 One Beyond
This British provider was founded in 1994. It's one of the leading healthcare software development companies in the UK. Its offices are also located in Spain, Romania, and Hungary. For about three decades, it has been creating high-quality software for such industries as hospitality & leisure, education, finance, etc. Healthcare software is one of the major areas of its expertise. The company is a Microsoft Gold Partner that has ISO 9001 & ISO 27001 certifications.
One Beyond cooperates with enterprises and SMEs, government and non-profit organisations. Its team includes over 300 experienced software professionals ready to turn the most challenging ideas into life.
Among the most successful medical products developed by the company's specialists are surgical procedural data dashboards for Smith & Nephew, a platform for measuring health intervention outcomes for iMPACT, an IoT remote care tool for Karantis360, and other solutions.
Experion Technologies
Since 2006, Experion Technologies has been helping many companies from different continents undergo digital transformation. Such renowned clients as AstraZeneca, Alexion Pharmaceuticals, Guardian Health, and others highly appreciate the company's innovative platforms and apps. If you need to build an entirely new solution or redesign a legacy app, don't hesitate to hire experienced professionals from this American medical software developer.
One of the company's successful products is an mHealth solution for promoting preventive healthcare. It was ordered by an NGO from Europe to raise awareness and help people across the globe control their health. Users get valuable advice and guidance.
This healthcare software developer has won awards for its high-quality services. 53 grateful clients have left their feedback on Clutch, mentioning fruitful cooperation, the team's commitment, and undeniable professionalism. If you look through these reviews, you will see that customers willingly recommend this medical software development company, as it can exceed any expectations.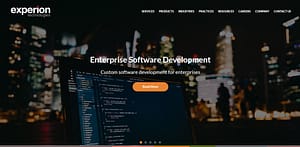 Conclusion
Cooperation with a trustworthy medical development company is a prerequisite to any deep success in the market. It is also an indispensable condition for the technological advancement of a healthcare institution. Any of the top 10 medical software development companies from our list will guide your organisation through digital transformation most efficiently. Read more reviews on Clutch or a similar platform, browse websites of the companies you find the most interesting, book a free consultation, and hire top-notch experts. They will build a healthcare product that will facilitate the work of your medical staff and please patients.