Boris Johnson's former advisor Dominic Cummings has posted on Twitter a damning chart which suggests the Covid death toll at the start of the pandemic was in fact a horrific 259,000.
In March 2020 the "system was so confused in the chaos" the death toll was more than twice the current death toll which stands at 128,000, Cummings said.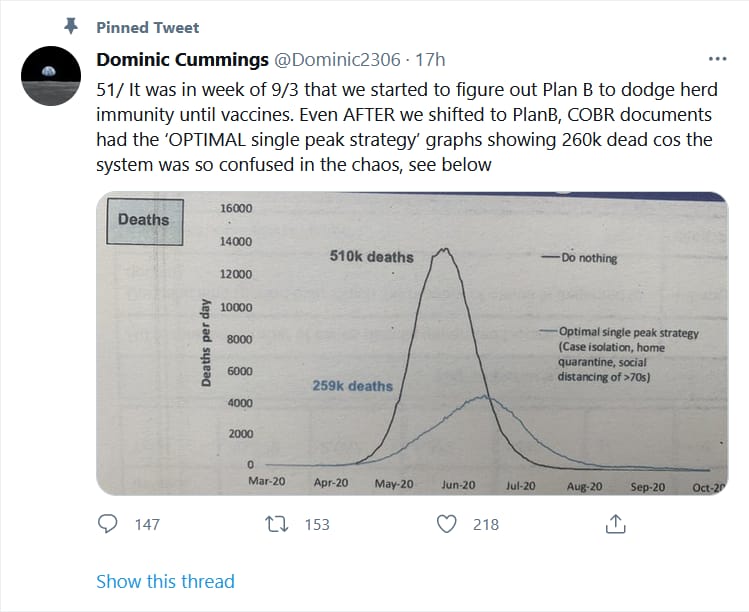 Cummings said that thousands of people were "choking to death" and the NHS collapsed, because neither the Health Secretary or the Cabinet Office understood what the herd immunity would lead too.
The government scrapped their "disastrously misconceived" plan after panic over a "comms disaster."
Instead Ministers pursued a strategy of "suppression" with lockdowns, but Cummings revealed on Sunday that had "we'd had the right preparations and competent people in charge, we would probably have avoided lockdown 1, 'definitely' no need for lockdowns 2 and 3."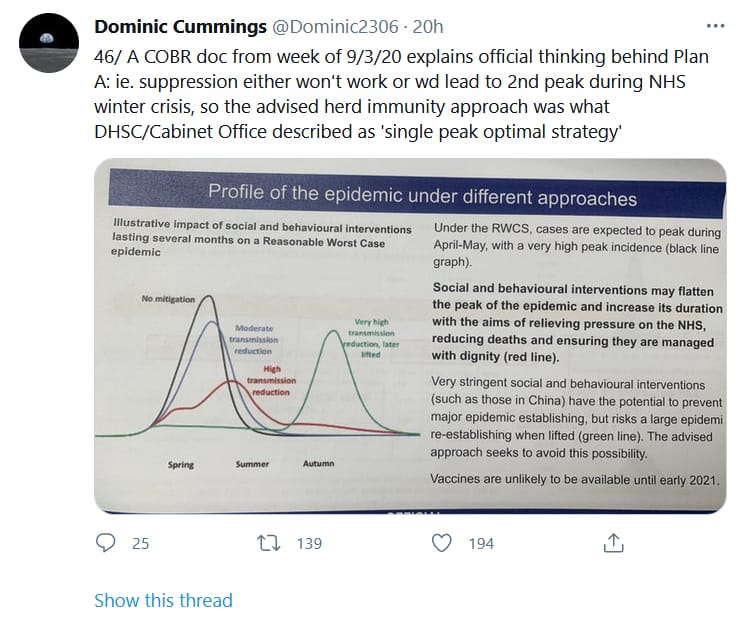 A graph which is allegedly from Cobra shows the 259,000 death toll as the "optimal single peak strategy," which also shows "do nothing" line would see a death toll of 510,000 if the government put no measures in place.
Priti Patel the Home Secretary told The Andrew Marr show on Sunday that "absolutely not" there was no original policy for her immunity.
Patel told Marr, "Our strategy was always about protecting public health, saving lives and protecting the NHS.
"Absolutely all colleagues involved in those meetings and discussions, working with the chief scientist and the chief medical officers, absolutely recognised that from the very difficult discussions that we had.
"At the time of a crisis, when government is making very, very tough decisions, difficult decisions, we put public life and protecting the public at the forefront of all those decisions."
However Cummings said the denials being made by the government are "bulls***" and claims Downing Street chose to lie which was "very foolish" which demonstrates "appalling ethics."
Cummings wrote on Twitter, "Herd immunity by September was 'literally the official plan in all documents/graphs/meetings' until it was ditched.
"In week of March 9, No10 was made aware by various people that the official plan would lead to catastrophe. It was then replaced by Plan B.
"But how 'herd immunity by September' could have been the plan until that week is a fundamental issue in the whole disaster."
Cummings is due to give evidence on Wednesday to the Commons Health and Science Committees which are probing the government's response to the pandemic.