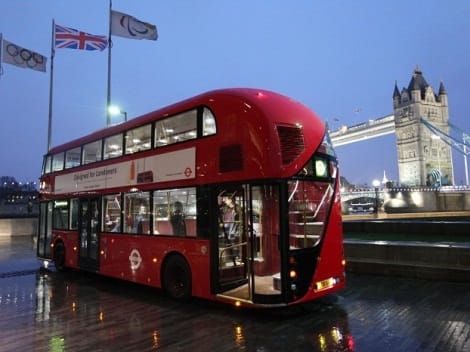 At long last Boris Johnson is to ride his anticipated new bus for London from City Hall to Trafalgar Square this morning.
Following the broadcast of Nick Ferrari's LBC Radio breakfast show, which was transmitted from the bus itself to commemorate the event, at 10.15 this morning with TFL commissioner Peter Hendy in tow, Boris will jump on board the 'Boris bus'.
The new bus will at long last replace the blighted 'bendy buses' – heavily criticised for being unsafe to cyclists and for allowing opportunistic Londoners to board without paying.
The double decker is modelled on the iconic Routemaster bus and will enable travellers to hop on and off the back so long as a conductor is on board.
Over the next few weeks the bus will undergo testing for certification purposes and will be put through its paces by the bus company Arriva. Its staff will be responsible for driving and crewing the buses when they enter service early next year. 
If all goes to plan 8 prototype buses will enter passenger service in the first half of next year. The new fleet will hit streets on 20 February on one of the capital's busiest routes, the 38, which runs from Victoria Station to Hackney.
If the trial is deemed successful there could be hundreds of these buses operating across London in the coming years.  
The bus, which is already being dubbed the 'Boris bus', is being boasted as the most environmentally friendly of British buses to date. In tests at Millbrook proving ground, the engineering test vehicle emitted only 640 grams per kilometre (g/km) of CO2 and 3.96 g/km of Oxides of nitrogen (NOx).
This is less than half of the CO2 and NOx emitted by current diesel buses.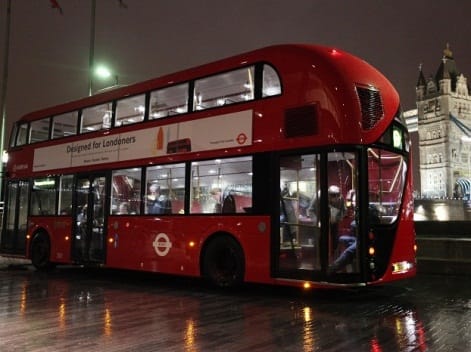 London-based Heatherwick Studio designed the bus, with the engineering and build carried out by Wrightbus in Northern Ireland.
Thomas Heatherwick, of Heatherwick Studio, said: "It has been 50 years since a bus was last designed and commissioned specifically for London.  This has been a once-in-a-lifetime opportunity for a team to look again at the opportunities for a new open-platform bus. 
"It has been an honour to be asked by London's transport authority to take an integrated approach and design everything that you see and experience from the outside down to the tiniest details of the interior."
Critical design features include three entrances and two staircases to deliver speedy boarding, a new seat and moquette design. Moquette is a type of fabric with a thick, dense pile.
The 3 sets of doors will ensure easy access on and off the bus and quick access up to the upper deck via the 2 staircases.