Bitcoin is in an overall uptrend in 2023. Two ranges have occurred within that trend, with the second one playing out right now.
The price recently bounced off the bottom range and could indicate a 15% to 45% move back toward the top of the range and beyond if the uptrend continues.
Traders and analysts are watching the 24,750 levels. That is where the price of Bitcoin bottomed in June before rallying back to the 31,000 region. Through August and September, the price declined back toward 24,750, but never quite reached it. On September 11 the price hit 24,900 before bouncing. Bitcoin currently trades just above 27,000.
Cory Mitchell, CMT, an analyst for trading education website Trading.biz said, that "24,750 is still still a key level to watch. Bitcoin is prone to false breakouts.
"I would prefer to see the price drop below that level and then rally back above it before buying. If the price keeps rallying, I want to see it hit at least 29,000, and then I become interested in buying the next pullback."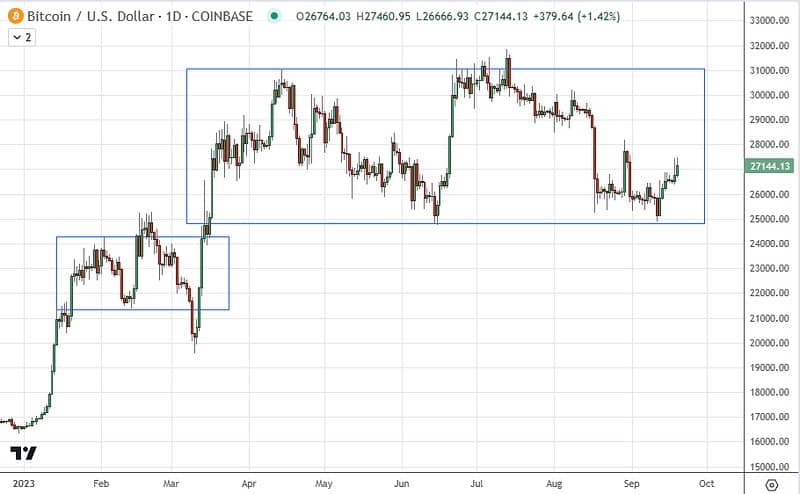 This lays out two potential buying scenarios:
Buy if the price drops below 24,750 (up to 10% below) and then rallies back above 24,750 and into the current range. After a false breakout, the price often moves to retest the opposite side of the range, currently at 31,000.

In the event a false breakout doesn't occur, let the price reach at least 29,000. This shows buyers have been able to move the price toward the mid-point of the range (and above the price spike on August 29). This helps confirm a short-term uptrend toward the top of the range. Look to buy on the next pullback as the price turns higher on the daily chart.
In both cases, there is still the possibility the price could drop after creating a trade signal. Manage risk with a stop loss, exiting the trade if it doesn't do what is expected.
With the 2023 uptrend still intact—the two ranges this year are stacked on top of each other, creating higher swing highs and higher swing lows—the uptrend could continue if the price breaches the top of the range (between 31,000 and 32,000).
If an upside breakout of the range occurs, the next target is 38,000 to 39,000. That is based on adding the size of the current range to the breakout price.
With Bitcoin near a key level, it is creating favorable reward/risk trade setups. Stay on top of tactics for trading it by visiting us at Trading.biz.
Disclaimer: Not advice to buy or sell. Due your own due diligence before placing trades and always manage risk.