Bob Diamond is toast. But who is going to replace him in the hottest seat in business?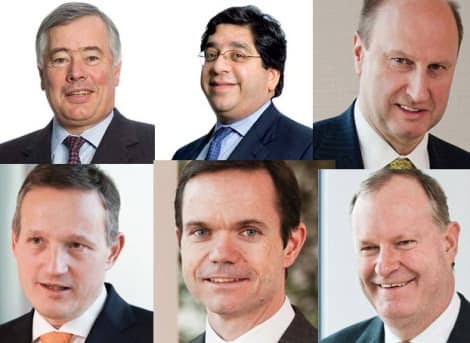 Here is is our list of the potential replacements as chief executive of Barclays Group Plc
The Front Runner: Rich Ricci
Glitzy name, and a glittering CV which makes him the favourite to be installed as chief executive.
Ricci has been with Barclays since 1994 and is currently the head of Barclays investment banking arm. Previously COO of investment banking, where he led the acquisition and integration of the choicer parts of Lehman Brothers in 2008, his superlative execution of that process, and the fact that he runs the part of the bank which holds the key to Barclays long term prosperity, is what distinguishes him from his rivals.
Downside: Like Diamond, Ricci has a name to inspire sketchwriters and lives in an 18th century mansion in Kent, replete with a full stable of racehorses. His paypacket in 2010 was £44m – which makes him a PR nightmare. Oh, and yesterday he was caught buying a EuroMillions lottery ticket (a sure sign of insanity?).
The quiet man: David Roberts
The erudite hacks at FT Alphaville are tipping quiet outsider David Roberts. Why? "He's smart and professional and knows Barc backwards. And he's not an investment banker."
Roberts is currently deputy chairman at Lloyds Banking Group under Sir Win Bischoff. He was formerly the boss of Barclays retail and commercial banking and also ran the business banking arm. He spent the credit crunch as chairman and chief executive of the second largest retail bank in Austria. Aged 49, he could be the sober figure needed to restore confidence in Barclays.
Downside: Barclays' strategy under Bob Diamond was to turbocharge its investment banking. Roberts is a retail banker, meaning he'd either change course, or maybe struggle to execute Bob's masterplan.
The insider: Jerry Del Missier
As chief operating officer del Missier has a better understanding of the internal workings of Barclays than anyone else. He joined Barclays in 1997 as head of derivatives. Later president of Barclays Capital, then boss of the corporate and investment banking arm. He's only been in his current job a few weeks. Bob Diamond highlighted his skills with technology, a massive plus following the RBS technical glitch debacle.
Downside: Rumour is he might quit.
UPDATE: Missier has quit the bank.
The politically-correct choice: Antony Jenkins
We can't see any women on the shortlist, but the next best thing might be Antony Jenkins. Not only is Jenkins the boardmember at Barclays responsible for inclusion and diversity, but he's the head of the retail and business banking division – comfortably distant from the controversial investment banking arm which will taint his rivals in the current mob revolt against "casino banking". He's got strong credentials too, having lead the revival of Barclaycard from 2006 to 2009.
Downside: A retail banker will mollify the baying, but maybe not what Barclays needs.
Diamond's mini-me: Bill Winters
Outspoken and hugely respected, Bill Winters earned his spurs with a 25 year stint at JP Morgan where he ended up as co-head of investment banking. Winters got the boot in 2009, shortly after calling fellow bankers "greedy" and "inept" (though the bank denied a link). He subsequently sat on the government's Independent Banking Commission, and has been working with Lord Rothschild to set up St James-based asset manager Renshaw Bay.
Downside: Investment bankers are not flavour of the month, not even star performers like Winters.
The all-rounder: Naguib Kheraj
Look at his long CV and you see why Naguib Kheraj is tipped as one of the favourites for the job. He started his career at Salomon Brothers where he became managing director and chief finance officer for Europe. Then to Barclays where he served as global head of investment banking and COO of Barclays Capital, winding up as group finance director from 2004 to 2007. From 2008 to March 2010 Kheraj was the CEO of JPMorgan Cazenove. Educated at Dulwich College, and Robinson College Cambridge where he studied economics, Kheraj is now vice chairman at Barclays Bank.
Downside: As a new director of the Andrew Lansley's controversial NHS Commissioning Board, various lefties (eg Polly Toynbee) are already gunning for poor old Kheraj. He must wonder why he bothers.
PS: The ideal chairman
Sir Marcus Agius is going…er, no he's staying. When he does depart, Agius will need a hell of a successor. Ladbrokes has Gordon Brown at 100-1 (you are missing a few zeroes boys). Sir Mike Rake is the genuine front runner. But we think there can be only one man for the job: Sir Nigel Rudd. He's the City's plain-speaking anti-spiv; likable, funny and just the sort of guy to add a bit of spit and polish to the Barclays nameplate.
Holder of more titles that Roger Federer, Sir Nigel is (deep breath) the non-executive chairman of BAA and Pendragon, non-executive director of BAE Systems and the paper firm Sappi, deputy lieutenant of Derbyshire, chairman of Invensys, chancellor of Loughborough University, chairman of the CBI Boardroom Issues Group and a member of the Financial Reporting Council and has just been appointed chairman of the Angels Association. And that's just his current list – you should read his list of former positions.
Sir Nigel is in demand for giving "covering fire" (his phrase) to his chief executives. He's a jovial character who can charm the press, and, as a former vice-chairman of Barclays, knows it inside out. Plus he's an entrepreneur at heart, having spent two decades building his own firm. My god they need him.
Downside: Too many jobs already? Sir Nigel would laugh at the idea, but his sour faced critics won't.