But they only take the best of the best
We think we've discovered the best place to train to be an entrepreneur.
Until recently the options were pretty limited. You could do an MBA. Or a Masters in entrepreneurship at somewhere like Nottingham University.Or just plunge in with no education at all.
But last year a new scheme launched. The New Entrepreneurs Foundation is designed to groom the new elite of British business.
The calibre of the backers should give you a clue as to its intent. There's the busiest man in the City, Sir Nigel Rudd, former business minister and chair of Standard Chartered Lord Davies, former vice-chairman of UBS Oliver Pawle, and the headhunter and entrepreneur Dee Sterling. Serious folk.
This quartet has put together an extraordinary programme for graduates who want to learn more about running their own business.
The Foundation runs a year long course, which combines a work-placement in a leading start-up, with formal tuition and a rich variety of educational events.
This year's class is 35 strong.
And just look where they get to work.
Placements this year include MyDeco, Made.com and Seatwave – three of the most exciting early stage firms in the country.
The apprentices work side by side with the founders, learning how they run their firms.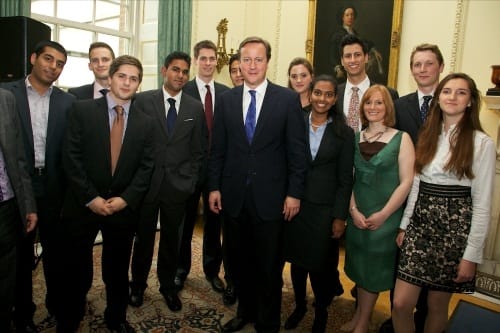 The Foundation's chief executive Neeta Patel tells us that the programme is intensive: "The work placement means they get to work and learn in a fast-growing entrepreneurial environment. There is also a formal aspect to the tuition. We get them into a classroom to learn all the skills you need to run a business, including strategy, finance and marketing. We also teach soft skills, such as how to present and how to build your brand. The idea is that you learn everything you need to run your own business."
Workshops are provided by the likes of Deloitte, McKinsey and Tesco; business schools such as London Business School, UCL and the Centre for Entrepreneurial Learning at Cambridge Judge Business School.
The guest speaker programme is dazzling. "We run monthly events with established speakers," says Patel. "These include Lord Browne [former boss of BP], Charles Dunstone who founded Carphone Warehouse, Luke Johnson, Herman Hauser, Sherry Coutu. They believe in the scheme and are incredibly supportive."
You don't get those guys showing up to your average MBA course.
Classmates get a personal executive coach (the time if provided pro bono by the coaches).
Even better: the year is funded: £20,000 for placements in London, and £10,000 outside. Yes, you actually get paid to attend this course.
The money comes from a long list of corporate sponsors who are keen to be seen to supporting fresh talent. Brands include 3i, Diageo, IG Index, TalkTalk and Virgin.
The downside is that there are only 35 places.
"This is the optimum size for classroom learning," says Patel. "The ultimate plan is to scale. We have been talking to our trustees about that."
Such is the appeal of the Foundation, and the might of its backers, that even David Cameron has opened his doors. He played host to a lunch for the class in July.
So how does one sign up to this course? Details are to be found on the Foundation's website. Expect competition to be fierce, though. This is an elite programme giving you close contact with some of the best entrepreneurs and business minds in the country. As it grows in fame it will become phenomenally tough to land a spot.