Not too long ago, the prospect of finding a cost-effective office space in London would have seemed like nothing more than a distant dream for most small businesses. Things have changed drastically since, however, with alternate work approaches now driving the availability of flexible office spaces across the capital.
This article will take a closer look at some of the best London office spaces for small businesses, taking you through each of their key advantages in turn. More specifically, we'll be focusing on four of the most popular London areas for startups and small businesses: Old Street, Shoreditch, Liverpool Street and Soho.
Let's jump right in with the first few office spaces on our list.
Shoreditch
Located between the High Street and Liverpool Street train stations, this Shoreditch office space on Hewett Street packs quite the punch.
Offering a contemporary look, a great location, scores of local amenities and numerous facilities that include stylish conference rooms and onsite showers, the office is likely to appeal to small businesses looking to establish themselves in London's East End.
Moreover, if a dog-friendly HQ is high up on your priority list, this office space will even let you bring your beloved pooch to work with you – what more could you want?
If you're looking to combine a modern work approach with an office environment steeped in history, this Grade II listed office on Christopher Street offers everything you need. With period features and unique artifacts scattered throughout, you'd be hard-pressed to find a serviced office solution that represents a worthier nod to the past.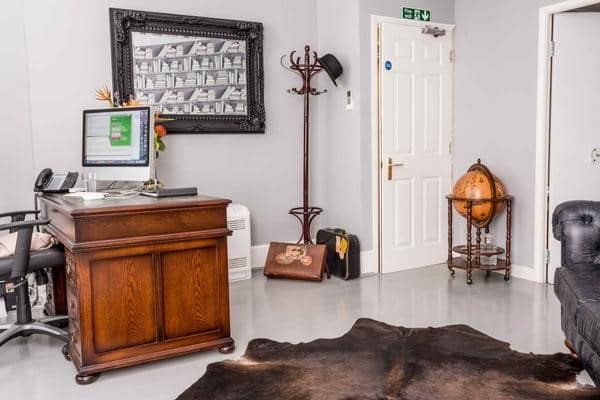 At the same time, the space offers every facility you'd expect from a 21st century office. High-speed internet, attractive meeting rooms and air conditioning all come as standard, and its proximity to the Liverpool Street train and Underground stations means the office also gets high marks when it comes to its location.
Situated between Shoreditch High Street train station and Old Street Underground station, this Curtain Road office is a great candidate for small businesses looking to set up shop in Shoreditch.
Straight from the get-go, office residents find themselves confronted with an attractive work environment that seems to have just as much in common with their local coffee shop as it does with their new workplace.
That doesn't mean Curtain Road doesn't deliver exceptional business potential as well. In fact, the office provides all the facilities you need to be productive. Its meeting and boardrooms are both tastefully designed and functional, and the surrounding area ensures there is plenty to do come lunch time.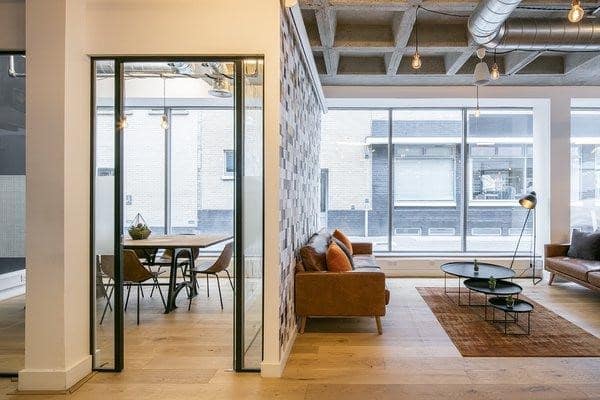 Office spaces such as this one on Appold Street make it easy to see why flexible offices in London are slowly becoming the norm rather than the exception. Offering a range of high-quality facilities as part of a single, flexible membership fee, startups and small businesses can enjoy access to a wide range of amenities for as long as they see fit.
With multiple train stations and Liverpool Street Underground station just around the corner, the area is also easily commutable. Add beautiful interior design into the mix, and there's little doubt that this unique space is a fashionable and desirable workplace for small businesses of all kinds.
Old Street
Often hailed as the UK's answer to Silicon Valley, the area around Silicon Roundabout is dotted with some of the most exciting names in tech. This Old Street office space – situated in Bower Tower – lies just a stone's throw away from it all, offering ambitious startups a great opportunity to get in on the action.
Delivering on its range of amenities as well as its location, Bower Tower makes quite the impression both inside and out. As a result, the building is already buzzing with exciting business ventures working across a variety of sectors and markets.
As yet another entry for London's popular East End, this City Road office sees startups benefit from a desirable City of London postcode.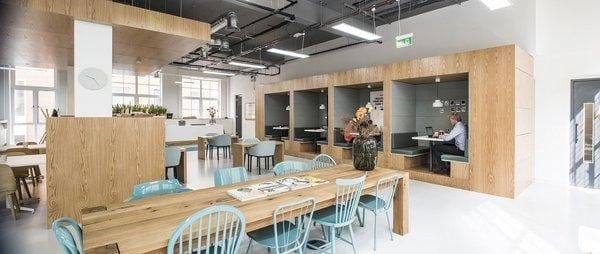 Its proximity to exceptional transport links and the availability of coworking spaces means it offers an attractive package for small businesses looking to find their feet in the capital. The abundance of restaurants, parks and cultural hotspots in the surrounding area help to further make the case for this City Road listing.
Liverpool Street
Delivering all the business essentials at a highly attractive price point, this office space on Finsbury Circus has small business potential written all over it. A period building that offers high-quality finishes and exceptional value for money, the office is the ideal base for businesses looking to grow their presence in London.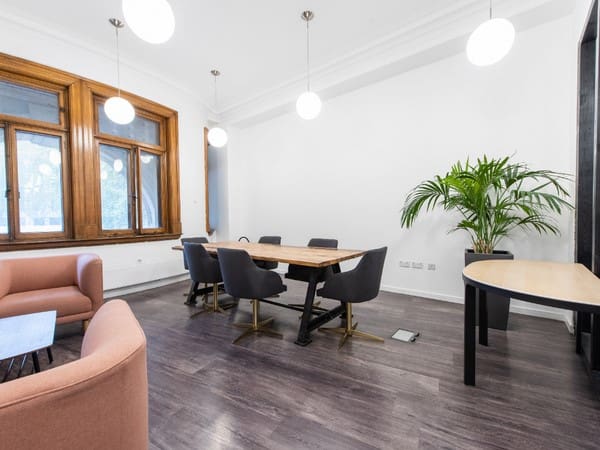 A number of great transport links are just around the corner. Whether you're travelling via the Overground or Underground, the nearby Liverpool Street and Moorgate stations ensure an easy inward commute or last-minute client meeting.
Having risen from the ashes of an attack dating back to WWI, this listing on Liverpool Street is quite the historical gem. Offering a mix of private offices, meeting rooms and event spaces, business residents enjoy a unique work environment that merges the old and the new.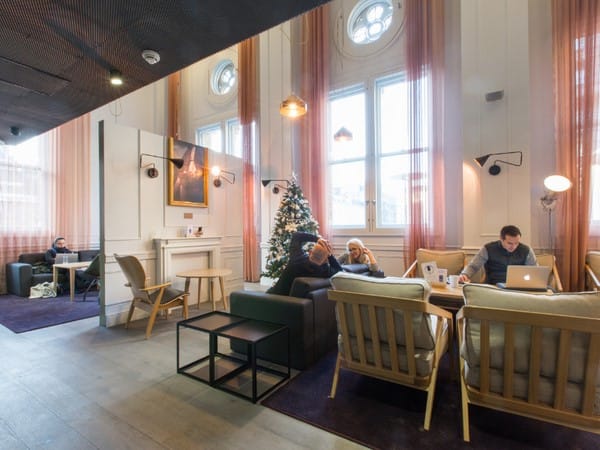 Saved in 1979 from initial demolition plans on behalf of British Rail, the beauty of this Liverpool Street office space has helped it overcome numerous obstacles – a valuable lesson in today's challenging commercial environment.
With iconic buildings such as the Gherkin and Tower 42 just minutes away, this office space on Old Broad Street holds its own as an attractive business centre for startups and small businesses. Its high-quality marble flooring and tasteful interior design are sure to make quite the impression on residents and clients, marking it out as a highly desirable office location.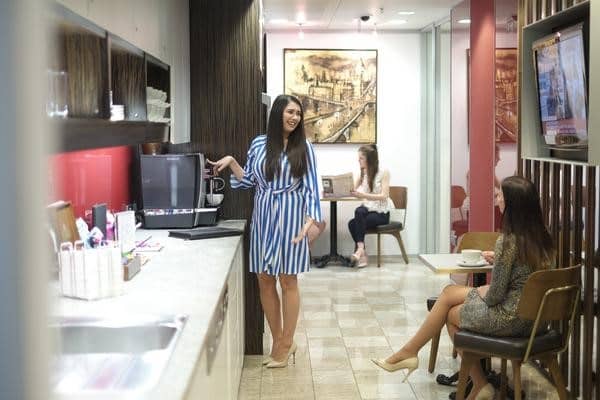 These serviced offices go well beyond the essentials, providing access to a dedicated support team and a global network of meeting rooms. Add to that the scores of amenities and transport links available in the surrounding area, and this office space delivers great value across the board.
Soho
As the first Soho office space on our list, this Broadwick Street listing encapsulates everything that makes Soho so incredibly popular with small business owners. Located almost exactly between the Piccadilly Circus, Tottenham Court Road and Oxford Circus Underground stations, this office space proves that a Central London business address is most definitely in reach for smaller businesses.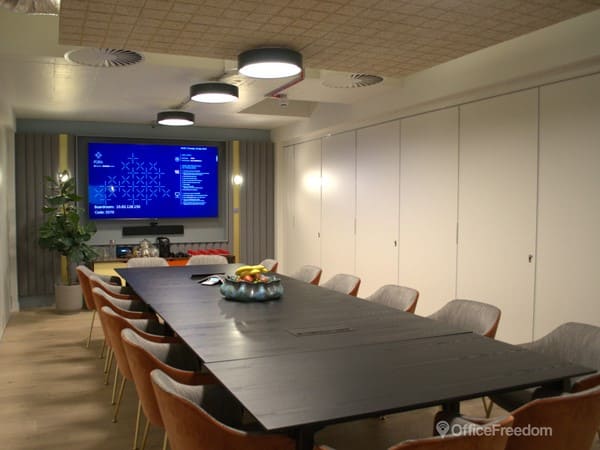 The range of facilities on offer is considerable. From high-quality furnishings, event spaces and lounges all the way through to in-house concierge services and fitness space, this space exceeds startups' wildest expectations.
Think a rooftop garden is too much to ask? These private office spaces in Soho prove that it most definitely isn't, providing ample opportunity for outdoor meetings on sunny days.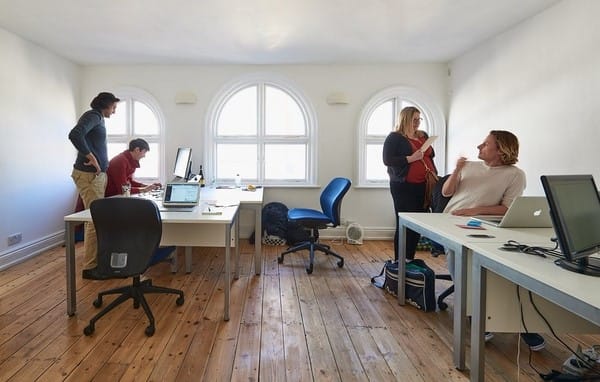 That's not to say that the office only delivers as far as its outdoor spaces are concerned. Natural lighting, high ceilings and stunning wooden flooring await inside, and the presence of high-quality facilities such as meeting rooms, a reception area, mail forwarding services and high-speed internet helps to further justify its inclusion on our list.
Rounding out our rundown of the best London office spaces for small businesses, this listing on Soho's Wardour Street makes for a highly desirable work environment. Having preserved its original features despite being transformed and refurbished entirely for business use, the result is worthy of the creativity that has become synonymous with Soho.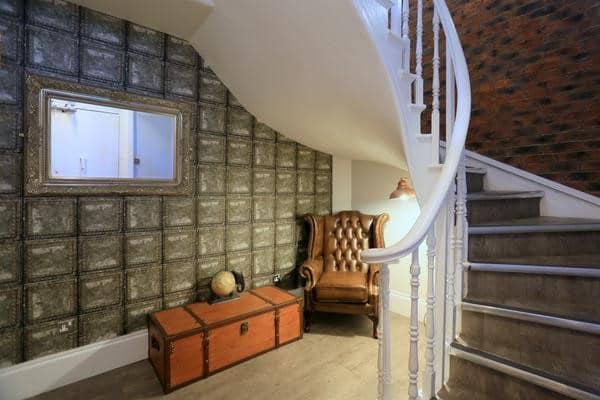 As a fully serviced office space, residents enjoy access to numerous lounge and reception areas, executive conference suites and 24/7 security. Its location speaks for itself, with numerous London landmarks and excellent transport links nearby. All in all, this listing is yet another prime example of the range of high-quality London offices available to startups and small businesses today.