One to watch
The owner of Fit Kitchen speaks to us about their exciting business.
Where did the business begin?
Fit Kitchen was born out of passion and from my personal experience of a problem that needed solving. As CEO of a national company working 15 hour days 6 days a week, and trying to fit in early morning or late evening workouts, I had no time to prepare my meals based on my training goals, body goals and lifestyle.
As they say, we are what we eat! I tried prepping meals on a Sunday, but this was soon taken over with other commitments, so I tried other food delivery services but felt the food was often bland and I was tied into an expensive subscription model.
When I stepped down from my role in 2014, I spent a year planning, testing and building Fit Kitchen from my home kitchen. Our first customer, who is still with us today offered me a cheque and said, "I want to be as fit as you, can you plan my diet and my food and deliver it to me every day?"
What services do you offer?
We have built a one of a kind platform that should make any food tech enthusiast salivate! Fit Kitchen's meal creator system suggests and creates meals based on your daily calories requirements. These are determined to suit your fitness or training goal, as well as your lifestyle and food preferences. These meals are then prepared in a state of the art kitchen by our top chefs and delivered to your home or office anywhere in the UK as often as you need, no lock-in contracts.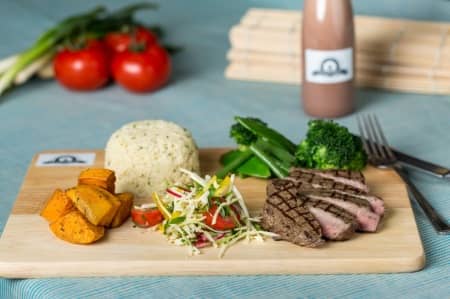 Source: @FitKitchenUK_
I want to be able to combine innovative use of technology with delicious, freshly prepared gourmet food to change the way busy people who care about their health enjoy their food.
What's the company's biggest achievement so far?
I think for me the biggest achievement has been creating and developing the technology behind Fit Kitchen which we are constantly evolving to best suit customer needs – version two will be live very soon!
The second biggest achievement was actually replying to the commercial manager who refused me a business loan with a 10% off voucher code with a note saying, "this will be your biggest mistake…!"
Have you won any awards?
Although I founded the company in 2015, we have only just officially launched the business to its current scale and level, so we're not quite at award stage yet! In my previous work, I am fortunate enough to have been shortlisted for Shell LiveWire in 2010 and named one of the 8 young entrepreneurs under 30 (at the time!).
I have also won the Ernst and Young sponsored Future 100 social entrepreneur award in 2012. Awards are so incredibly encouraging as an entrepreneur, but my biggest award will be building Fit Kitchen into a business that can help people lead healthier lives.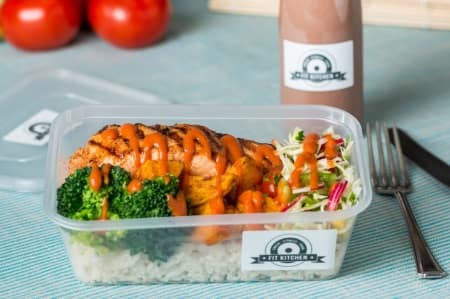 Source: @FitKitchenUK_
What advice would you give to someone who is thinking about starting their own business?
Be a 'passionpreneur', don't think about the money first! If it's only about making money it's unlikely you will be able to motivate yourself through the challenging days that every business has. Passion is a currency of its own in my experience.
What failures have you faced? How did you get through it?
Fit Kitchen was supposed to open its first store in 2015. All the planning and setup was done, interior design plans on a site we thought we had secured and then, at the eleventh hour, the landlord pulled out of the sale leaving me almost bankrupt and with no site or venue for the business I had planned.
In every adversity you can find seeds of opportunity, and straight after this setback I was introduced to the client of a trainer friend of mine who offered me the opportunity to plan, cook and deliver his food from my home kitchen – Fit Kitchen's new model was born, and has continued to evolve ever since. Those who never give up, never lose!
What's your USP?
Our platform and the technology behind the meal creator is our most unique feature, we plan on continually making this more intelligent and user friendly. We also don't tie customers into plans or a subscription model as we appreciate that customer's routines change week to week and lock in contracts can lead to food waste. We want to be able to deliver fresh fit food to people how they want it and when they need it.
What's been your proudest moment on your business journey?
The proudest moment of my Fit Kitchen journey to date was getting my first meal delivered to my home through the system! It tasted awesome, was delivered on time and was perfectly balanced to my macros.
In business, I have had many proud moments from mentoring young school kids who were expelled from mainstream education or from disadvantaged backgrounds to being an advisor to Downing Street and supporting Lord Young in his initiatives such as the start-up loan scheme.
Where do you hope the business will go in the future?
We are working on some very exciting ideas to expand the Fit Kitchen business model nationally as well as into gyms via retail pods which allow members to order food on entry or exit from the gym for delivery to their home or office.
'To find out more and try Fit Kitchen out for yourself, please visit http://www.fitkitchen.uk.com/'