Want to learn about serious fundraising and growth? Read on
Who said London lacks tech titans?
Huddle was founded in 2006 by Alastair Mitchell (CEO) and Andy McLoughlin (EVP strategy), pictured above. It lets organisations collaborate on files and projects in the cloud, securely.
Now, 80% of the Fortune 500 companies use Huddle, as well as four in five UK government departments, and around 100,000 other organisations. The company has offices in London and San Francisco.
And today Huddle announces that it has raised $51m (£32.6m) in a Series D funding round, led by Zouk Capital, attracting investment from Hermes GPE Environmental Innovation Fund, Matrix Partners, Jafco Ventures, DAG Ventures and Eden Ventures.
The $51m will see Huddle double its product team and continue to expand in the US and Europe.
"We're looking to grow engineering team in London by about 50% and add some sales and marketing heads as well, and then obviously build up the team in London as well," McLoughlin tells LondonlovesBusiness.com.
"We've got lots of people to hire, lots of marketing programmes to kick off, lots of stuff to do!"
But before he gets started on all that, we've snaffled him for a few moments to tell us about his insights into fundraising, creating a super-growth business, and building a great team.
What's been the key to unlocking your growth in the past few years?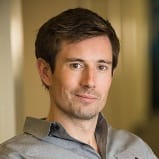 Andy McLoughlin: When we started, we made the same mistake a lot of young businesses do, assuming we could sell our service to everybody. Which is kind of true – our service could be used by most people.
But what we've tried to do in the last two years is really try to focus on the right type of business and organisation, where collaboration is a very important focus for them.
That's professional services, accounting, construction, project management, IT companies, government, the type of business that really values the type of features we've built, and our security and compliance work.
What that means is we've got great retention, and our retention rates are going up every single year as we focus on the right types of organisation.
What we've seen in the macro market is the price of storage is going down – Microsoft has now basically made it free. But the problem is how can [organisations] share and collaborate with people outside that organisation?
If you're the type of business or organisation… where everything you do is focused around servicing your client and working with people outside your firewall, that's really, really valuable [to be able to collaborate with external parties securely, which Huddle facilitates].
What do you think made Huddle so attractive to investors in this round?
When the VCs were looking at the business, they saw great growth, great international potential, but really a nice scalable business that doesn't need hundreds of millions of dollars to get to IPO.
This $51m should be all we need to get us all the way. And when you look at the kind of gross margin we have it's really an attractive business that could stand on its own two feet.
So you think this $51m will be enough to take you to IPO, then?
It's always wise to presume that this round will be last one, because who knows what could happen? It's prurient to assume that. Who knows what could happen with the global economy in the next two years?
What advice would you give other fast-growth companies looking for investment? What really matters?
This is the fourth institutional fundraise we've done, so I guess you could say we're getting pretty good at it now! But if you go back to our series A and B, the thing any investor looks for is evidence of a great team, building a great product, in a great big market.
At the very beginning, although we were not completely focused on the right markets for us, it was pretty obvious we had a product that could be sold into a bunch of different places. There was never a worry that it might be too niche a product to become a billion-dollar business.
Investors want to know an initial product has the potential to be a billion-dollar business.
VCs say that every day [investors] they meet great entrepreneurs with great products, but the market opportunity just isn't there.
They're looking for a company that can go multi-billion-dollar, to cover their losses for the businesses [they invest in] that don't get there.
So telling a really, really big story is key.
What other advice have you got on the pitch itself?
You've got to have a really well-rehearsed and slick pitch – remember they hear dozens of pitches.
In the past having great design [for your presentation] was a nice differentiator. These days it's a must-have. Make sure the deck looks amazing and that it's very clear and very concise – most investors have very short attention spans. It's very important to get to the meat very, very quickly.
VCs are still humans, so all the human psychology we learn everywhere else is applicable. So how can you make it look to them a super-hot deal that they want to get in there?
And you want elements of social proof, so they think: "These guys already being used by government, or this big company I've heard of, and now they've got route to sell to others because they've got their playbook nailed, that is very, very compelling."
How have you stayed innovative, despite being a much bigger company than before?
The first thing is: just enough process. It's really easy to think that as you grow you need to institutionalise all the processes that will allow you to scale but, frankly, I think if you put them in too early you're really going to stifle growth.
So you need to have just enough process so that as you bring new people on board, they can get up and running quickly, but they don't feel like they have to jump through hoops in order to get their job done.
On the product and engineering side, every Tuesday the team work on whatever they want – which is very similar to Google's 20% time.
They can work on a personal project or something inside Huddle, or contribute to an open-source project or just using that time to claw back some of the work they want to get through so don't get clogged up.
We have regular hack days and hackathons that last three of four days where anyone in the company can work on a pitch, then we have video pitches, and we vote on them. The best ideas get selected, and we've some of the coolest things and features we've launched in recent times are because of those hackathons.
We're also very keen on customer interaction, getting our guys out talking to customers. They can work that [feedback and customer understanding] into the product.
What have you learnt about building a team?
I think it's really important to build a great place to work. It's very easy to think you have to be corporate [when your company gets bigger], but actually me and Ali [co-founder and CEO Alastair Mitchell] think: is this the kind of place that the 25-year-old version of us would walk in and want to work in?
So we have free food and drinks, we do drinks on Fridays, parties, lots of things like that.
That's important, because smart people
have choice to go and work anywhere. It's not just the projects you're working on, but the atmosphere you're working in.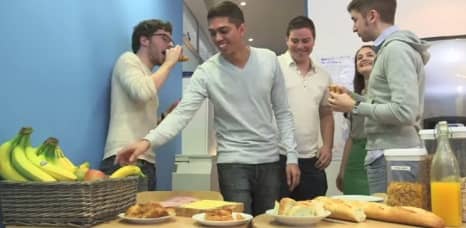 But we have definitely been guilty at times of hiring too fast. The risk in that is that even if you bring on great people, it's very hard to get people on board and up and running quickly.
And when you hire too fast, you risk hiring people who aren't that great.
Unfortunately we have made lots of hires that haven't worked out. You have to be prepared to make the cut.
I believe in: "Hire slow, fire fast".
In our engineering team, for example, they hire in a very collaborative way. Any single hire will meet probably half a dozen people, and any of those can veto that hire.
The culture fit is so important – and there are some really excellent people we haven't hired because of that culture fit. Institutionalising a process like that across the business can really help.