This is what happened
A woman in her 40's has been stabbed outside St John Bosco College just yards away from Prince George's new primary school and near the fatal stabbing of Malachi Brooks in March 2017.
Her injuries are thought to be non-life threatening and is in hospital and a man has been arrested on suspicion of attempted murder.
There was a seperate incident where an 18-year-old was stabbed at Larkhall park, Battersea. He was taken to hospital, but his condition is unknown.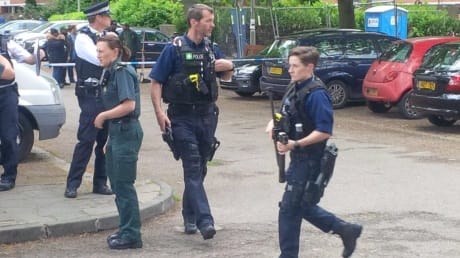 Source: LondonlovesBusiness
A Metropolitan Police officer told LondonLovesBusiness.com "I cannot give any details at this time."
Our reporter on the scene has been able to confirm that a 40-year-old woman has been stabbed and taken to a London hospital.
Eye witnesses have said "there was a full tactical support unit armed with machine guns, hand guns and tear gas ready to deploy as they stormed the property."
Another eyewitness who wants to remain anonymous, said to LondonLovesBusiness.com "I saw at least 5 police cars and vans driving down Westbridge road, Battersea."
"This is the most police I have ever seen here in Battersea."
The man in his 20's said that he has personally witnessed many "armed gang's robbing left right and centre, just within a short space of where Friday's stabbing took place."
He added: "Shortly following this the police arrived from all angles to cordon of the area. At this moment, the police where swarming in. I saw 2 people inside the cordoned, with various ranking police officers taking notes."
"They came in and out of the property multiple times. Two semi-armed police officers awaited outside the back garden, this followed the police putting tape around the scene."
"Riot squad after much anticipation finally arrived, they made their way through into front and back of the scene, across the road from John Bosco college and 100 yards from Prince George's new school. I heard a break of the door, whilst part of the squad waited in the back garden."