Here's what happened
Last Tuesday 2 May, I was alerted by a phone call from a resident in Battersea that yet another car had been broken into. This totals nearly 20 within the last couple of months costing thousands of pounds worth of damage.
I travelled to the scene and saw a BMW car had its rear window smashed.
I was with four witnesses who had witnessed the whole incident outside Thomas's school in Battersea.
Three of the witnesses refused not to go on the record as they are fearful of the moped gang as they know who they are and are afraid that the police will do nothing and that they will be vulnerable to further attacks.
A local Battersea resident who heroically tried to prevent the robbery spoke to LondonLovesBusiness whilst we were on the scene reporting on Tuesday 2 May.
"I was riding my bicycle home from work when I noticed a moped with a pillion going straight through a red light at Battersea Square, and then down Battersea High Street where they were stopping to look into a grey BMW car at around 8:10pm. They stopped straight at that car – they knew what they were looking for."
"I rode past them and circled back as the video shows, and when they noticed I had seen then, rather than leaving, they turned and drove straight at me at speed and the driver put his right leg out to deliberately try and knock me off. Luckily, he just hit me rather than making me fall, but did bruise me and I was left in pain."
This still of this video clearly show the witness being assaulted. No arrests have been made.
"All I was doing was trying to protect an innocent member of the public's car from getting broken into. Unfortunately, my efforts failed and they put a hammer through the rear of the BMW car and stole a bag.  These young thugs on stolen motorcycles and mopeds do not expect for the police to take any actions so they have no fear of being seen attacking people or breaking into cars and carry on regardless.  Both the rider and passenger were wearing balaclavas and the moped had no number plates."
"I called the police twice after the attack and waited at the scene with other witnesses.  Whilst I was waiting for the police with a journalist from Londonlovesbusiness.com and 3 other passers-by, two young men on pushbikes came back not once but twice to gloat'." 
"One of them deliberately rode straight at me as if to hit me yet again on his pushbike but I jumped out of the way. They then came back again and they were pointing their fingers in a shooting gesture at me, the journalist and the lady whose car was broken into whilst we were still waiting for the police."
"I left after about an hour and half, as it was getting late and cold, and I was sore.  The local police did call me back after about half an hour and said as there was an assault they would attend, but they did not arrive before I had to leave."
I personally have been with residents and I have witnessed up to 12 motorbikes and mopeds ride through Battersea Square wielding machetes and knifes literally two days before a 17-year-old boy was macheted to death in Battersea.
A call was made to police via 999 to the police despite the Metropolitan police saying that no incident involving weapons had been reported the police.  
On 6 April, a call was made at 20:17. The caller who was dining at Gordon Ramsay's London House, Battersea witnessed up to 12 motorbikes and mopeds waving a machete and knives.
I was present with this caller as were five other people at Ramsay's who all heard the caller say they have a machete and knives and they are zig-zagging through the tables at Battersea Square whilst people were eating and drinking.
The caller was told by the 999 police operator:
Operator: "is a crime being committed against you?"
Caller: "No but it is happening right in front of me."
Operator: "If the crime is not actually happening to you right now then hang up and dial 101."
The police eventually came. I went with the caller and a police van parked on Battersea High Street.
They said to me and the caller "there is nothing we can do we have a lot of crimes with mopeds and we cannot cover the whole of London."
They were told that they had a machete in their hand, but yet there was nothing they could do and left.
The caller has since witnessed many more of these in the area but has not bothered to call the police. Equally many other residents witness this most days and do not call the police as they know nothing will be done.
Many locals still see mopeds and motorbikes riding at speed through Battersea Square zig-zagging through diners as they eat and drink.
A business owner said to LondonLovesBusiness that one of her staff had witnessed the moped gang shooting at a cash register only two night before the murder on Surrey Lane.
Another witness said to LondonLovesBusiness that same evening: "we heard gunshots outside our home and called the police."
"The police said that many people had called to say the same thing."
A police officer came to my home wearing civvy dress two hours later."
Battersea is fast becoming nappy valley and since the announcement that Prince George is to start at Thomas's Battersea many people are flooding to the area to buy property.
Inspector Guy Osbourne of the Safer Neighourhood Team of Battersea, said police officers in Wandsworth are "very aware" of the moped crime and said that this issue is "a borough priority."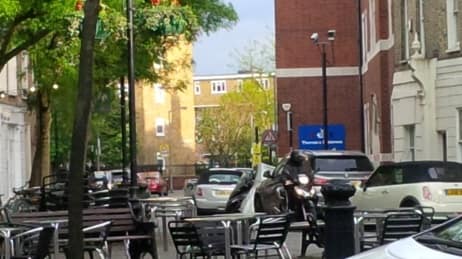 Source: @LondonLovesBiz
We witnessed this moped rider looking in the windows of every car.
Inspector Osbourne said: "Crime Prevention advice is being given to the public through social media and by holding open days with the council specifically aimed at moped crime."
"Police are working with moped manufacturers so they are being made more difficult to steal."
However, most bizarrely Inspector Osbourne of the Metropolitan Police said: "incidents involving weapons had 'not been' reported to the police." This was reported on the Mail Online and the Evening Standard and The Sun.
LondonLovesBusiness.com has clear evidence that this was said to the police with multiple witnesses.
Source: @LondonLovesBiz