James Davis, Founder and CEO of Upad
We interviewed Upad, the UK's largest online letting agent. Here's what they had to say us.
Three reasons you should be watching them
Upad is disrupting the fragmented rental market by harnessing bespoke technology, to provide a new alternative to the traditional high street agent, by delivering the same services at a fraction of the cost
The majority of Upad's £3million investment to date has come from customers of the business first hand – a sign of how well they treat their customers and what support they have for the innovative new lettings platform
The business is led by James Davis, who has himself been a residential landlord for over 16 years, and previously founded and successfully floated AIM listed Campus Media. Under James' leadership, the company turnover has been £2m in the last 12 months but is forecasted to be £4m this calendar year
VITAL STATISTICS
Company: Upad
What it does, in a sentence: Upad is the UK's largest online lettings agency, which is disrupting the fragmented rental market and providing a new alternative to traditional letting solutions through bespoke tech
Founded: [date, location] April 2008, North London
Founder/s: James Davis
Size of team: 24
Your name and role: James Davis, Founder and CEO
THE NEED-TO-KNOW
What problem are you trying to solve?
The antiquated and fragmented ways in which landlords run their business is now being streamlined through our one stop shop. Upad offers a landlord all the services that they need to operate, whether that be advertising their property, dealing with the paperwork or providing insights into the rental market through a series of webinars and guides.
How big is the market – and how much of it do you think you can own?
The rental market is growing. There are over two million landlords letting 150,000 rental properties per month. Online agents such as Upad are forecasted to represent a 40 per cent market share over the next few years.
How do you make money?
Predominately from landlords who want to use our platform on an 'à la carte' basis, recognising the considerable cost savings Upad offers in comparison to traditional agents on the high street.
Who's on your team that makes you think you can do this? 
Upad has 24 employees, many of whom have backgrounds in tech and marketing – the kind of innovation that they bring to the company and our approach to the lettings industry, has been considerably lacking from the property market in the last 20 years. In addition, customers speak to ARLA accredited account managers who are available 7 days a week 8am – 8pm for advice and guidance. James Micklethwait, the former Head of Product Development at Rightmove, has also recently been appointed as an advisory board member to the business.
Who's bankrolling you?
Most of our investment to date has come from our customers, which I find immensely empowering. These are customers that not only come back and use us again, recommend us to friends and family, leave us five star reviews on Trustpilot, but they also want to invest in the future of our property lettings business.
What advice would you give other entrepreneurs trying to secure that kind of finance?
Make your proposition as compelling as possible so that investors 'get it'
Develop your platform as much as you can before seeking investment
'Stick to the knitting' – focus on fixing one problem well rather than being a jack of all trades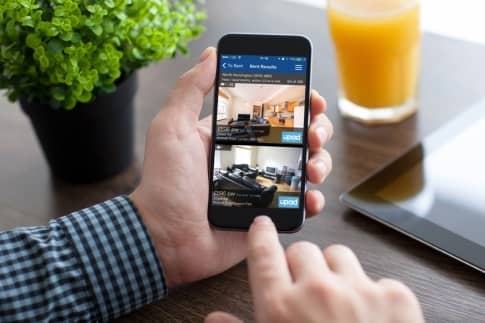 Source: @Upad
What do you believe the key to growing this business is? 
Upad has always put the customer at the heart of its platform. If you don't listen to your customers and are not surrounded by an awesome group of talented employees, you are not going to develop your business to its full potential.
What metrics do you look at every day?
Revenue (who wouldn't), customer reviews, various marketing KPI's and feedback from the team.
What's been the most unexpectedly valuable lesson you've learnt so far? 
Don't underestimate the value of your customers in many ways. Whether you hold focus groups or simply listen to the feedback that they give you, your customers will also be your best promoters.
What's been your biggest mistake so far? 
I wish we had developed an in-house tech team right from the start, rather than outsourcing it – 'bootstrapping'. As a result, it has taken us far longer to get where we are today. The value of having a team in-house so that they can see, hear and feel the business cannot be underestimated.
What do you think is on the horizon for your industry in the year ahead? 
There will be a consolidation play online and I think it is a given that the quantity of high street branches in lettings will at least halve, as it is better suited to an online play.
Which London start-up/s are you watching, and why?
Housekeep, who is shaking up the cleaning market and Fixflo in property maintenance. They have both successfully identified a niche in the market.