Google, the Goliath of search engines, has taken its rivalry with Twitter and Facebook to a whole new level.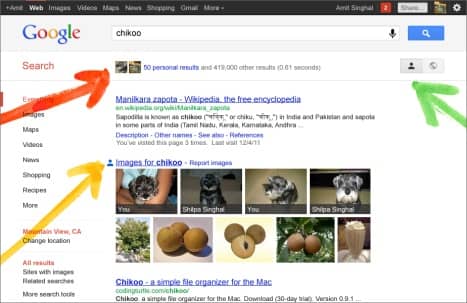 Google's new 'Search plus your world' which mixes 'standard' Google search results with personalised results from the Google+ social network, has been lambasted for "warping" its search results and breaking antitrust rules.
In the coming days, when you enter a name in the search box, Google would suggest  "interesting people or pages to follow on Google+" in response to some standard search queries.
Twitter has criticised Google for showing results for celebrity Google Plus accounts – but not for their Facebook or Twitter accounts.
Twitter issued an official statement saying, 'We're concerned that as a result of Google's changes, finding this information will be much harder for everyone. We think that's bad for people, publishers, news organizations and Twitter users.'
Watch this video to find out how Search plus your world works
Alex Macgillivray, Twitter's general counsel and an ex-Google employee, tweeted that it was "a bad day for the internet. I can imagine the dissension @Google to search being warped this way."
However, Google is very upbeat about its new search function and claims that the feature "understands not only content, but also people and relationships."
'Search is still limited to a universe of webpages created publicly, mostly by people you've never met. Today, we're changing that by bringing your world, rich with people and information, into search,' said the company.
'We began this transformation with Social Search, and today we're taking another big step in this direction.'
Google has said it would ensure that it kept the same levels of privacy as applied on its social network.
"We also want to be transparent about how our features work and give you control over how to use them. With today's changes, we provide interface elements and control settings like those you'll find in Google+," wrote Google on its blog post.
Not sure if you like Google's new feature? Leave your comments below to let us know what you think