Start your day the best way
From the classic fry-up to delicately poached eggs atop a smashed avocado toast, we Brits are a nation of breakfast fanatics. Indeed, the great author and wit, W. Somerset Maugham once said: 'To eat well in England you should have breakfast three times a day'.
Whilst this is somewhat an exaggeration, there's no doubt that London abounds with great places to start the day with something tasty! Here are just five of my favourite establishments where you can be guaranteed to find something to tantalise the tastebuds first thing in the morning…
One of the capital's best-loved restaurants, The Wolseley has carved out a name for itself as a go-to destination for sophisticated and elegant breakfasts in the traditional European style. Expect the traditional full-English and a vast array of buttery, home-made pastries alongside more luxurious and esoteric offerings such as a caviar omelette and haggis with fried duck egg. A critics' favourite, the late A. A. Gill even wrote a book dedicated to the Wolseley's unique take on this most important of morning meals. 
For those looking to capture the true spirit of the traditional 'greasy spoon' but with modern sensibilities, The Regency Café is a must. Located in Pimlico, 'The Regency' is a firm favourite for locals and further afield since 1946, film-buffs will recognise its tiled walls and formica-topped tables from the 2004 Daniel Craig film Layer Cake. Visitors can look forward to one of the best set breakfasts in London (cracking value at £5.50) or have the freedom to build their own iteration. To my mind, 'The Regency's' sausages are worth the visit alone!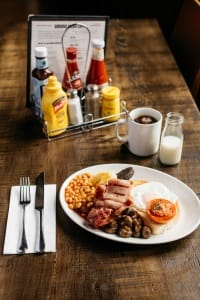 Source: Tom Griffiths
'SMITHS' of Smithfield at Cannon Street
One of the latest additions to the London restaurant-scene, 'SMITHS' of Smithfield opened in November 2016 and is fast becoming a firm favourite for City slickers looking for early morning sustenance. Located right opposite Cannon Street station, the restaurant provides something different to those looking for an alternative to takeaway breakfast wraps and bottled smoothies. Diners can tuck into hearty plates, made using produce from some of the UK's best farmers and suppliers. Alongside the traditional offerings, 'SMITHS' chefs have also created a range of dishes with a twist to tempt the more adventurous eater. A particular highlight for me is their take on Eggs Benedict, Green Eggs & Ham a mouth-watering combination of English muffin, poached egg, pea puree, kale, Hollandaise, streaky bacon.
Whoever said breakfast wasn't for indulging? The old saying goes that one should eat 'breakfast like a king…'; Winston Churchill certainly lived by such an adage, he was known to enjoy a whisky and cigar after his morning meal! Hawksmoor Guildhall is certainly the place to go if you are looking to unlock the inner gourmand. When you arrive, take the edge-off the early start with one of the restaurant's potent cocktails, or 'Anti-Fogmatics' as they are known, then dine in a groaning plate of steak, eggs and hash browns, guaranteed to put a spring on your morning step!
A favourite for night-owls and early-risers, this high-rise restaurant (perched atop Heron Tower) affords both stunning views and a cracking place to enjoy breakfast in the heart of The City. As the name would suggest, waffles are one of the establishment's signature dish and there's an array of sweet and savoury versions alongside the standard, expertly-prepared breakfast staples.
Next time I'll be moving on to my five favourite working lunch destinations. Have you got a favourite? Let me know and I'll be sure to take a look! If you have a recommendation please email me on: [email protected]