Six months after a market bottom it would be fair to expect a degree of market rotation into value or cyclicals. This hasn't happened yet in this cycle. Something is holding it back.
David Jane, multi asset manager at Premier Miton Investors said, there are three big issues dominating markets which are preventing the switch. These are the US election, Covid and the lockdowns and, at least for the UK and Sterling, Brexit. All three of these issues are inherently political. Even Covid, where responses have now become intensely politicised.
Recently, markets have taken a turn for the worse, as they discount further restrictive measures in Europe, and potentially the US, in the case of a Biden victory. We continue to believe in the potential for a cyclical and value rally in the future.
However, as it stands today, every attempt to rally seems to fade as the news flow takes another knock. In fact, growth versus value, as shown below, is actually close to making a new high, while the European banks index is close to all-time lows.
S&P Growth versus Value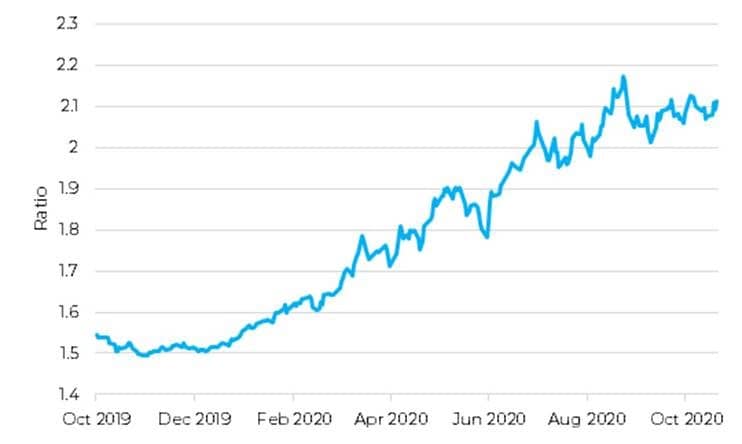 Source: Bloomberg, 10.10.2019 – 29.10.2020.
We do not like to make substantial portfolio calls on these types of issues as outcomes tend to be somewhat binary. We prefer identifiable trends. In our process we like to see the fundamentals highly supportive and the trend to become established in share prices. In the current market, established quality growth stocks, such as those benefitting from our key themes, such as renewable energy or the digital economy, remain highly supported by fundamentals and in strong relative uptrends.
On the other hand, while conditions to support a switch to value or cyclical areas are beginning to build, share prices remain becalmed. Those conditions include evidence of a sustainable recovery, which is building although still not compelling. Government interventions remain on balance damaging, in terms of lockdowns, although they can be supportive fiscally. On the consumer and corporate side, many have the financial resources to spend and invest, but at present they lack the confidence. It seems the conditions could quickly be in place for a more rapid recovery, but it is not quite there yet.
The evidence from bond markets is also continuing to build. Both ten and thirty-year US treasuries now appear to be forming early stage uptrends, suggesting that in the US at least, markets believe higher growth and possibly inflation is on the way. This has yet to feed into the rally in value that you might expect.
In summary, market action combined with fundamentals will always drive our portfolio changes. We always keep a close eye on the economic or sector fundamentals, but until these are beginning to manifest in price movements, we prefer not to act. Unlike fund managers who try to predict the turn by acting early, we believe if we were to do that it would simply be luck. In our case, we will wait to see evidence not just in the fundamentals but also in price movements.