Hundreds pour in to pay their tributes
Over 2,300 people from across the world are expected in London today to pay their respects to Baroness Thatcher.
Lady Thatcher, Britain's first female Prime Minister, died of a stroke on 8 April.
Crowds had gathered outside St Paul's Cathedral by 7.30am and many spent the night camped outside Christopher Wren's great church.
Flags over UK government buildings are being lowered to half-mast and the coffin will be transferred to a gun carriage drawn by six horses from the King's Troop Royal Horse Artillery.
Speaking on BBC Radio 4's Today programme, Prime Minister Cameron said, "I think it will be quite a sombre event, but it is a fitting tribute to a great prime minister respected around the world, and I think other countries in the world would think Britain had got it completely wrong if we didn't mark this in a proper way,"
The guest list of the funeral includes The Queen and Prince Philip, Sir John Major, Tony Blair and wife Cherie, Gordon and Sarah Brown and current PM David Cameron.
Labour leader Ed Miliband, Scottish First Minister Alex Salmond, Welsh First Minister Carwyn Jones, Northern Ireland First Minister Peter Robinson and London Mayor Boris Johnson will also attend.
Other guests include former South Africa leader FW de Klerk, singers Dame Shirley Bassey and Katherine Jenkins, composer Lord Lloyd Webber and wife Madeleine and Lord Jeffrey Archer with wife Mary
About 700 military personnel from all three services will line the route while processional minute guns are fired from the Tower Wharf at the Tower for the duration of its journey.
Speaking about the funeral, Very Rev Dr David Ison, who will give the bidding at the ceremony, said: "Mrs Thatcher wanted something that was very simple and it is not at all triumphalist.
"At its heart it's a funeral like any other funeral, bearing in mind people have to remember that it's not a celebration of somebody's life, it's not a memorial service.
"It's an occasion to do the last thing that we can for a human being, which is to commend somebody to God."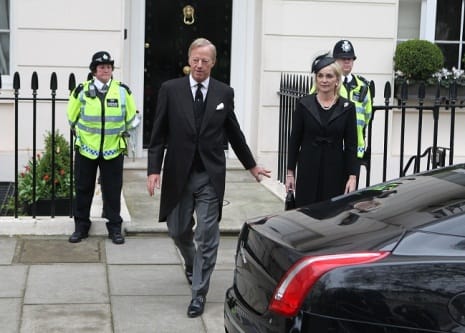 Yesterday, Tory MP Mark Field told LondonlovesBusiness.com that the Conservative Party's celebration of the late Baroness Thatcher has been fostered by a "collective guilt"
"I think maybe that is an element of why things are quite as [they are, with] slightly a hullabaloo about it all. That considered, I was a great fan of hers. There is an element of collective guilt about the way in which she was treated.
"She was the first female leader. She won three elections and never lost an election with the public at large, but was ousted in the way that she was," he said.
At 10am, the coffin will travel by hearse from Westminster to the Church of St Clement Danes, the RAF Chapel, on the Strand and the chimes of Big Ben will be silenced for the duration of Lady Thatcher's funeral.
Thatcher's coffin is expected to arrive at St Paul's at 11am and the funeral hour will last less than an hour.
At the service, David Cameron will recite a lesson from the King James Bible as, prior to her death, Thatcher had requested that Britain's serving prime minister will deliver a reading at her funeral.
Poems by Wordsworth and TS Eliot and a selection of well-known hymns, including Charles Wesley's Love Divine, All Loves Excelling will also be a part of the funeral.
The coffin will travel by hearse to the Royal Hospital Chelsea and a private cremation at Mortlake crematorium will take place in the evening.