Brands are always looking for a competitive edge, especially when it comes to marketing. The rise of competition across nearly every industry has left brands in search of new innovative ways to reach target audiences. And many brands have found influencer marketing to be the solution.
Influencer marketing is no longer a buzzword among marketers. Social media influencers have become a staple in many brands' overall marketing strategy. From Instagram to YouTube, brands are dedicating more of that valuable marketing budget to influencer marketing.
Around 25 percent of marketers planned to dedicate nearly half of their 2020 marketing budget on influencer marketing, according to the American Marketing Association (AMA).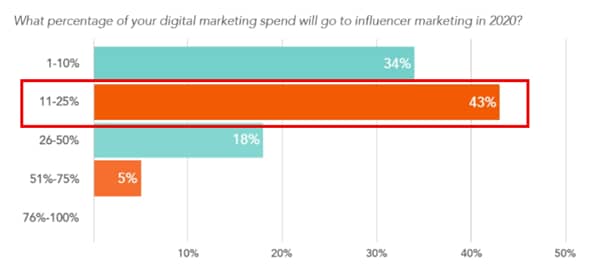 And why is this important for influencers? More marketing budget spent on influencer marketing, the more money influencers can generate.
And you don't need to be a celebrity influencer with a million followers or subscribers to make money as an influencer. In fact, many brands are turning to micro-influencers and nano-influencers for social media sponsored influencer posts.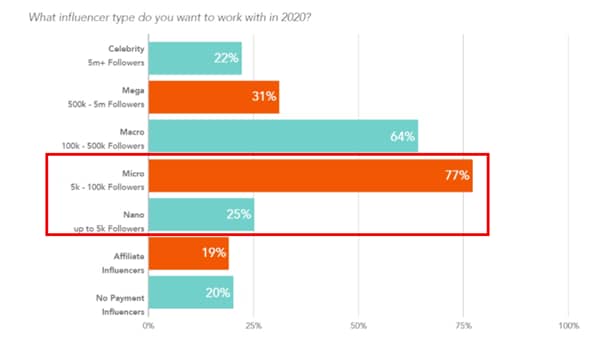 It has never been a better time for a micro-influencer or nano-influencer to make money via social media influence. But understanding how to get paid on Instagram or earning money from YouTube videos still proves challenging.
If you are a micro-influencer or nano-influencer ready to make money from your social media influence, we have a few tips to take your influencer marketing gig to the next level. Let's dive in!
Make your social media profile enticing to brands
Having a strong social media profile can improve your chances of landing those lucrative influencer marketing sponsored posts from brands. What should your influencer profile look like? Here's an example from Instagram micro-influencer @sweatandtell: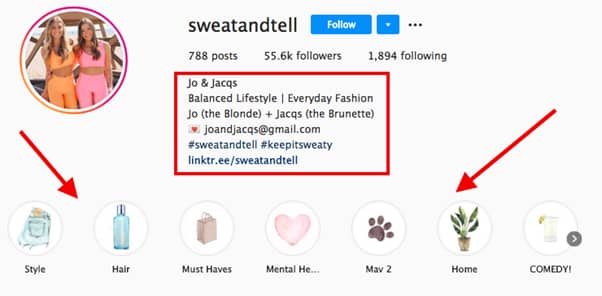 You can see that this fitness and lifestyle micro-influencer includes key information, such as first names, their niche, an email, unique influencer profile hashtags, and a link to their landing page.
This micro-influencer has also leveraged Instagram Stories to add more value to the Instagram profile page. This influencer social media profile should be drawn from to take your influence to the next level.
Boost engagement rate to land sponsored posts
Engagement rate is one of the most important metrics when it comes to making money as an influencer. As influencer marketing grew, follower and subscriber count became less important.
Why? Anyone can have 50,000 followers on Instagram, or 100,000 subscribers on YouTube. The sad truth is that fake influencers are everywhere. Anyone with a social media page can buy followers or subscribers. In fact, you can get 5,000 followers for under $40.
For example, brands used to fall victim to fake influencers that purchased their followers. This means that brands would pay a fake influencer top dollar and get zero ROI on the influencer marketing campaign.
Now brands look at engagement rate to choose influencers for sponsored posts. So to make money, you need a pretty decent engagement rate. Posting videos is one of the best ways to boost engagement rate, especially on Instagram. The average engagement rate is around 2.5 percent. Anything above that can increase your influencer revenue via sponsored posts from brands.
Communicate with your followers and subscribers
Want to grow your influence and make more money as a micro-influencer or nano-influencer? One of the best ways to grow your influence and gain more followers or subscribers is to communicate with your audience.
Communication is a two-way street when it comes to influencer marketing, because brands want to see that you are engaging back with your audience. This shows that you are a credible influencer with a loyal audience.
Loyalty is one of the biggest appeals to brands that want to work with micro-influencers and nano-influencers. Here's what communication as an influencer looks like from Instagram influencer @livlikeitsthewknd:
You can see that communicating with your target audience by sending short and thoughtful replies to comments can be beneficial.
Gain more influence by collaborating with other influencers
The more followers or subscribers you have, the more engagement you will net. And the more engagement you have per post consistently, the greater your chances are to partner with top brands. This means more money as a social media influencer.
To grow your audience, whether it's on Instagram or YouTube, you need to collaborate with like-minded influencers. This simply puts more spotlight on you as an influencer. And collaborations can turn into collaboration sponsored posts as well.
You can also expand your influence on social media by partnering with an influencer that may not be directly connected with your niche. For example, if you are a fitness influencer, collaborating with a tech influencer on a tech product geared toward fitness can be very beneficial.
Think outside the box on collaborations and access a wider audience to increase your followers and/or subscribers.
Help brands find success via influencer marketing
Brands large and small want to tap into your influence. Especially if you are a micro-influencer or nano-influencer with a loyal audience hanging on your every recommendation. Turn your influence into a passive income stream by taking your influencer marketing skills to the next level.