It's hard these days to go too long without hearing the word influencer. Your social media is full of them. Your favorite brands work with them.  Your Gen-Z relatives are obsessed with them. Whatever the case, the presence and power of influencers is undeniable.
But did you know that not all influencers are created equally? This is important to keep in mind when you want to find influencers for your marketing campaigns. Keep reading to learn about the different types that exist and what each can offer.
What are influencer tiers?
In addition to being organized by industry, influencers can be sorted based on their number of followers. Each tier brings its own advantages and disadvantages, depending on your marketing goals.
Nano influencers: 1k-5k followers
This group includes influencers who have relatively few followers, but who can be handy if you're promoting a local business or trying to reach a very niche audience.
Nano influencers offer credibility, as their content is natural and not too retouched. They also have very low cost per post rates. Simply sending them your product is usually enough.
However, as they have fewer followers, their reach is limited. Also, nano influencers generally don't make their living from social media, so they may have less time and fewer resources to dedicate to content creation.
Micro influencers: 5k-50k followers
According to Influencer Marketing Hub's 2020 Benchmark Report, large marketing companies used 300% more micro influencers in 2020 than they did in 2016.
Why? To start, micro influencers are considered experts in their field. Followers trust their content and voice. They're also very active on social media, which creates a more personal relationship with their audience. This is engagement rate: the level of interaction between created content and its followers. Micro influencers generally have very high engagement rates, and this can convert into engagement with your brand.
Another benefit of micro influencers is their low cost per post. They'll often agree to deals including products or experiences, making them a budget-friendly way to boost your brand awareness and sales.
Mid-tier influencers: 50k-500k followers
Mid-tier influencers may not be household names, but they're famous enough to collaborate with top brands in their field. For example, body-positive fashion influencer Sierra Schultzzie (@schultzzie), with 270k followers on Instagram, has collaborated with Fabletics, the American athleisure brand.
Mid-tier influencers cost more, but they can help grow brand awareness with just a few posts. They've also probably moved up the influencer ranks, so they know their way around content creation.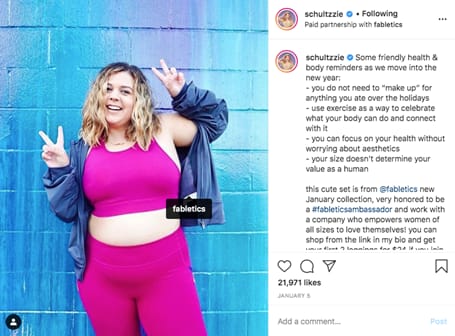 Mega influencers: 500k+ followers
Megas are the celebrities of their industries. They often work with several high-profile brands at once, and their followers represent a wide range of interests and locations. Mega influencers can help you reach millions of people all around the world.
The cons of working with them include higher costs and the necessity of contracts. In addition, you may have to adjust your campaign calendar to accommodate mega influencers' busy schedules. Finally, they usually have low engagement rates, and audiences sometimes don't trust their frequent, highly-polished content.
Tips to choose the best influencer
Now that you understand the different types of influencers, how do you choose? Here are some questions to get you started:
What are your campaign's top goals? It's important to establish what you want to gain from the campaign, as well as where you want to make an impact. Is your campaign local or global? Does it target a niche market that requires an expert opinion?
What does your budget allow? Decide what you can offer an influencer, and consider products and experiences. Once you know what you can provide, it should be easier to select an influencer type. And remember, you don't have to spend a ton to get a good return on investment.
Who is the target audience and where do they spend their time? Instagram is generally the most successful channel for influencer marketing, but your product or service may be better suited to other channels. After you define the channel, identify an influencer who aligns with your target audience's interests. But be careful! You can't  determine this by simply scrolling through Instagram. It's better to use analytical tools to gather more accurate information.
Next steps
Influencer marketing is on the rise, and if you haven't already used it to promote your brand, now's the time. Heepsy can help you find the best Instagram and Youtube influencers to fulfill your needs.