On Monday 4 May the government launched the 100% guaranteed Bounce Back Loan Scheme (BBL) to help businesses who need urgent help with money to keep them afloat.
The Chancellor Rishi Sunak announced the loan will allow small businesses to borrow up to 25% of their turnover from 2019, up to a maximum of £50,000.
But it appears that many hundreds if not, many more professional business customers are still waiting for money to hit their accounts, despite being told a week ago they qualify.
The business loan scheme is set up so that their customers are to be paid within just 24 hours, but many customers are still waiting for the money.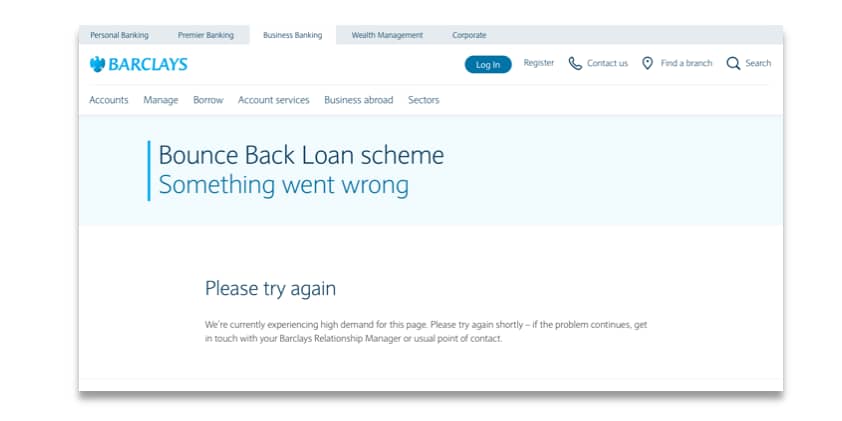 Last week thousands of people have complained on Twitter showing screenshots from the bank, that the Bounce Back loan application page reads, "something went wrong, please try again."
This week it seems that Barclays Bank have now opted for a different message to their valued customers.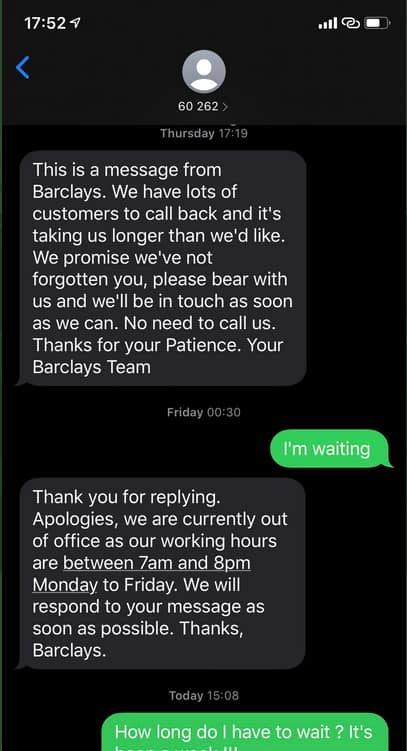 Simon Arnold, who owns a global telecoms business has had significant impact from coronavirus, with revenue expected to fall by 50% on revenue for March 2020.
Arnold told LondonLovesBusiness on Monday, "I have been attempting to log onto Barclays for the bounce back loan since 9am, last Monday, 4 May, but to no avail.
"I have five suppliers that I cannot pay that are late as of last week due to an almost 50% revenue drop for March caused by Covid-19.
"It is now seven days since I first tried to apply for the BBL and I'm still awaiting a callback from Barclays bank.
"I will continue efforts however, when this is over, I am forced to consider a move away from Barclays after more than 15 years at the bank"
Paul Kendall, who owns So Fresh & So Clean Services told LondonLovesbusiness.com, >I'm a businessman, but primarily a man of morals; I look after my staff, lookout for my community and go above and beyond for my clients.
"Something that I expect from a company such as Barclays, especially during such uncertain and worrying times.
"Instead, myself, amongst many others, have been hung out to dry by the entire team at Barclays, from top to bottom with their persistent lies, incorrect information, promises of delivering our payments, just to highlight a few of the challenges we've faced this past week.
"Of course we want our loans paid out, however some honesty and clarity would have been reassuring at the very least, as opposed to the treatment we have received which has been extremely unnecessary and testing both physically and mentally.
A Barclays spokesperson told LondonLovesBusiness, "We apologise to the small group of customers whose payments were delayed last week and are working hard to have the money with them later today.
"We have now paid out on the vast majority of our approved Bounce Back Loans, with those who applied over the weekend due to receive their money in the next 24 hours."
Thousands of people have taken to social media venting their shear frustration that they are still waiting a week later.
Businesses are being affected so severley that some businesses are losing money as they are being forced to cancel work for their staff, and sub contractors affecting more people in the supply line.
Chesney Hassell wrote on the Twitter, "Just thought you'd like to know I had to cancel the work for my sub contractors this morning because Barclays haven't paid my loan application from Monday 4th #barclayspayus"
https://twitter.com/ChesneyHassell/status/1259854880287711233
Yes two applications for separate businesses, one on Monday, other on Tuesday. No funds received although both were accepted and loan accounts set up.

Told by Barclays this morning all applications from last week have been paid in full 🙈

— Andrew Daly (@Andrew_Fryday) May 11, 2020
This person said on Twitter, "Still waiting and today is 7 days since applying."
Still waiting and today is 7 days since applying

— Danny Evans (@uniquedanny1) May 11, 2020
Another person wrote, "I wish I was with Lloyds. They seem to be smashing funds out to everyone."
Wish I was with Lloyds. They seem to be smashing funds out to everyone today ffs

— Danny Hatton (@hammerhandsdan) May 11, 2020
Darren cook said on Twitter, "Applied Monday, nothing since, impossible to speak to anybody who knows what's going on."
Applied Monday, nothing since, impossible to speak to anybody who knows what's going on.

— Darren Cook (@points4profit) May 11, 2020
Last week, the Federation of Small Businesses (FSB) National Chairman Mike Cherry said, "The BBLS has come out of the blocks strong – enabling £2bn of small business lending in its first day, a sum that took its predecessor loan scheme weeks to achieve.
"Given the nature of this initiative, and the sheer volume of day one applicants, it was always going to be led by the big four in its early phase.
"From here though, it's important that efforts to increase competition in the small business banking market are maintained. More banks and alternative lenders need to be accredited to the BBLS. The Treasury, British Business Bank and Bank of England should work together on how this can be best achieved.
"Unfortunately, we are hearing reports that bounce back application forms are hard to access or enquiries are simply being acknowledged with a "we'll call you" message and nothing further.
"Many of the most vulnerable business owners – particularly sole traders – only have personal banks accounts and, as a result, are being told that they can't access a bounce back loan. It's vital that they are helped to secure the finance on which many will depend to make it through this incredibly challenging time.
"All in all it's a very promising start, but there's still work to do."