The Chinese Navy have sent their aircraft carrier fully laden with fighter jets into the controversial South China Sea (SCS) in the area of Miyako Strait.
This is raising tensions with the US which could escalate as the US Pacific Fleet stationed in Okinawa could respond with action.
The Chinese naval exercise is in accordance with international law, according to Chinese Navy spokesman Gao Xiucheng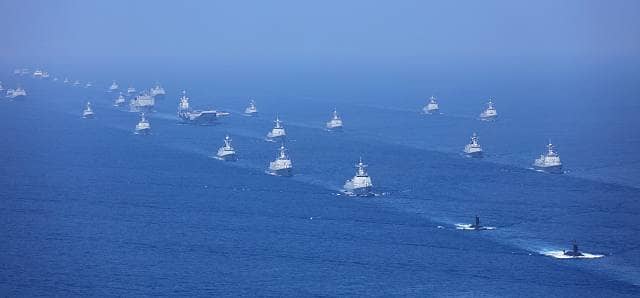 Beijing are planning to upgrade the combat capability of the massive aircraft carrier's formation system.
Chang Ching, a retired Taiwan naval captain and researcher at the Taipei-based Society for Strategic Studies said, "The Trump administration faces a dilemma.
"They want to send smart, calibrated signals to Beijing without causing an overreaction or misunderstanding."
US military activity in the heavily contested SCS has dramatically increased in recent months with an increasing risk of a confrontation.
According to a Beijing think tank, the SCS Strategic Situation Probing Initiative's annual report claims the US have intensified military operations in waters across the region.
The report said, "As the strategic competition between China and the US has continued to intensify in recent years, the comparison of the navies has become evident, particularly in the South China Sea.
"By carrying out freedom of navigation patrols in the South China Sea and sailing through the Taiwan Strait, the US is making a retaliatory response to China, which is becoming a new trend.
"As China continues to modernise and strengthen its navy and air force, the US will become more concerned and increase its surveillance…against the Chinese military."
It concluded, "The risk of confrontation in the sea and in the air will increase."
The US Navy are aggravating Beijing as they are doing live firing exercises and in response China are firing laser beams on American surveillance planes, and are conducting air blasts in the seas.