Find out here
2017 was touted as the year of the Bitcoin. The cryptocurrency rose by 1,800 per centand pulled the rest of the cryptocurrency market along. Overall, the cryptocurrency market grew to a market capitalization of more than $450 billion. Other altcoins – cryptocurrencies other than bitcoin – were not lagging either. Ether, the Ethereum blockchain's cryptocurrency grew more than 7000 per cent last year. Litecoin also grew by similar percentage amounts. However, it was Ripple that actually store the show by growing more than 37,000 per cent in 2017.
After such a glorious and exciting year in 2017, investors are wondering what 2018 will hold for the cryptocurrency market.
In an interview on Fox Business' Closing Bell, Fireapps CEO Wolfgang Koester gave his forecast of the direction Cryptocurrencies were going to take in 2018. According to the developments in 2017, it is a possibility that entire nations may start using cryptocurrencies as their sole currencies.
In fact, President Maduro of Venezuela announced that he would issue a cryptocurrency owned by the Venezuelan government which would be backed by the country's resources of oil & gas, gold and diamonds.
Russia too seems to be planning its own cryptocurrency. This is a huge turnaround for Putin, who, till October 2017, was threatening online exchanges trading in bitcoin and other cryptocurrencies with closure. And now, Russia is planning to legalize cryptocurrencies.
According to Koester, more countries will follow suit, including the US. The reason he gives is that the biggest challenge that governments face with cryptocurrencies is its anonymity. However, he said, if the government itself controls the blockchain and owns the cryptocurrency, then it will have complete visibility into all ledger transactions. This would also mean that the fear of cryptocurrency theft would also be removed.     
Koester also said that in 2018, while there will still be a demand for cryptocurrencies (thanks to trading markets), the blockchain is going to gain more prominence. There is a growing need for the technology and the focus is going to shift from just cryptocurrency trading to a wider range of applications of the technology itself. This is because the biggest use for blockchains and cryptocurrencies in the coming years will be for transactions, especially bank to bank transactions.
Right now, it takes up to seven working days for some banking transactions to be completed. Blockchain technology, using cryptocurrencies like Bitcoin or Ripple to transfer funds, takes just minutes or even seconds.
It's not just Koester who has good news for the crypto-world. According to Kay Van-Peterson, a Saxo Bank analyst in the UK, Bitcoin will reach $100,000 in 2018. This is the man who had predicted that bitcoin would cross the $2,000 mark in 2017. It did. And how! Despite the cryptocurrency's poor performance since the second half of December 2017, Van-Peterson says that the world's most valuable cryptocurrency will touch the magic 6-figure mark this year.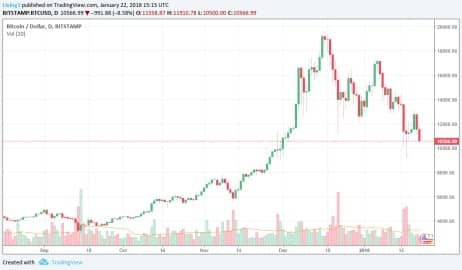 CNBC conducted a serious of interviews with top analysts and investors in the market and compiled a list of the top five predictions for 2018 for the cryptocurrency market. 
Expect more organizations to embrace cryptocurrencies
According to Michael Graham, the cryptocurrency analyst of Canaccord Genuity, a lot of their institutional investors are showing a lot of interest in the cryptocurrency market.
Besides CME and CBOE that have already launched Bitcoin futures, Nasdaq and Cantor Fitzgerald are set to follow suit in 2018.
Regulations will increase and the price of bitcoin will go down
Authorities across the world are going to try and limit the speculation in cryptocurrencies and start enforcing regulations. We see this already happening in South Korea and China. France is creating a work group to create cryptocurrency regulations. Russia has announced new laws for cryptocurrencies. Japan is due to follow suit. The European Union is looking at regulations too.
Thanks to the crackdown on cryptocurrencies, we could see 65 per cent to 75 per cent drops in prices as well as market value of various cryptocurrencies. In fact, Bitcoin has already fallen almost 50 per cent since its peak on December 11 in 2017.
Cryptocurrency volatility is expected to continue in 2018
According to analysts, investors should not expect the explosive volatility in the crypto-market to stop any time soon.
Bitcoin will survive and other cryptos will grow
Analysts still have faith that bitcoin is not just going to recover, but grown this year. However, it might now be as spectacular as it was last year. In fact, many are saying that 2018 may be the year of the altcoins.
Investors may get the chance to invest in crypto-companies like Coinbase as they contemplate going public
This year, analysts feel that the focus may shift from bitcoin to altcoins as investors and governments are becoming more interested in the uses of the technology rather than just trading in cryptocurrencies.