Here's what happened
Armed police have arrested a man on suspicion of possessing a knife near Parliamnet. Scotland Yard said in a statement it is not terror related and a man in his 30's was arrested at 11:10 Friday as police officers saw the man reach for a knife he was carrying.
@johnaaront took this photo and the lead photo: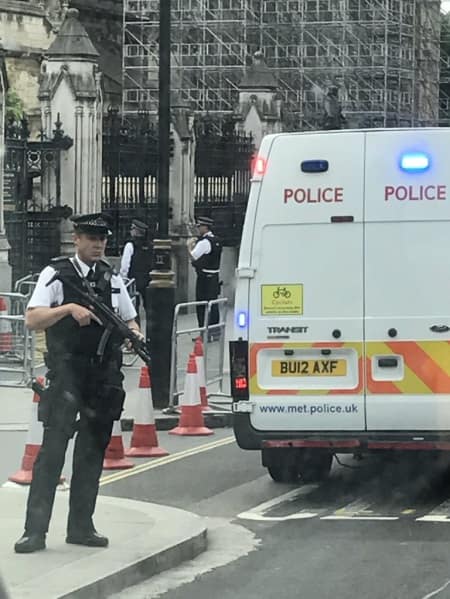 Source: @Johnaaront
The bearded man is pictured [lead photo] with a grey hooded top surrounded by armed police officers whilst another police officer handcuffs the man waiting for a police van.
Carriage gates have been closed as a precaution following the arrest and a Parliamentary spokesman said Friday: "We are aware of an incident outside the Palace of Westminster, which is being dealt with by the Metropolitan Police."
This video was posted on Twitter shows the arrested man being taken away under armed guard.
NEW: One male suspect led away to custody van by police outside Parliament's Carriage Gates #Westminsterpic.twitter.com/PGQZGkvvQd

— Ross Kempsell (@rosskempsell) June 16, 2017
More follows…