Red hot pics of Virgin boss' turn as an air stewardess
Shaved legs, fishnet stockings, a red short skirt and red lipstick…Virgin boss Richard Branson dressed up as an airhostess and served passengers on an Air Asia charity flight from Australia to Malaysia yesterday.
Why? Well, Branson lost a bet he made with AirAisa boss Tony Fernades at the 2010 Abu Dhabi Grand Prix that the Virgin team would beat Fernandes' Lotus Cosworth.
The loser would have to dress up as an airhostess of the other's airline.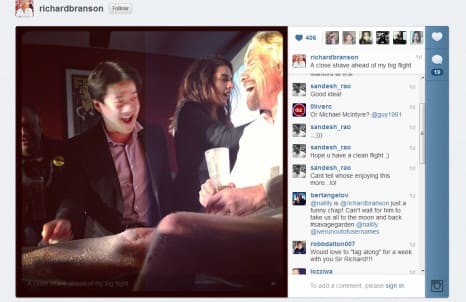 So honouring his commitment, Branson shaved his legs and had an assistant help him put red lipstick and red shoes. Before his maiden flight as an air hostess, he got a kiss from new boss Fernandes for good luck.
Looking at Brason's new avatar, one passenger said,  "I've looked up to you for years, now I've looked up your skirt!"
But was Sir Richard good at his job? Well, moments after getting onto the flight, he "accidentally" spilled a whole tray of drinks over Fernandes.
"I made it up to him later by spoon-feeding him his dinner, as well as serving tea, coffee or me to all of the Air Asia X passengers," said Branson in his blog.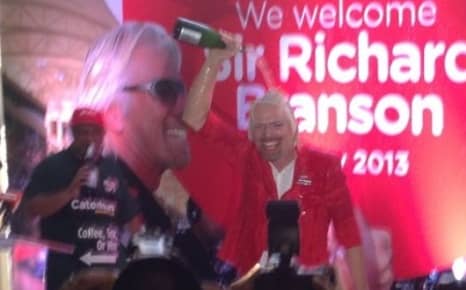 Fernandes said he wanted to "kill" Branson for spilling juice over him. On arrival in Malaysia, the AirAsia chief took his revenge by spraying champagne on Branson.
On being asked to rate Branson as a steward, Fernandes said, "Out of 10, maybe one, for a bit of humour."
Photos: Richard's blog
You need to read…
Register for our free newsletter
For up-to-the-minute insights, news and gossip for London professionals and business leaders
The London Business Summit: Thriving in London, Tuesday 25 June 2013
Discover opportunity, explore innovation, drive long-term profits 
Speakers include Martha Lane Fox, Alastair Lukies, Julie Meyer, Mike Butcher, Jo Valentine and many more.
READ ONLINE NOW: Securing Britain's Future
How London's business leaders would safeguard our economic future
Boris Johnson, Martha Lane Fox, Doug Richard, Xavier Rolet and more than 25 other CEOs and entrepreneurs share their insights.