Here's how
In the not-so-distant future, advances in transport technology will see the transformation of vehicles as we know them, as new features are set to revolutionise our experiences on the road.
ingenie, a black box car insurer, partnered with a student in Automotive Performance Engineering at the University of Bolton, to create a three-dimensional digital model that shows what cars will look like in the next 20 to 40 years.
From zero-emission engines to augmented-reality windscreens and even cars that think for themselves, automotive technology is about to take one of the greatest leaps forward in living memory. These new designs allow us to explore the science behind the vehicles of tomorrow.
The car of the future will incorporate a variety of new features designed to drastically change the driving experience, improve the safety of pedestrians and also reduce emissions.
Key changes for cars of the future are:
Active window displays
Biometric access
Gesture control
External airbags
Engines producing lower emissions
Advanced materials
Sensors
Autonomy
Versatile interiors
Omnidirectional wheels
Among the key changes are biometric identifiers, such as fingerprints and iris patterns, which can be used to unlock the vehicle, removing worries about misplaced keys. But the personalisation doesn't stop there, as drivers will be able to add other users to the system, enabling the car to recognise each driver and prepare the car accordingly, from playing the driver's favourite song to adjusting the seats to their preference and even remembering their typical routes.
Gesture control driving will also be a feature in the car of 2045 as knobs and buttons are set to be replaced by hand gestures like pinching and swiping, making changing the music, temperature and lights much easier while driving. While some of these features are currently available across a small number of cars on the market, they are sure to cross over into to the mainstream for young drivers of the future very soon.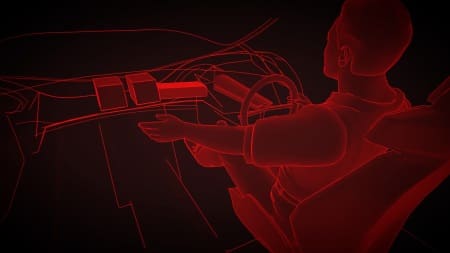 Source: Ingenie
Perhaps the most interesting advances are intended to protect pedestrians, as external airbags will be fitted to the side of the car. With increased intelligence, cars will be involved in fewer crashes, but this technology will be a vital failsafe if an incident does occur.
With the Toyota Concept-I, recently revealed at CES 2017, introducing features such as in-car artificial intelligence, sliding doors, facial recognition and aerodynamic design into the automotive industry, it's clear that this new futuristic age of transport is going to be here sooner rather than later.
Edward Cumming, a student in Automotive Performance Engineering at the University of Bolton, said: "It's really exciting to see this new ground-breaking technology crossover into mainstream designs and how it will have such an impact on the driving experience as a whole.
"All of these new features are set to really transform the motoring industry. Working with ingenie on this new visualisation of the car of 2045 has been really beneficial, as now the everyday consumer and drivers of the future can see what their cars will look like and even be like to drive in the near future."
Mike Ketteringham, CEO of ingenie, said: "Through working with Edward, we have been able to create a really detailed visual of the car of 2045."
"With the self-driving revolution around the corner and cars getting smarter and more efficient every day, it is an exciting time to be a motorist."
"Drivers and businesses around the world could soon see their experiences with transport and the road change dramatically. We have already seen innovation from brands such as Tesla and BMW and we can't wait to see how other big names incorporate this new technology."
"While we can't say for sure how closely our vision of the car of tomorrow will resemble all cars of the future, just take a look back at the 'cars of the future' in the 60s, it's a certainty that big changes are ahead, both for how we interact with our vehicles and how they improve our world."
All information, designs and details are available by visiting:https://www.ingenie.com/future-car-revolution/