What is it about the app that has got Skype founder Niklas Zennstrom and other tech bigwigs hailing it? We meet Hailo co-founder Jay Bregman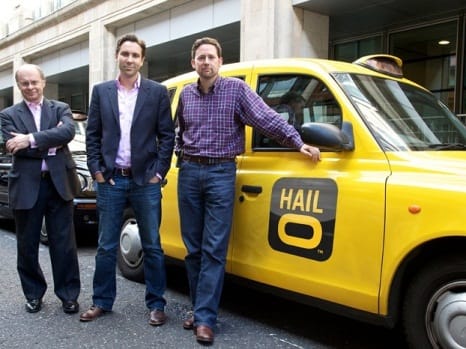 Follow me: @shrutitripathi6 and @LondonLovesBiz
Jay Bregman doesn't own a car or have a British driver's license. Yet, he's been in the driving seat of two transport businesses right here in London.
In 2003, Bregman co-founded eCourier, a London-based company that made package delivering more efficient by introducing online ordering and tracking. Eight years and multiple business awards later, Bregman sold his stake in the company and ventured into the world of apps.
In November 2011, he launched Hailo, a taxi-hailing app that you can download for free on your mobile phone. Hailo is backed by Skype founder Niklas Zennstrom's venture capital firm Atomico and Wellington Partners, principal investors in Spotify. The company is headquartered inside the HMS President, a permanently moored boat on the Victoria Embankment.
The app is getting a lot of love from tech investors as well. Back in March, it got a $17m (£10.6m) Series A funding from Accel Partners, a VC firm that has invested in Facebook and Groupon in the past. 
To date, Hailo has registered about 6,000 drivers or 25% of the 23,000 drivers in the capital and has also had a successful launch in Dublin. New York, Chicago, Boston and Toronto are also on the map.
But will waving your arms and whistling to hail a cab ever be passé? We caught up with Jay Bregman to find out: 
Q. How did Hailo come about?
Having lived life as a New Yorker and a Londoner, I always found that something as simple as hailing a cab can become an ordeal and that got me and my friends Caspar Woolley and Ron Zeghbibe thinking.  After a bit of research, the three of us met up with London cabbies Russell Hall, Gary Jackson and Terry Runham, who at the time were planning to start out a taxi business. We met at a café in Charlotte Street and ended up chatting for hours about the gripes and moans of both cabbies and customers. The diagnosis was simple – the cabbies don't find enough jobs and the customers don't find enough cabbies.
So while the cabbies chalked out what the business should look like, the three of us decided the tech aspect of it. That's how Hailo was born, for customers it's just two clicks to a cab, and for cabbies it's much like what Adobe Photoshop is for designers.
Q. How does it work exactly?
A customer can download Hailo for free and see how far the closest cabbie is and how long he or she will take to get to the passenger. The customer can book a ride by tapping the 'Pick me up here' option, and then he or she can pay by cash or card.  
The driver, on the other hand, has the hailing request pop up on his screen and can accept or decline the job.
Customers can also see a photo of the driver and the vehicle registration number while waiting for the driver. The app shows a countdown of the time the driver will take to reach the destination. Once the driver arrives, the customer gets a notification and he or she can make their way to the cab.
Q. But where do you earn your profits? What's the business model?
The business model is simple. We take a 10% commission from the cabbie each time he or she gets a job through the app.
Q. But what it is it about the app that has got cab drivers signing up to the service?
For most taxi apps, the focus is on the customer and drivers are really an afterthought. However, we found out that to make the hailing process efficient, we need to help the drivers.
For starters, joining the Hailo cab network is free and all drivers need to do is sign up, and after a thorough yet speedy check of their licence and records, they can be a part of the network. 
Drivers spend 30-50% of their time desperately looking for customers, but by using Hailo they can get advantages such as not having to charge extra when customers pay by cards. Also, the app helps drivers identify areas which have more jobs and acts as a social network for the cabbie community too, as they can update traffic hotspots.
Q. What's the core USP of the business, why will customers and cabbies choose Hailo over the other apps?
We build better networks that mean cabbies are closer to more hails and availability is higher for customers without paying a fortune. What also gives us an edge is that the taxi community trusts us because former taxi drivers themselves are behind the business.
Q. You've got some big investors backing you like Skype founder Niklas Zennstrom. How involved are they in the business and what advice have they given you?
Oh! Our investors are really involved in the business, they give us very honest feedback as consumers and partners. Niklas' best advice to us was to really focus on the essential core elements of the product first, and only once we had cracked those should we look at other cool features.
Q. How do you plan to scale the business?
We've launched successfully in major taxi markets like London, New York and Chicago, and we're going to repeat the same in other big markets. As the taxi market is worth $35bn globally, we have many mountains to conquer.
Q. An office on a boat on the Thames is a pretty bizarre choice of offices, how did that idea come up?
We got a call from the son of the owner and thought it was a great, if ironic, idea. We've got a team of 85 employees there and they're all pretty happy with their offices.
Q. Coming to your personal stake in the business, will you ever consider selling?
Yes, that's the plan at some stage. I enter to exit.
Q. What would you say is the biggest business mistake you've made?
Not realizing that sometimes a 2x difference in salary yields a 10x difference in performance and value.