The entrepreneur talks frankly
Follow me: @shrutitripathi6 and @LondonLovesBiz
King of the Addison Lee castle John Griffin is "egotistical, loves showing off and is full of himself." Not my words. That's how he described himself to me.
Chairman and founder of the UK's biggest minicab firm, 69-year-old Griffin has an opinion on everything under the sun. He thinks electric cars are "boll*cks", Ken Livingstone is "a dangerous man" and the Olympics "will do nothing" for his company.
Probably driving his brutal honesty and don't-give-a-damn attitude is the confidence of setting up a minicab business that started with a single car in 1975, and is now a convoy of 4,000 cars that make an average 25,000 journeys every day.
Those fares will add up to a £200m turnover in 2011.
Griffin's personal ride is a shiny black Bentley and he lives in a seven-bedroomed listed property in Potter's Bar, Hertfordshire, that he bought for £110,000 cash in 1979. The house has a mini golf club, a snooker room and a swimming pool.
He's amassed all these riches with no educational qualifications. He hasn't taken a single exam in his life. At 16, he contracted TB from a cow he had milked on a camping trip and was in the hospital for a whole year. Thereafter, he didn't bother going back to school.
He then lied about exams he had passed to get a job as an articled clerk in an accountancy firm. But when his father's roads and sewers business started crumbling, he quit to salvage the business, got it up to speed and then ventured into minicab.
Addison Lee boasts profit after tax of £3.3m in 2010, up from £1.7m the previous year. In 2011, the company acquired the passenger car operations of its nearest competitor Lewis Day and added a private jet service to its existing portfolio of chauffeur vehicles, couriers, vans and coaches.
Dressed in a sharp grey suit, Griffin sits on a throne-style chair in the Addison Lee HQ in Camden and starts to explain how he vroomed from zero to hero:
"I was a red hot mini cab driver, I enjoyed driving, I enjoyed people and I enjoyed routes. If I see a turning, I want to know what's out there. I drive down just to find out, even today. I've got a mental picture of London in my head."
There were heaps of minicab companies before Griffin jumped in the ring. So just how did he go on to become the most successful minicab driver in the UK? I ask him, and then Griffin harks back to the milestones in his life.
"In September 1973, I went to work for a minicab company called Ambassador Radio Cars and I couldn't believe how mind-bogglingly useless they were. I introduced those blokes to customer service and by the next February I was the director of the company," he says, clapping the desk.
Griffin says he always had a tight grip on what a customer hiring a cab would expect. That's probably why more than 50 per cent of FTSE 100 companies use Addison Lee minicabs, and why the company boasts 16,000 corporate clients today.
But things have not always been hunky dory in the past. In 1977, about 18 months after he started Addison Lee, Griffin had to sell half his business for £6,000 to his friend Lenny Foster.
"Foster and I got along just fine. He was a laid back person and I was a dominant person – I like calling the shots." says Griffin.
Foster died in 1992 and his son Daryl took over as chief executive. Alongside him today, Griffin's son Liam is the managing director and his other son, Kieran, is the marketing and sales director.
John Griffin now owns 25 per cent of the business and his sons hold 12.5 per cent each. Griffin might not own the entire company but he always has the last word in matters relating to the company, be it hiring a driver or deciding not to list Addison Lee on a stock exchange.
"We get pitched all the time but I always decline offers to list because you lose control on the stock exchange. We have a way of working here which is flexible and fluid. I am a control freak and I like it that way, I make all the decisions here. I can't do that if we were on the stock market," Griffin tells me.
"In terms of service, black taxis don't stand a chance in front of us"
The black taxi industry is blacklisted on Griffin's list of good transport services. In the past, black cab drivers challenged his claims of "Addison Lee being 30 per cent cheaper", complaining to the Office of Fair Trading (OFT). They lost the case.
"They took us to the OFT and shot themselves in the foot really. In terms of service, I think black taxis don't stand a chance in front of us. Their clocks almost double as soon as you go more than six miles and they can't match up to our impeccably dressed driver wearing a collar and tie and opening the door for you," says Griffin.
Then comes another potshot at the the black cabs: "No Addison Lee driver has been found guilty of any offence with any passenger ever. Can the black taxis declare the same?"
Speak to him about emissions and he pulls out a diagram (below) comparing his minicabs with taxis and private hire vehicles.
" 'Efficient-Lee' is our second name and we are constantly trying to reduce our emissions. We are working with Ford to increase the miles you can travel per gallon. We are trying very hard to work out a way to burn fuels so that there are no emissions."
To rest his case, he gets up to show me a fleet of awards Addison Lee has won for its energy-efficient cars. Some of them include Energy Saving Trust Fleet Hero Awards 2011, a diamond status twice over in The London Green500, the BP Car and Van Fuel Efficiency Awards 2009 and many more.
"For the Olympics, let the train take the strain"
Unlike most of us, Griffin isn't gung ho about the Olympics at all. He says the Games will be no big deal for Addison Lee because he will concentrate on his existing customer base. "Let the train take the strain" is his motto for the Games.
"The Olympic people have very bad publicity, they don't do it well. For example, most people have no clue that when you buy a ticket to go to an Olympic event, it includes free travel. Why on earth would you spend money on a taxi and get stuck in traffic jams?"
He then takes out an oyster card and a Boris bike key from his pocket and tells me that minicabs are not always the best way to get around in London.
"If you and I go to Stratford in my car right now, I tell you what, we will go mad. It'll take us 45 minutes to an hour: sheer waste of time. But, however, if we walk for 10 minutes from here to get to St Pancr
as and take a tube, bam! In seven minutes we'd be in Stratford."
The other reason remains Griffin doesn't see the Games as a serious business opportunity is that he's determined to remain faithful to his regular customers.
"I would be foolish to sacrifice the goodwill I've built up for over 30 years with my customers for two petty weeks."
But what about all the hearsay about Addison Lee getting preferential access to priority "Games lanes"? Griffin says: "I don't know why people think we've got some sort of an Olympic contract. The truth is that we don't. We were invited to tender and we didn't tender. That was that."
"Electric cars are the biggest nonsense in the history of time"
The mere sound of anything close to electric cars gets on Griffin's nerves. He cannot stand the sight of the 2,313 electric cars and 400 charge points across London.
"The electric vehicles are the biggest nonsense ever, in the history of time," he says. "Where's the power? We are buying electricity off France today and we have nothing. We don't have fossil fuels and the analogy we can rely on windmills is a complete farce."
I ask: "But then why is Boris banging on about how good they are for London?"
"Boris actually asked me what I think of the electric cars and I told him don't go there. Boris said 'what can I do?' In other words, 'I cannot stand against this because it's just a tide of emotional belief that you can't say no.'
"Politicians dare not tell the public the truth, it's a subject that can bring a party down. So the politicians avoid it, they mislead you to believing these silly cars are London's future," he says.
Griffin isn't just sitting around and demonising the electric cars though. He's got a plan of action to "unveil the truth".
"I am putting together a presentation with my health and safety department to tell the public that you're being deluded and abrasively lied to. The people putting these cars on the road should be in prison and I am going to tell the world that," he announces.
"Westminster is a rogue council"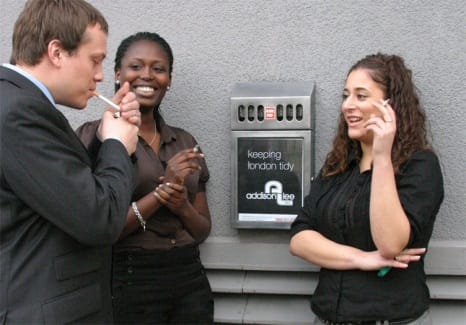 In April last year, Conservative-led Westminster Council got Addison Lee to remove 21 of its sponsored cigarette bins from the borough to "prevent Westminster being overrun with excessive adverts."
This was after Addison Lee donated £50,000 to the Conservative party in 2009-10. The party shirked the issue, and that irked Griffin.
"Westminster is a rogue council. I bet they wouldn't have complained if they got a cut in putting the bins [up] – their hypocrisy is shocking. How come no other council has complained about it? We're helping to keep the borough clean."
Griffin then tells me how he's a Conservative supporter and a Boris supporter, but is disappointed that the mayor hasn't looked into the matter. "I'm a little concerned that no one has picked the phone and said 'Mr Griffin this has been outrageous. Can we help?'
"In the meantime, they are looking to me for financial donation."
He continues: "Look, either you are the leader or you're not. You can go down and tell them that you can't be doing this sort of thing [removing sponsored bins], otherwise you're not a leader. I am getting a bit shirty about it. Boris is gearing up for the election you know, and he's quite visible by his absence around me, anyway. So, we'll see."
By now I've understood that Griffin doesn't make any outrageous statements without proof. He shows me an email thread about an upcoming Conservative party lunch. Griffin's friend got an invitation, but he hasn't. He suspects that his friend told a certain very senior member of the Conservative Party about the conversation.
"He [the senior member] sent me an email saying 'I hope you've received the invitation', when I didn't receive it. Why are you sending me an invitation if I've received it? It's just disrespectful," says Griffin.
So will he still go to the lunch?
"I've been harassed by Westminster Council, all the Conservative biggies. Whether David [Cameron] or Boris know it's happening, they have done nothing. And then you invite me for dinner which costs £7,500? It may be that I go, just to say that," he says with a chuckle.
Like this? Visit our Movers+Shakers section, devoted to profiling London's most exciting entrepreneurs
It's obvious that Griffin's relationship with the Conservative party is strained, and I wonder if the party might lose out on Griffin's vote.
"So does Boris' loss mean Ken's gain?", I ask him.
"I think Ken is dangerous man, he's too radical and not good for London. I think his agendas, for me, are left of left of left."
So who is it going to be then? This is the first time in the interview that he pauses to think.
"I like Boris, he's is a nice bloke and is intelligent but his support for the electric vehicles is sad. The other candidates do sod all. Therefore, I was close to putting myself down as candidate. It's just so that I get a platform to speak out. Whether I would've won or lost, I wouldn't like to say," he tells me.
He might not have entered the mayoral race, but Griffin has a lot to look forward to this year. He's got a lucrative-sounding project in Dubai, he's hoping to make a ground-breaking puncture repair kit that would make spare tyres obsolete, and he's taking his friends to Las Vegas on a private jet to celebrate his 70th birthday on 1 August.
So will he always remain the maharajah of the minicab industry?
"You see, the standard of the minicab industry is really low. In the land of the blind,  the one-eyed man is the king. And I've got one eye," he proclaims.
Looking to switch career? Visit our sister site, LondonlovesJobs.com for £30k+ roles in London