Cheap, flexible and simple – EDF Energy's 'New Start' contract for small businesses
News that the UK economy has grown by 0.1% got both hurrahs and boohoos. David Cameron said "we're on the right track" yet the IoD said it's not good enough "to pop the champagne corks".
So how do we meet the need for speed in the economy? Helping SMEs put on the blinkers to get the cash registers ringing would be a good start. After all, they account for 99% of UK businesses.
But what's stopping them? According to the Forum of Private Business, energy costs tops the list of small firms' issues. Wasting time and money on convoluted bills is a constant hiccup.
Doing its bit to help SMEs, EDF Energy has launched 'New Start', the first ever dedicated electricity contract specifically for start-ups.
This new style of contract will help these businesses secure competitive electricity rates and discounted standing charges without feeling pressured to get into long-term contracts.
But is the contract attractive enough to hook businesses? We spoke to Ed Varley, senior manager of EDF Energy's SME marketing team to find out:
Hi Ed! So how did EDF Energy come up with the idea to launch New Start?
We as a business realise that we operate in a low-trust category industry. So, we're trying to do everything it takes to build a better business. New Start is an effort to walk with our customers acknowledging that it's a tough economic climate out there. We've put together a product that is fair, transparent and simple to understand. We appreciate that they are time-starved, so we're hoping they'll really like the simplicity of New Start.
What's in it for businesses, why should they sign up?
The first reason is flexibility. We know that when you start a business, committing to a standard year-long energy supply contract is not ideal, you need time to understand your energy requirements and work out what your costs will be. With New Start, SME owners can sign up to an agreement of between six and nine months and are free to leave at any point without penalty.
Also, when that time is up we give the business owner control over what happens next, and there's no risk of them being automatically committed to a new contract. Again, this helps them make an informed decision about how much they need to spend. You won't find a more flexible contract elsewhere in the market.
A constant worry for SMEs is how to keep costs low, has New Start taken that into account?
Absolutely! We know that in the initial stages of their business cycle, small business owners want to fully concentrate on getting their business up and running and getting some pounds and shillings into their P&L account. It's slightly scary for an SME to have to commit to lots of contracts (utilities, telecoms etc.) that rack up liabilities and risks, New Start takes some of that stress away. 
The EDF Energy fixed daily charge – a daily charge that the customer is asked by energy suppliers to pay for the fixed costs associated with their energy meter – has been reduced by 80% to only 5p. A good price range combined with a short-term contract, makes the product effective and affordable.
Energy bills are very complicated to understand, what are you doing about that?
We're trying to put our customers in a position where they easily understand their energy usage and charges with our new-format bills that we're rolling out over the next 4-6 months.
The new bills are a part of the commitment our chief executive Vincent de Rivaz made a while go, to provide energy at a fair value, offer a better service and making tariffs simple. We have devised a new format bill, it's not perfect and will still need tweaking but it's a whole lot better than it was. I think it'll really help business customers understand the break-down of their energy bill and what they're paying.
What's the response you've got from businesses?
A restaurant owner in Brighton called us as she was confused about her options and didn't want to make a long-term commitment. We offered her New Start and she bought it straight away. It was cheap, it ticked all the boxes on her list and she could go and worry about getting her business up and running. She was really happy with the product.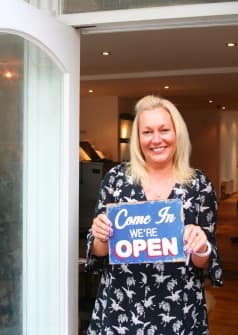 Sandra McGarrigle is opening Betty La La's restaurant in Brighton. She is currently refurbishing the restaurant and is hoping to open in three weeks.
Sandra said: "Compared with moving house, there's much more to setting up gas and electricity supply as a business. I was obviously very busy with setting up the restaurant so for the first two weeks after getting the keys to my new premises I didn't think about energy suppliers or about getting a quote.
"I think this is an example of why new businesses just need really simple contracts so that while we are thinking about everything from plumbing to interior design to promotions, the gas and electricity is dealt with and up and running.
"I eventually got several quotes but went with New Start because not only is it cheaper, but also because I'm not tied in. I am so busy at the moment that the last thing I want to be worried about is gas and electricity and just don't have the time to be shopping around. I can say now, "that's sorted", and in nine months when I have more time I can review it."
What are your expectations from the project?
It's new territory for us. New Start is a measured risk, we're hoping it'll shake the market up a bit and it gets others providers to think of innovative products. I'd really like to see a time where consumers have access to good, simple, competitive products. I hope with New Start, we're able to achieve our goal of making the market more consumer-centric and transparent.
Great, thanks for your time Ed!