With prices starting at £269, the iPad Mini is more expensive than its rivals. Is it worth the money?
A 1024 x 768 display, 7.9 inch screen, 10 hour battery life, 16GB storage, dual core A5 chip at prices starting from £269 – Apple has taken a big bite out of the small tablet market with the iPad mini.
Coming to Apple stores on 2 November, the tablet computer will compete with the £159 Amazon Kindle Fire HD and £199 Google Nexus 7. While the £269 model is Wi-Fi only, the top range 64GB iPad mini will come with a £529 price tag and will be compatible with 4G in the UK.  
At the San Jose event last night, Apple's marketing boss Philip Schiller also launched a 4G iPad, a 13-inch Macbook, a Mac mini-computer and a thin iMac desktop computer. But the iPad Mini remained the star of the show.
So does Apple's newest iPad justify the extra cost compared to its rivals? Here's what the tech experts have to say:
Jason Jenkins, Editor of CNET UK: "Apple is scared of Google's Nexus 7"
"It's going to be a tablet bloodbath this Christmas. Apple has announced the iPad mini, a shrunk-down version of the iPad with a 7.9-inch display, which will compete directly with models from Google and Amazon. 
"How important it is for Apple to win this one can be seen from the large amount of time it gave in its presentation to comparing it to Google's equivalent, the Nexus 7. 
"That shows it's scared: there is a real chance one of its rivals could take its dominant tablet market share away. 
"The iPad mini looks like it will probably be a great product, but at £70 more than the Google Nexus 7 and £110 more than the Amazon Kindle Fire, I'm not sure it's worth the extra money for the use you'll get out of it."

Tony Smith, writer, The Register: "Apple doesn't stand head and shoulders above competition"
"Why buy a £269 iPad Mini when you can have an equally serviceable Nexus 7 for £199 – or even £159 if you're willing to put up with a plenty-for-books 8GB? Were the Nexus – or any of the 2012-released Tegra 3-based 7in tablets that have come out – some cheap Chinese knock off built out of silver-sprayed plastic, it would be a no-brainer: buy the Apple.
"Even as little as nine months ago, the Mini might have stood head and shoulders above the competition. But not any more. The Mini's rivals are now well-made products which deliver a great user experience and can – and do – impress as much as the Apple offering."
Stuart Miles & Rik Henderson, writers, Pocket-Lint: "Not just a smaller iPad"
"First impressions are that it is indeed light.
"However, the most surprising aspect is that it isn't just a smaller iPad, the bezel is thinner so the whole device fits nicely in the palm even though it features a screen that's almost 8-inches.'
Francisco Jeronimo, research manager at consultants IDC: "The iPad Mini is now the new category killer"
"The low price points of the Google Nexus 7 and the Amazon Kindle Fire have been attracting consumers looking for more affordable devices that also come with the content and services they already use or want."
"This new product from Apple will disrupt the market again. The iPad Mini is now the new category killer."
Darrell Etherington, writer, TechCrunch: "Good things do come in small packages"
"Using apps on the mini is what you'd expect from an iOS device: fast, smooth and overall a pleasant experience. But the best part is that there won't be an update curve as there was for the iPhone 5 or iPad with Retina display, since it retains the same resolution of the original iPad, meaning apps designed to work on that device work out of the box.
I tried out a number of native and non-native apps, and all worked flawlessly. The camera is also completely usable for walkaround casual shooting, something that will please the growing number of folks who seem to want to use a tablet as their camera.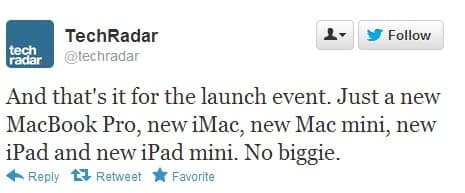 Jessica Dolcourt, CNET editor: "Yes, it's lighter than thinner than rivals but battery-life in on-par"
"Certainly existing Apple fans will gravitate toward it, but there's a question mark over how good the Mini actually is. Yes, it's lighter and thinner than the competition, but the screen resolution lacks Apple's crystal clarity, and the battery life is on-par with rivals, but won't surpass it."